4 Excellent Ayurvedic Tips to Take Care of Sensitive Skin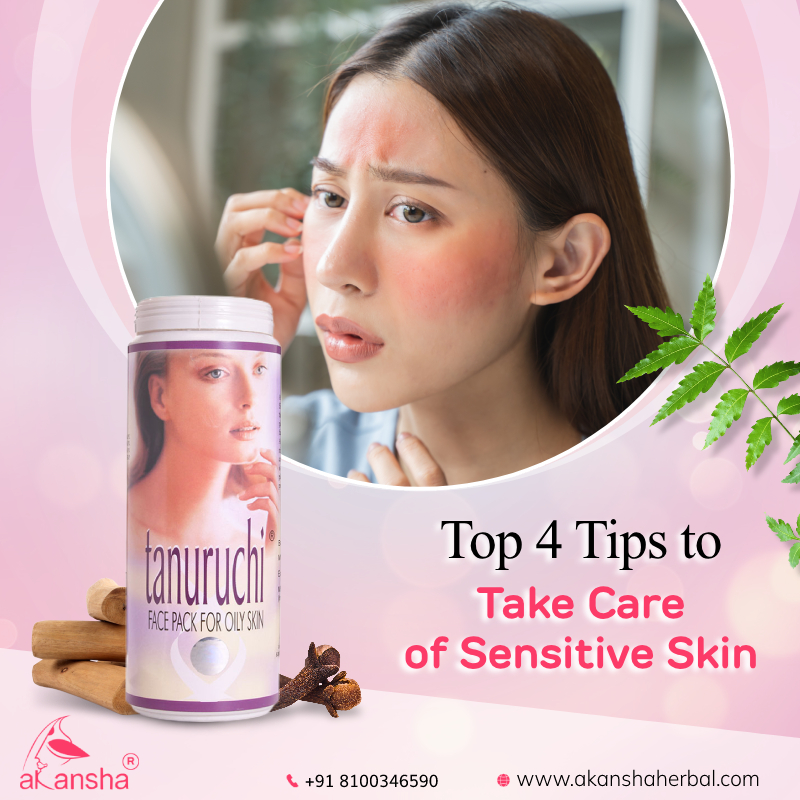 For sensitive skin to retain its natural balance and shine, moderate yet effective care is needed. Even in a time when the market is flooded with skincare products, Ayurveda, the traditional Indian holistic medical system, offers a multitude of natural therapies that are specifically tailored to nourish and retain delicate skin. Because of its focus on natural ingredients and holistic well-being, Ayurveda offers a holistic approach to skincare that not only addresses specific skin diseases but also enhances general health and vigour. Let's examine four fantastic Ayurvedic suggestions that maximise skin care for sensitive skin by utilising the power of nature. Besides these Akansha Herbals, one of the top skin care brands also has recommended some of the top Ayurvedic skin care products. So, delve deeper into the topic to find out.
Top 4 Ayurvedic Tips to Care About Your Sensitive Skin
Cucumber
A common ingredient in Ayurvedic skincare products, cucumber has remarkable cooling and moisturising qualities that make it a great treatment for sensitive skin. Its natural astringent qualities aid in soothing and reducing irritation, while its high water content hydrates and nourishes the skin. Cucumbers can help reduce redness and irritation, leaving your skin feeling renewed and revitalised. Use cucumber in your skincare routine. For a calming and cooling effect, you can make a simple cucumber face mask by mixing cucumbers into a paste and applying it to your skin.
Clove oil
With its well-known antibacterial and relaxing qualities, clove oil is a great complement to any sensitive skin Ayurvedic skincare routine. Its relaxing scent can aid in mind and body relaxation, and its inherent antibacterial properties make it useful in the fight against skin irritation and inflammation. Clove oil can be gently massaged onto sensitive skin after being diluted with a carrier oil like coconut or almond oil. This provides a calming and nourishing experience that enhances the health and vitality of the skin.
Sandalwood
Sandalwood has long been considered a timeless beauty secret in Ayurveda, valued for both its calming effects and fragrant scent. It is a great option for sensitive skin because of its cooling and anti-inflammatory properties, which help to lessen redness and irritation. Sandalwood can help balance skin tone and texture, leaving your skin feeling renewed and revitalised. Include sandalwood into your skincare routine. Sandalwood powder and rose water can be combined to make a basic paste that you can use as a soothing face mask.
You can also give a try to various products by Akansha Herbals. If you are interested in buying their online Ayurvedic products, then you may visit their online store.
Neem
In Ayurveda, neem is known as the "wonder herb" and is highly beneficial for sensitive skin because of its cleaning and revitalising qualities. Its inherent antibacterial and anti-inflammatory properties aid in skin cleansing, stop breakouts, and encourage a bright, glowing complexion. Adding neem-based skincare products to your regular regimen can help reduce skin irritation and improve the general health of your skin. Seek out mild cleansers and moisturisers with neem as the base to reap the advantages of this potent Ayurvedic component.
Alternatively, you can use Akansha Herbal's Ayurvedic skin care products such as Tanuruchi, a face pack for normal and dry skin.
Conclusion
Authentic Ayurvedic skincare products are now easier to find than ever in today's hectic environment. Many online vendors of Ayurvedic products provide an extensive selection of holistic and natural skincare products that are suitable for all skin types, including sensitive skin. These online stores make it simple to get premium Ayurvedic skincare products that are made specially to nourish and shield delicate skin, from reviving oils to mild cleansers and calming face masks.
You can attain a balanced approach to caring for sensitive skin by incorporating these four fantastic Ayurvedic ideas into your regular skincare routine. Through the utilisation of cucumber, clove oil, sandalwood, and neem, you may preserve and care for your delicate skin while also encouraging overall health and brightness. For a genuinely restorative skincare experience, embrace the depth of Ayurveda and discover the ageless secrets of natural beauty and wellness.