5 Ayurvedic Solutions for Greasy Hair and Scalp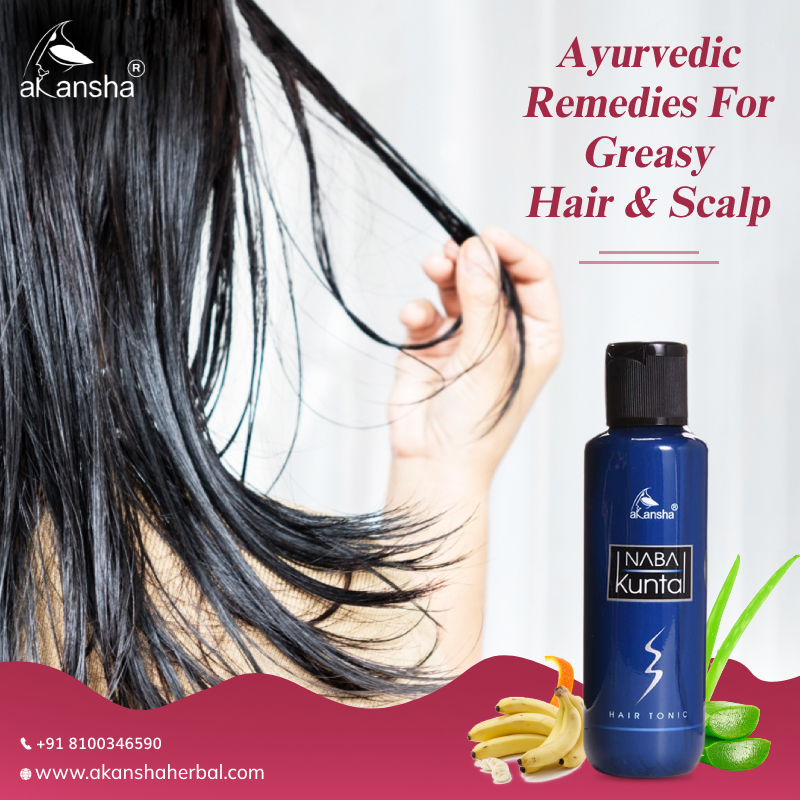 Greasy hair is annoying in many ways. It can spoil your style as it is difficult to manage greasy hair. To keep it clean, you have to wash it every day, and it tends to get worse as summer approaches. We know how difficult it is for you to see your hair in a mess at the end of the day. Since the hair becomes sticky, it attracts a lot of dirt, and that gives rise to more problems such as tangled, frizzy, and rough hair. Generally, folks with oily hair tend to have the problem of greasy hair. Now, using the wrong products can aggravate this issue. This is why it is best to stay away from products that are chemically-formulated, for you never know what they will sell in the name of healthy products. If you are looking for the best remedy, then you can try Ayurvedic haircare products or the tips shared here by Akansha Herbals; their products do not contain any hazardous chemicals and would make your hair grease-free naturally. And the tips are most tried and tested, so can give you the best result.
Top Ayurvedic Remedies for Greasy Hair

If you want to naturally get rid of the greasiness in your hair, then these ingredients can be great for you. They might not offer the results fast, but gradually, with regular use, they can help you totally get rid of the greasiness. So, let's take a look at these solutions here.
1. Orange peel
You might love to consume these highly nutritious, and yummy fruit, but did you know this product is also great for curing your greasy hair and scalp? If you didn't, then let us tell you that orange peel is one of the best remedies for greasy hair. Just take 2 tablespoons of orange peel powder, mix it with water, make a fine paste, and apply it to your hair. Make sure that your hair has not been cleaned before. After the ingredient gets absorbed, you can rinse your hair.
2. Mint
Summer drinks you enjoy are often punched with mint leaves to make them refreshing. The same mint leaves are effective remedies for treating greasy scalps. Add a couple of these leaves to two glasses of water, and boil it for about fifteen minutes. The solution you get add it to your favorite shampoo and used to wash your hair. This treatment will help to get rid of excess sebum produced by your scalp and leave your hair grease-free!
Excited to try but running out of time. You can also try any of the suitable products from Akansha Herbals, and get the best result. To choose and buy Ayurvedic products online, you can visit their online shop.
3. Aloe vera
A lot has been said about aloe vera, but since this ingredient offers a wide range of benefits, a lot remains to be said about this product. Especially when it comes to greasy and oily hair, aloe vera can act as a magical remedy. It detoxifies the scalp, controls the oil in the hair, and also removes dirt and impurities from the scalp. Apply fresh aloe gel directly to the hair and scalp, and make sure that you regularly use it for the best result.
4. Tea tree oil
When oil production is kept under control, the hair and scalp do not become greasy or excessively oily. This is what tea tree oil helps with; it controls the sebum (oil) production in the hair and makes the hair grease free. Just add ten to fifteen drops of tea tree oil to the shampoo you use, and see how it can make your hair smooth, grease-free, and moisturized.
5. Neem
If you are dealing with extreme greasy hair problems, then neem is the way out for you. This powerful coolant's anti-bacterial properties make it the ideal remedy for treating oily scalp issues. Also, the phytochemicals that are present in it, when you mix them with curd, and apply the mixture to the hair and scalp, become a great natural solution for greasy hair. Also, you can try Nabakuntal hair tonic from Akansha Herbals. This Ayurvedic hair care product is made up of pure herbal ingredients, and is an easy way to achieve effective results.
Conclusion

Greasy hair may go away with a wash, but it returns after some time. So, the first and foremost thing you need to do is control the excess sebum production, which serves as the main reason for greasy hair. All these Ayurvedic solutions can be helpful, hence, you can use them for the best outcome. Alternatively, you can try Akansha Herbal's recommended Ayurvedic hair care products and get the same result.