5 Ayurvedic Tips to Take Care of Your Skin During Monsoon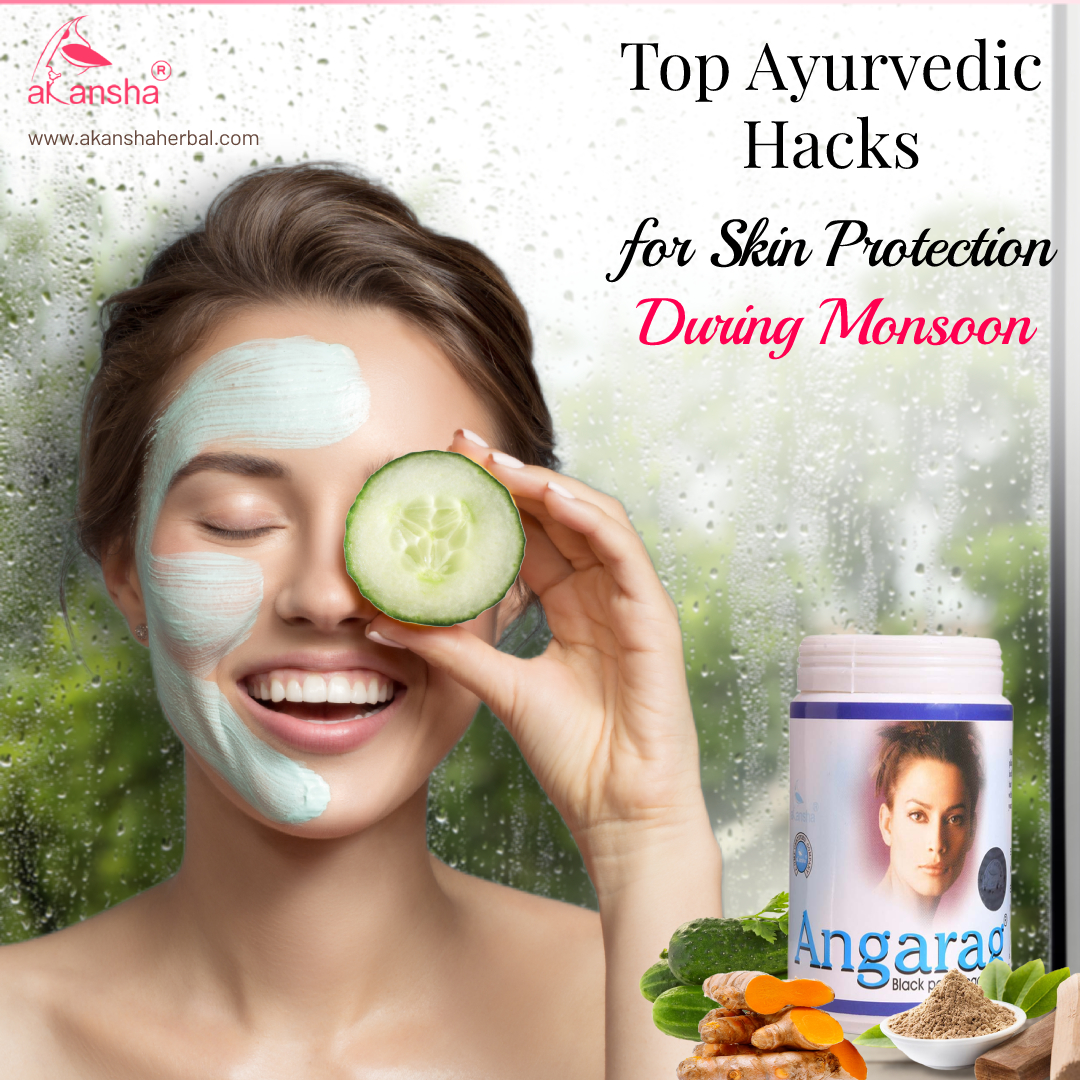 Monsoon is blissful weather in many ways. However, when it comes to skin it has many damaging effects. This is because during the monsoon season the level of humidity increases, and since our skin is not used to humid weather it starts reacting. This results in rashes, pimples, fungal infections and more problems. Moreover, when humidity rises the weather gets intolerable and most of us tend to wash our face and body excessively with chemical-loaded face wash and soaps. Hence, the skin becomes dry as it loses essential moisture. To save your skin from all the ill effects of monsoon, you need good products. Ayurvedic ingredients and products are one of the best choices you can make when it comes to your skin as these products have the power to truly protect the skin.
Here, in this blog, we have mentioned some of the best Ayurvedic hacks and Akansha Herbal's Ayurvedic skincare products to take care of your skin during monsoon.
Sandalwood
Due to the presence of moisture during the monsoon, the skin tends to get sticky and attracts a lot of impurities, which in turn give rise to many skin problems. This includes pimples, whiteheads and blackheads etc. To avert such problems, the application of sandalwood powder and saffron on the skin and leaving it there for 20 minutes can be of great help. This is because the pack will help to eliminate the oiliness and stickiness from the skin. Also, if you want to brighten your skin you can go ahead and add a few drops of lemon juice to this pack.
For the same results, you can also, rely on Akansha Herbal' Angarag black patch pack. This product is packed with the goodness of Ayurveda and can deliver amazing results.
Turmeric
Since during the monsoon season fungal infection increases it is important to protect your skin with the help of antiseptic and antibacterial ingredients. Turmeric in this case can be a great choice and help your skin to stay protected during the monsoon due to its antiseptic and antibacterial nature. Plus, turmeric contains curcumin, which imparts anti-inflammatory and soothing properties to turmeric. This is why turmeric is consumed with milk during the monsoon as a remedy against flu and cold. So, if you are someone who is suffering from problems like fungal skin infection and clogged pores during the monsoon time, turmeric can be of great help.
Alternatively, you can also use Akansha Herbal's Ayurvedic skincare products for the best skin protection during monsoon.
Cucumber seed
One of the most effective ingredients that you can use during monsoon to take care of your skin is cucumber seed. The nutrition-rich vegetable is well-known for its cooling properties and consists of vitamin C and folic acid. All these ingredients together help to get rid of puffiness and with the regular application can brighten your skin and remove the dullness. Also, cucumber seed helps in cleansing the skin and tightening the pores as the cucumber seeds have astringent properties in them. This way they can reduce break-outs and acne very effectively.
Honey
As we have already mentioned that during the monsoon the skin is stripped of moisture as we use harsh skin care products. If you don't want your skin to get dry and lose moisture then you can include honey in your skincare regime without a second thought. Honey has natural moisturising properties and it helps to soften the top layer of the skin and penetrate deeply the skin to impart hydration to all the skin layers. Also, it has antibacterial and anti-inflammatory properties and thus, plays a vital role in removing extra oil from the skin. Therefore, reduces the chance of acne, pimples, blackheads and whiteheads.
Besides, using honey you can also buy herbal beauty products from Akansha Herbals for the best results.
Oatmeal
Oatmeal can be a boon for your skin as it possesses as it helps to take care of the skin in many ways. You can use oatmeal as a cleanser, for nourishing the skin in the right way and also, heals the skin. Oatmeal is rich in lipids and protein and keeps the skin moisturised throughout the day. It can calm the skin and reduce itching. What you can do is take 3 tsp of oatmeal, 1tbsp of rose water, curd and honey and make a paste and apply this to the skin.
Conclusion
During the monsoon season, skin issues tend to aggravate, so it is extremely important to take proper care of the skin. Here, we have mentioned some of the safe and effective Ayurvedic hacks that can offer the right protection to the skin during the monsoon. In case you are running short of time, you can also use Angarag and other suitable Akansha Herbal's Ayurvedic skincare products for the same results. You can check out their products on their online store. However, make sure to include them in your daily skincare routine to get the best results.