How to Heal Cracked Heels? – Top 5 Ayurvedic Tips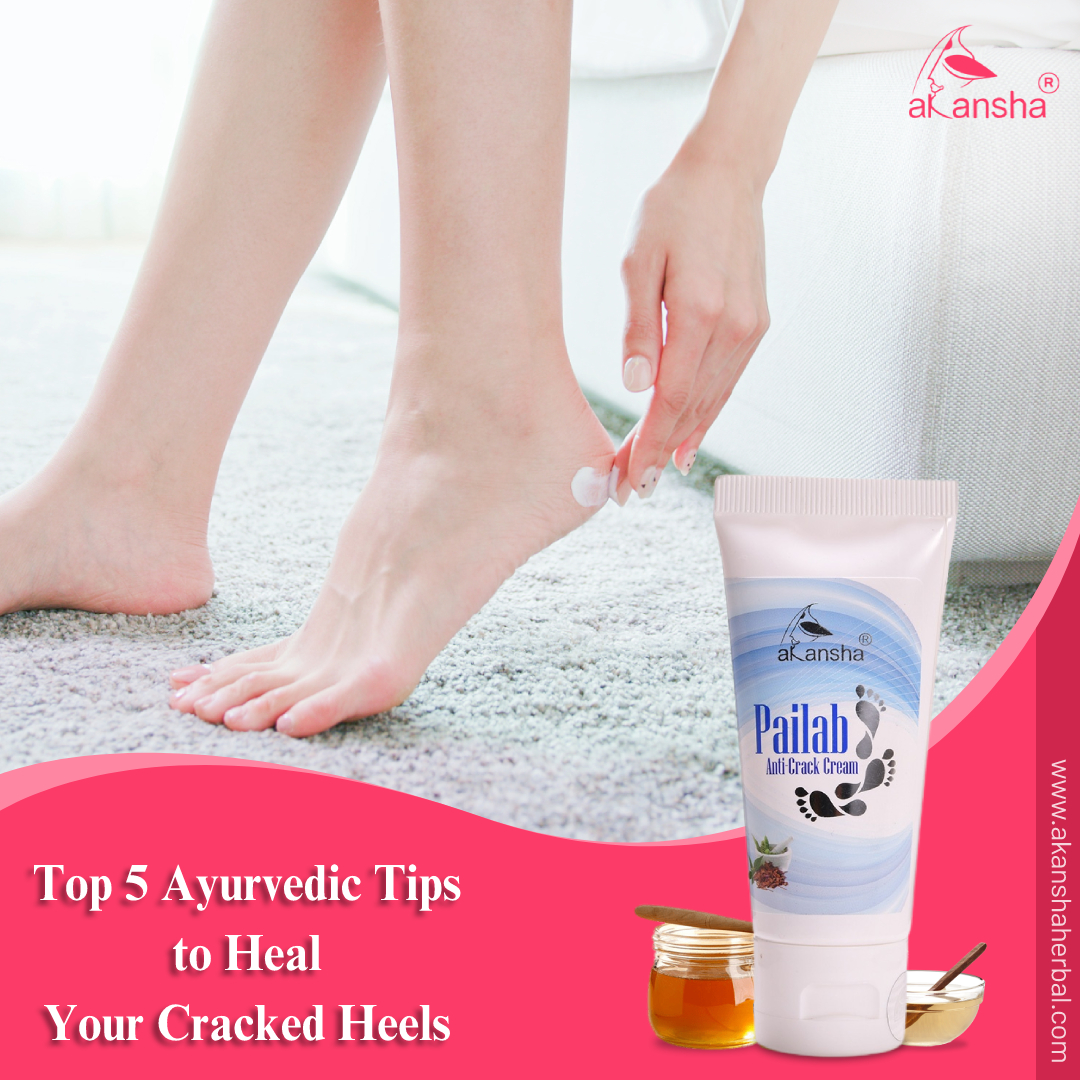 Crusty, dry, cracked heels or heel fissures are a source of embarrassment for many. The people who are suffering from this condition tend to hide their heels with covered shoes. Further, this condition is not only making the individual by how it appears, it can be very painful and cause severe discomfort. In fact, if the condition is not treated on time, then it can lead to infection and form yellow or brown calluses in the area. To prevent this condition many uses over-the-counter products, however, those products may not be effective, and the condition can return again and again. Honestly, speaking this condition requires proper attention and care. Some natural Ayurvedic ingredients can help to cure this problem. In this blog, we have mentioned Akansha Herbal's 100% natural Ayurvedic skin care products and some of the best Ayurvedic tips.
Honey
Honey is packed with natural antiseptic properties that can help to cure the fissures on your heels. Also, since it is a natural humectant, it helps by adding moisture to the cracked area, nourishing it by getting absorbed and preventing dryness. What you can do is add a cup of honey to lukewarm water. Clean your feet, and put the clean feet in the tub. Massage your feet well for about 15 to 20 minutes very gently. Then, pat dry your feet, and don't forget to apply a moisturiser to the area. Make sure you do this daily, to see the improvement.
For the same result, you can also use Akansha Herbal's Pailab cracked cream. It is an anti-bacterial and antiseptic cream that helps to cure and prevent fissured feet condition.
Lentil
Lentils can be the answer to many skincare woes. It is packed with powerful antioxidants, vitamins C, E, zinc and magnesium. All these nutrients help to keep the skin healthy. So, to treat dry skin effectively, what you can do is; soak two tablespoons of lentils overnight in a mixture of rose water and raw milk. Grind this into a paste the next day, and apply it on dry skin. Leave it for fifteen to twenty minutes, and then wash it off.
You can also buy Akansha Herbal's online Ayurvedic products for similar effective results and more benefits.
Coconut oil
Coconut oil is well-known for its nourishing properties. Also, it aids to retain moisture levels in the skin. Moreover, it has anti-inflammatory properties, so it is a great remedy to heal cracked and dry heels. You just need to massage your feet with warm virgin coconut oil for about 5-10 minutes before going to bed and see the surprising result.
Alternatively, you can also buy Akansha Herbal's Ayurvedic skin care products for the same benefits and results.
Lemon juice
Lemon juice contains acidic properties so when it is applied to the cracked heel, the hardened skin layers from the area start to loosen up. Also, the anti-microbial properties present in it helps to prevent infections. So, you can benefit a great deal by applying lemon juice to your cracked heel area. What you can do is, add 4-5 drops of lemon juice in a spoon of petroleum jelly, apply this to your cracked heels and massage gently.
Vegetable oil
Vegetable oil has many nutrients such as vitamins A, D, and E, and also, acts as a great emollient, therefore, it can be very useful for treating cracked skin. It easily gets absorbed into the skin and helps to revive the damaged skin cells in the cracked heel. What you can do is take 2 to 3 tablespoons of warm vegetable oil, and massage this on the area for five minutes. Then wear cotton socks, and let it work wonders.
To achieve the same outcome and heal your cracked heel effectively, you can also rely on Akansha Herbal's online Ayurvedic products.
Conclusion
Cracked heels are a common problem during winter, however, some people can have it around the year. To heal the condition permanently, it is important that you take good care of yourself, plus, stay away from products that offer only temporary results. To help you here we have mentioned some of the best Ayurvedic ingredients that can help to give you a permanent solution and most importantly without any side effects. Also, if you are running short of time, and looking for a product that is as good as these natural ingredients, then you can rely on Akansha Herbal's Ayurvedic skin care products like Pailab, and others. If you want to check out other products from this brand, and/or purchase this product, then you can visit and browse their website.