Keep Your Baby's Skin Rash-Free with Top 5 Ayurvedic Ingredients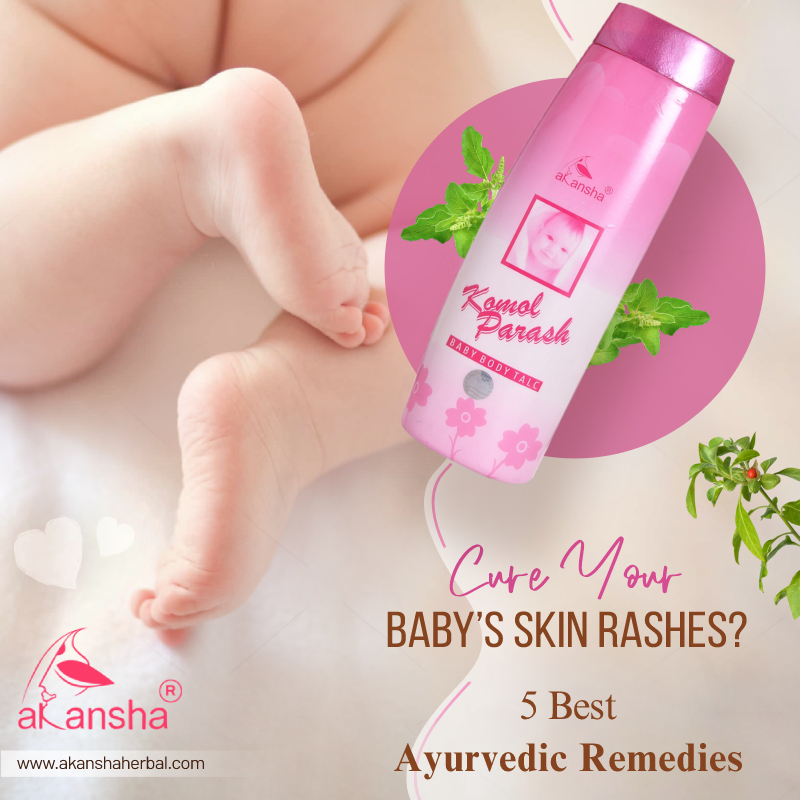 All parents want the best for their baby. So, as a new parent, it is important to verify the products before you buy them. However, that is easier said than done, because most of the times, even after a lot of research parents find the products are adversely affecting their baby's skin. A baby's skin is very sensitive and is prone to frequent rashes. Hence, you cannot just pick any product as the ones that are available in the market are mostly ladened with chemicals such as mineral oils and phthalates. These chemicals can be harsh and not good for a baby's skin. Instead, Ayurvedic baby care products that are infused with the goodness of natural herbs can be a wise choice for babies. In this blog, we have put together the best Ayurvedic ingredients and Akansha Herbal products that are mild and gentle on a baby's skin and effective in curing the rashes.

So, let's check out some of the ingredients that you as a new parent can use to cure and prevent skin rashes on your baby's skin.

5 Expert Recommended Ayurvedic Ingredients for Curing Baby's Skin Rashes

Let's take a look at the list of the ingredients.

Neem

Neem is one of the most effective Ayurvedic baby care products that can heal not only rashes but many other skin issues. The leaves of these plants are packed with anti-fungal, anti-septic and anti-inflammatory properties, and are revered as super Ayurvedic medicine. They are gentle on the baby's skin and effectively help to cure the rashes and itchy skin issues. What you can do is grind the neem leaves in a mixer with water and create a fine paste. Thereafter, apply this paste to the areas that are affected and have rashes. The paste works to bring relief from the itchiness and on regular application cure the rashes completely. This paste is also, helpful in curing mosquito bites.

Benefits of Neem

> Anti-bacterial properties present in it helps to prevent acne rashes on the skin
> Its anti-inflammatory properties help to pacify the irritated skin
> It is gentle on the skin and can treat various other skin issues

For the same results, you can also rely on Akansha Herbals Ayurvedic baby care products for their great healing power.

Chandan

Seeking one of the gentlest Ayurvedic ingredients that will cure rashes and feel calm and soothing on the application? Then choose Chandan. Sandalwood aka Chandan helps to combat harmful bacteria and its anti-inflammatory properties make it one of the household favourites. Mixing some sandalwood powder with water and applying the fine paste on the skin can heal the irritating rashes. For similar benefits, you can use Akansha Herbal's Komal Parash powder for curing and preventing baby skin rashes and making the skin softer. You can find this product in their herbal shop online with other baby products.

Some benefits of Chandan

> Chandan has anti-inflammatory properties, which help to cure skin burns and redness etc.
> It prevents the growth of bacteria on the skin
> Contain anti-septic properties and fight acne growth in babies' skin and make it softer

Ashwagandha
Next on our list is another Ayurvedic ingredient that is known to cure various skin ailments permanently- Ashwagandha. It contains anti-microbial and anti-bacterial properties, which are extremely effective for combating skin impurities. Therefore, when applied to the skin it can give fast relief to your baby from different kinds of skin rashes. Furthermore, it can cure skin redness and heal scars on the skin. Thus, if you are looking for a dependable Ayurvedic baby care product for your baby, you can rely on Ashwagandha without a second thought.

Aswagandha benefits
>Roots of Aswagnadha have anti-microbial and anti-bacterial properties which help to protect your baby's skin from rashes

> Moisturises the skin on application
> It has great healing power and can cure various types of skin infection

Shubhra or Alum

Subhra aka Alum is a mineral block that is made up of potassium alum. The compound has been used over centuries by people to cure wounds, cuts, scars, rashes and many other skin problems. This ingredient is well-known for its astringent and antiseptic properties, which can block disease-causing organisms and stop the spread of bacteria and germs. Plus, it also helps to soothe the skin and cure skin inflammation. So, if your baby is suffering from rashes, wounds or cuts, you can soak the shubhra in water and apply this liquid to the affected area to cure the issues.

Benefits of Shubhra

> Helps to fight bacteria and germs
> It can help to cure wounds and skin inflammation
> Good for treating skin irritation
Alternatively, you can also choose Akansha Herbal's baby skin products to cure skin rash and other skin problems. You can get these products by visiting their herbal shop online and browsing the skin products section.

Tulsi

Tulsi or holy basil is one of the most baby-friendly Ayurvedic skin products that you can find. In core Ayurveda, tulsi is known for its great medicinal value. According to studies and research, tulsi can help cure thousands of issues, such as rashes, skin inflammation, redness, itchy skin and dry skin. When applied in paste form on the rashes, it not only cures the rashes but also, helps to make skin softer, and improve texture.

Benefits of Tulsi

> It can be used to fight any kind of skin rashes
> Soothes the skin as it has anti-inflammatory properties
> Prevents skin drying and heals itchy skin

Take Away

As consumers are increasingly becoming aware of the advantages and disadvantages of a product, there is a growing collective interest in the Ayurvedic remedies. The reason behind this is that it does not contain harmful chemicals that are responsible for damaging the skin in the long term. In this blog, we have shared some of the tested and tried Ayurvedic remedies for curing babies' skin rashes and also, that are not harsh on their skin. As a new parent if you are puzzled about which products to use on your baby's skin, then you can always rely on Ayurvedic products. Besides, these Ayurvedic ingredients, you can also use Akansha Herbal's Ayurvedic baby care products such as Komal Parash and others to get similar and more benefits.
For more details, you can also, dial at +91 81003 46590 / +91 33 2475 583.