Top 5 Ayurvedic Remedies to Slow Down Premature Skin Ageing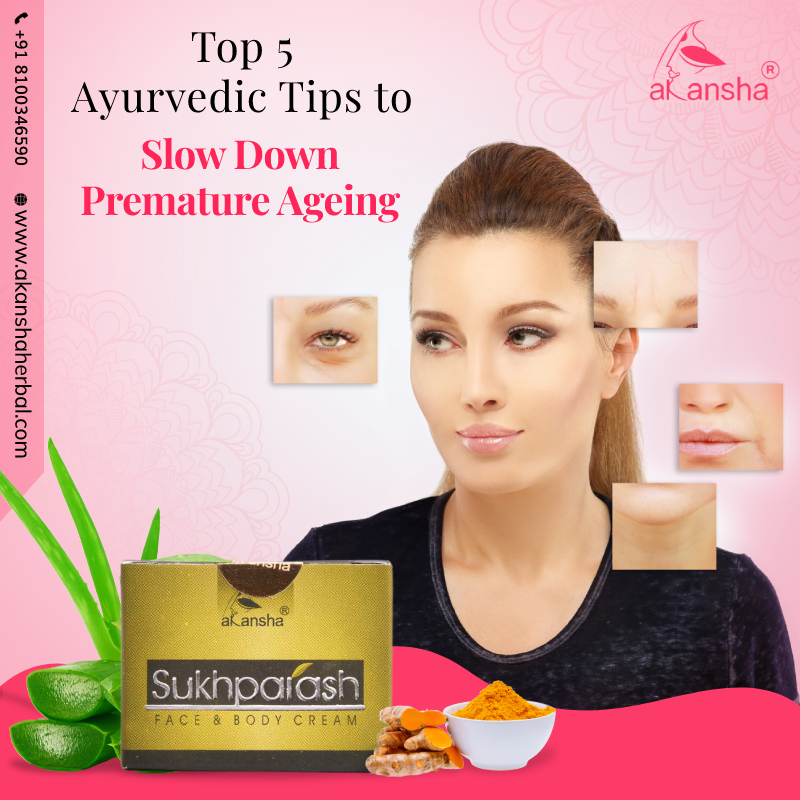 Skin ageing is a slow and steady natural process, and the signs are barely visible when it starts. However, when the signs like fine lines and wrinkles show on the skin, it hits you suddenly one fine day. Ageing is a natural phenomenon that generally appears in individuals when they cross the age of 30. However, sometimes due to a stressful life, an improper skin care maintenance routine, bad diet habits, and other reasons, the signs of ageing appear earlier than they should. This is called premature skin ageing. If you are someone who is going through such a problem and has already tried many products that are not effective, then here is the best suggestion for you. Although reversing skin ageing is not easy, with the help of Akansha Herbal's Ayurvedic skin care products, and the below-mentioned skin care tips one can slow down the process. 
Basil

Basil is an extremely potent herb that can fight the visible signs of ageing on your skin. For years, people have relied on basil for anti-ageing because the leaves of this plant are packed with large amounts of antioxidants, plus basil removes the free radicals that cause damage to the skin. Thus, applying it in paste form can help rejuvenate your skin and reduce the signs of ageing.
Alternatively, you can also include in your skincare routine, Akansha Herbal's Ayurvedic skin care products like Sukhparash face and body cream, and slow down the ageing process. 
Ashwagandha

Ashwagandha is a herb that is best known for its rejuvenating properties and helps to fix the skin, hair, and overall health. Consuming this or including this in the daily skincare routine can help to bring a great change in your skin texture, you can get back your tight, glowing skin that looks firm and young.  Also, you can see that your wrinkles and fine lines have reduced.
Turmeric

Turmeric is known to almost all of us for its medicinal value. It is an extremely potent herb that is not only used for skin care but also to treat cuts and bruises. Plus, it also helps to improve the immune system of the body. In turmeric, a compound named curcumin is found, which is known for its great age-defying properties. This is because this compound can combat damage that is caused by free radicals and also helps to curb the signs of ageing.

You can also use Akansha Herbal's online Ayurvedic products to address your premature ageing issues and eradicate the problem.
Giloy or Guduchi

Guduchi or Giloy is a herb that is packed with a high amount of anti-inflammatory properties. So, when it is applied to the skin, it helps to restore the skin tissue and fight back inflammation. And most importantly it is categorized in the vyah-sthapan group for its anti-ageing properties, and this herb helps to get rid of impurities from the blood, this way you get cured of the premature-ageing. 
Aloe vera     

In studies, it has been found that aloe vera possesses molecules that are sterols. These sterols help by generating hyaluronic acid and collagen. These two ingredients help the skin to remain youthful, as they help to retain moisture. Thus, with regular application, you can see that the wrinkle on the skin has visibly reduced, and your skin has returned to its former state.

Conclusion

While the above-mentioned Ayurvedic ingredients can help you considerably to restore youthful skin. However, it is also equally important for you to lead a healthy life, keep yourself hydrated, protect the skin from UV rays, eat healthy foods, discard smoking and drinking habits, and have a good sleep routine. Also, besides all these for the best result, you can use Akansha Herbal's Ayurvedic skin care product like Sukhparash face and body cream. Since it is made up of potential herbs and ayurvedic ingredients, you can rely on it completely. To buy, visit their website.