Top 5 Ayurvedic Skin Care Hacks for the Autumn Season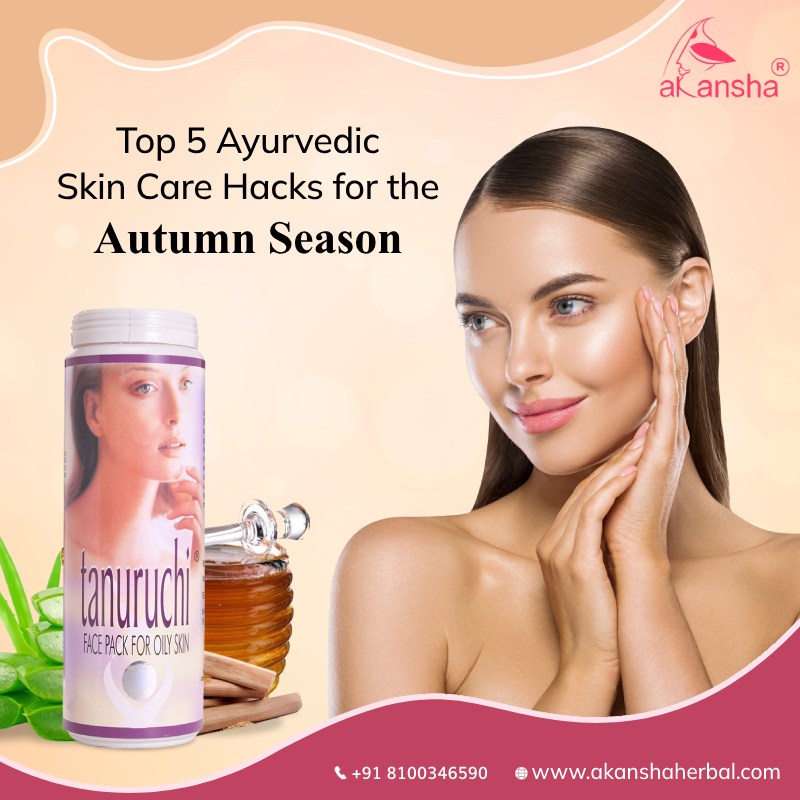 Autumn brings a kaleidoscope of hues, brisk air, and noticeable changes in our skin's needs. As the summer's hot and sultry days come to an end, our skin begins to demand more care and attention. Instead of relying on readily available over-the-counter products, you can Consider implementing these Ayurvedic skin care tricks using natural ingredients like Neem, Turmeric and Honey, Sandalwood and Rosewater, Aloe Vera, and Daruharidra to keep your skin radiant and healthy this autumn. Additionally, you can use Akansha Herbal's Ayurvedic skin care products available on their online store.
Top 5 Ayurvedic Skin Care Products for the Autumn Season
Here are some of the top Ayurvedic skin care products that you can use to eliminate the skin problems brought in by the autumn season.
Neem
Neem, also known as Azadirachta indica, is frequently referred to as "Nature's Pharmacy" because to its numerous medical advantages. It's been a staple of Ayurvedic skin care for a very long time. Neem is a potent antioxidant source that is particularly helpful in the autumn when the air is drier and the skin begins to dry up.
Neem Face Mask: Combine neem powder and water to make a paste for a straightforward neem face mask. It should be applied to your face and neck. After 15-20 minutes, rinse it off. Neem's antibacterial and antifungal qualities can aid in maintaining clear, spot-free skin.
If you want the same benefits, then you can also try Akansha Herbal's Ayurvedic skin care products such as Tanuruchi face pack is one of the best for many skin issues.
Turmeric and Honey
The two golden ingredients used in Ayurveda for glowing, healthy skin are turmeric and honey. Because of its anti-inflammatory and antioxidant characteristics, turmeric is ideal for healing inflamed skin, while honey functions as a natural humectant to keep moisture in.
Face Mask with Turmeric and Honey: Make a relaxing face mask by mixing one teaspoon of turmeric and two teaspoons of honey. After applying this combination to your face, wait ten to fifteen minutes. This mask helps to brighten your skin and give it a natural glow.
Sandalwood and Rose water
Sandalwood, commonly referred to as Chandan in Ayurveda, and rosewater make a wonderful skincare duo. Sandalwood is ideal for the autumn because of its cooling effects on the skin and its ability to reduce irritation and redness. Rosewater is a natural toner and hydrator.
Sandalwood and Rosewater Face Pack: Create a smooth paste by combining sandalwood powder and rosewater. It should be applied evenly to your face and neck, then left on for 15 to 20 minutes. Your skin will benefit from the combination's nourishment and depart with a lovely scent.
In case you want the same result but you are running out of time, then you can use Akansha Herbal's skin care product range. If you are interested in buying the products, then you can visit their herbal shop online.
Aloe Vera
Aloe Vera, sometimes known as the "Plant of Immortality," is well known for its ability to hydrate and cure wounds. It's an excellent option for autumn skincare since dryness is frequently an issue. Aloe Vera promotes the healing of any small cuts or irritations while also soothing and moisturising the skin.
Application of Aloe Vera Gel: Just wring the gel from an Aloe Vera leaf and smear it over your skin. If you've been exposed to the chilly autumn air, this can act as a natural moisturiser and be extremely calming.
Daruharidra
The Ayurvedic herb for skin health daruharidra, commonly referred to as Indian Barberry, is less popular but extremely effective. It is excellent for treating a wide range of skin disorders, including eczema and acne, due to its antibacterial and anti-inflammatory properties. When the weather is changing in the autumn and skin issues can occur, this plant is extremely helpful.
Daruharidra Face Pack: Combine the powder and water to make a thick paste to use as a face pack. Apply it to the troubled areas of the skin, then leave it on for 20 to 30 minutes before rinsing it off. By doing this, inflammation and skin irritations can be lessened.
Conclusion
These Ayurvedic skin care tips might help your skin transition smoothly into the new season as part of your autumn skincare regime. Neem, Turmeric, Sandalwood, Aloe Vera, and Daruharidra are natural components that you can use to nourish your skin and shield it from the effects of the autumnal weather.
Additionally, research online Ayurvedic skin care products from a reliable company like Akansha Herbals if you like the convenience of ready-made items. The best Ayurvedic ingredients are included in the formulation of these products, ensuring that your skin will receive the best benefits from nature. In order to tackle fall skincare in a balanced manner, seek for products that have the elements mentioned above.
In addition to these skincare suggestions, keep in mind that Ayurveda encourages holistic health, so you should also maintain a good diet, drink lots of water, and get enough sleep to keep your skin glowing throughout the fall. Adopting these Ayurvedic practices can help you obtain bright skin as well as reap the many advantages of old knowledge for contemporary beauty.