Top 5 Ayurvedic Solutions to Treat Blackheads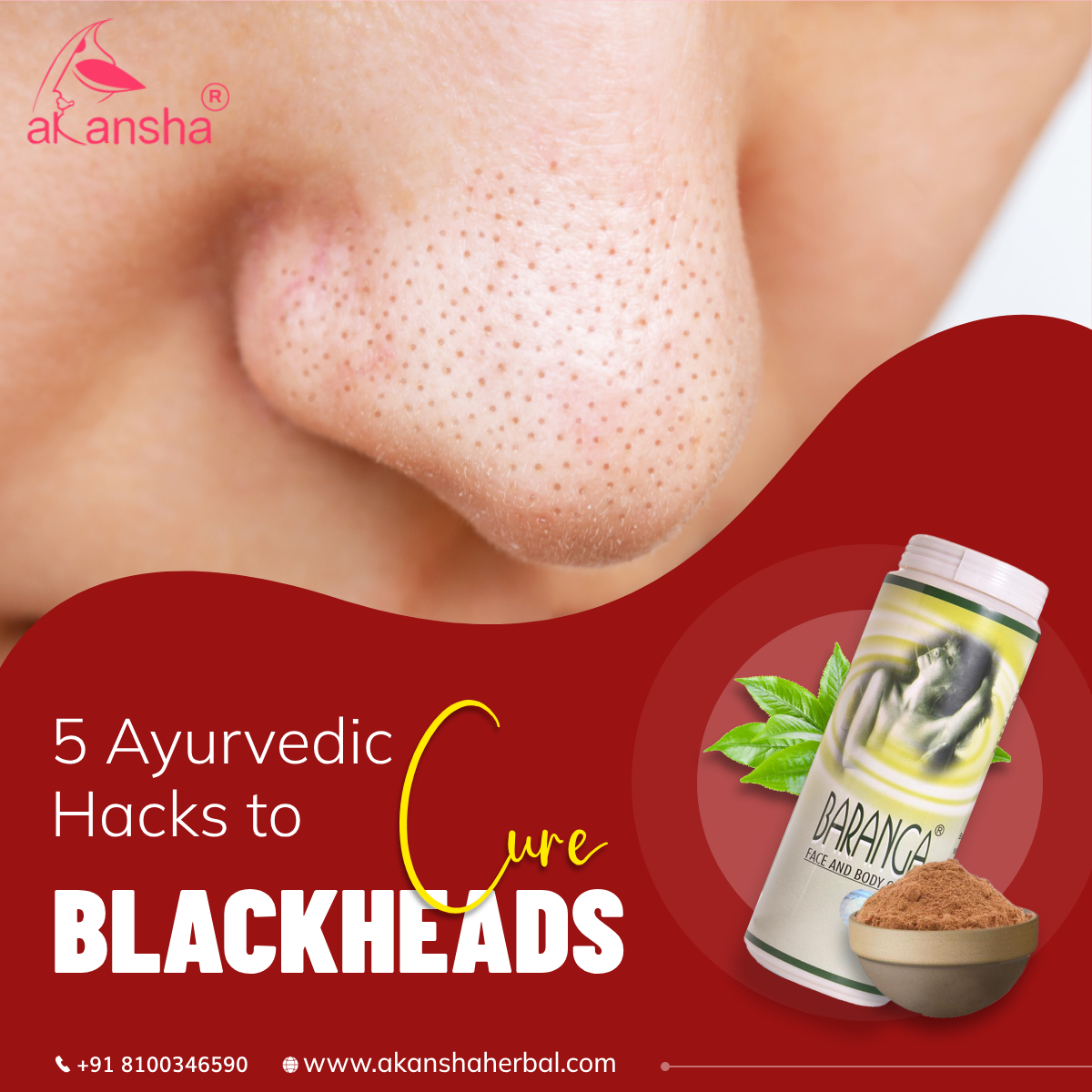 Blackheads are the result of the accumulation of sebum, dirt, sweat, and dead skin cells over time inside the skin pores. These appear as black bumps on your skin, especially on the nose and forehead areas. These are stubborn and do not want to go away easily, even if you take care of your skin every day. What you need is an effective skin care routine. Using chemically formulated skin care products can do the opposite of taking care of skin and harm it in the long term. Switching to Ayurvedic skin care products and ingredients can offer a slow and effective solution to the problem, and you will notice that your skin is free of blackheads and other skin problems. In this blog, we have shared some of the top Ayurvedic products and ingredients suggested by top skin care brand Akansha Herbals. So, let's delve deeper to know more.
Top Ayurvedic Solutions to Remove Blackheads
Blackheads can be a source of embarrassment for many. The job and social life often get affected by a person's appearance, and in this case, if unsightly blackheads show up, then you need to get rid of them plain and simple.
Masoor dal paste
Masoor dal, besan, and rice powder, which are endowed with natural exfoliating capabilities, can easily eliminate acne and blackheads from the skin while also reversing sun damage and brightening the skin to provide an even complexion. It is a good skin cleanser due to its high nutritional, mineral, and vitamin content. Masoor dal aids in clearing your skin of grime and pollutants thanks to its exfoliating abilities, which is why it is an effective remedy for blackheads and acne treatment.
Are you looking for an alternative to this ingredient? Then, you can start using Akansha Herbal's Ayurvedic skin care products for a similar result.
Oatmeal and rose water
Nowadays, oats aren't only meant for breakfast. They may also greatly benefit your skin! Three tablespoons of yogurt, two spoonfuls of oats, and one teaspoon of rose water should be combined. Make a fine paste by thoroughly mixing. Apply this to the treatment area. Give it 10 to 15 minutes to dry. Use warm water to fully rinse it off. Not only will it aid in pore clearing, but it will also exfoliate your skin, giving you a radiant glow.
Walnut powder
Blackheads and dead skin cells can be removed with cracked walnut shells, which have been deemed the greatest exfoliating agents. It gently exfoliates the dermis, or outer skin cells, and aids in the better absorption of beard cream, oil, or other facial products. It also clears any pollutants and clogs from the skin's pores. Know how to make a pack with the help of walnut powder: Take 1/2 to 1 teaspoon of ground walnuts, then add honey and thoroughly mix to make a paste. For 4-5 minutes, gently massage the face and neck. Thoroughly wash the face.Use this treatment twice a week to keep blackheads and blemishes under control.
Alternatively, you can use Akansha Herbal's Baranga scrub for similar effective results, such as blackhead-free, clear skin and smooth,  polished skin.
Green tea
Green tea's natural polyphenols gently exfoliate the skin, helping to remove dead skin cells that can clog pores. It can regulate sebum production, reducing excess oil that frequently results in blackheads. Its antioxidant content, particularly EGCG, helps neutralize free radicals that contribute to blackhead formation. Its astringent properties soothe irritated skin and reduce inflammation around blackheads.
If you want the same result but, due to time constraints, want a product that works in a similar manner, then you can visit Akansha Herbal's herbal shop online and choose the suitable product that you need.
Sugar scrub and jojoba oil
For the treatment of blackheads, jojoba oil and sugar scrubs can be helpful. The scrub's sugar granules work as a mild exfoliator to remove dirt, dead skin cells, and other debris from the skin's surface. This exfoliation helps clear clogged pores, especially those containing blackheads, and stops the buildup of dead skin cells that can lead to the development of blackheads. Jojoba oil, a natural and non-comedogenic moisturizer, not only gives the face moisture, but it also helps control sebum production, lowering the chance of blackheads brought on by too much oil. When used in tandem, this pair offers a well-rounded strategy for dealing with blackheads, fostering brighter, smoother skin while reducing the likelihood of irritation.
Conclusion
Although blackheads can be inconvenient, you can manage them by using easy, natural solutions. Ayurveda advises a balanced diet and way of life in addition to topical therapies for skin health. Additionally, stay away from products with chemical bases that can harm your skin. With the help of ayurveda, you can keep your doshas balanced and your body healthy from the inside out. If you are interested in using Ayurvedic skincare products from Akansha Herbals, then you can visit their online store to place an order.