Top 5 Ayurvedic Ways to Boost Hair Growth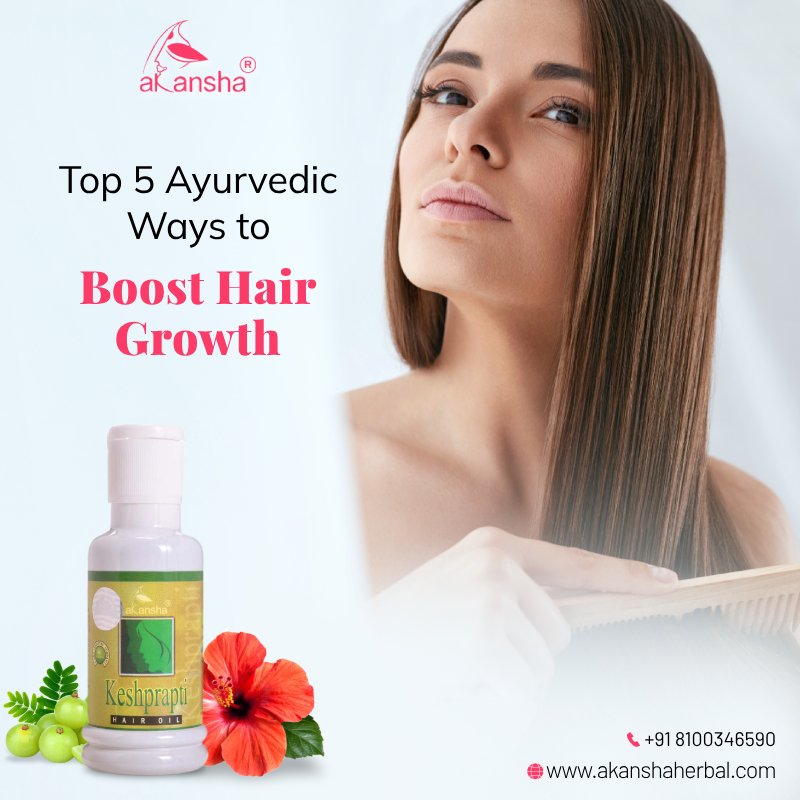 Voluminous, healthy hair is what everybody desires. However, due to heavy pollution, a poor lifestyle, and hereditary reasons, individuals experience hair fall and hair thinning problems. If you are someone who is facing baldness, hair thinning, or patchy hair-related issues and is not getting any fruitful results by using different cosmetic hair tonics, oils, and pills, then you can try Ayurveda. Being the oldest natural medicine system, it offers side-effect-free solutions. To help you know some of the most highly regarded Ayurvedic ingredients and Ayurvedic hair care products from Akansha Herbals, you can take a look below.
The Top Ayurvedic Ways to Boost Hair Growth
Many ingredients can help boost hair growth; here are some of the top ones that you can take a look at.
Hibiscus flower
The Hibiscus flower is one of the most commonly found flower plants in India. The flower is packed with amino acids, A and C vitamins, alpha-hydroxy acids, and other things. All of these elements help boost the growth of hair. What you should do is take around twenty hibiscus flowers and four leaves from this plant, make a fine paste of them, and apply this to your hair. Wait for some time, and then rinse well. You can also make oil and use it every day.
For the same benefit, you can use Akansha Herbal's Keshprapti hair oil, one of the top Ayurvedic hair care products for stimulating hair growth.
Sesame oil
When you use sesame oil and massage your hair, it helps to stimulate blood circulation and boost the growth of hair. Additionally, this oil is also rich in omega-3 and 6. In a study, it was shown that these fatty acids cause hair loss. Hence, using this oil can restore these proteins to your hair.
Brahmi and Methi
We all know that Brahmi and methi are great for hair. While the former strengthens the hair and helps boost hair growth, the latter helps reduce hair fall. Hence, your desire to achieve voluminous hair can be easily achieved using these two ingredients. What you need to do is make a paste of methi seeds, add some water to it, and paste Brahmi leaves. Alternatively, you can also use Akansha Herbal's hair care products. If you are interested, then you can visit their herbal shop online to browse and place your order.
Curry leaves
Another easily available ingredient that is good for hair is curry leaves. People who know use curry leaves in oil to promote hair growth. Since they contain beta-carotene, these leaves help to repair and strengthen the roots and prevent hair fall. Just pick a bunch of thirty to forty leaves and dry them in the sunlight. Take some coconut oil, heat it, and add these leaves to the oil. Massage this oil on the scalp for half an hour, and with a gentle shampoo, wash the hair.
Amla
Indian gooseberry, or amla, is a great source of vitamin C. It is used in many Ayurvedic therapeutic medicines. Amla contains some fatty acids, helps strengthen the hair follicles, and nourishes the hair from within. Just make a fine paste of amla fruit or amla powder available in the market by adding some water and applying it to your hair. Leave the paste to absorb for a few minutes, then wash it off.
Conclusion
Taking care of your hair is essential when you want beautiful hair. In this blog, we have mentioned some of the top ingredients that can help make the hair stronger, longer, and more voluminous. If you also desire to get the best hair, you can use these ingredients or Akansha Herbal's Ayurvedic hair care products like Keshprapti regularly for visible results.