Top 5 Ayurvedic Ways to Get Rid of Pimples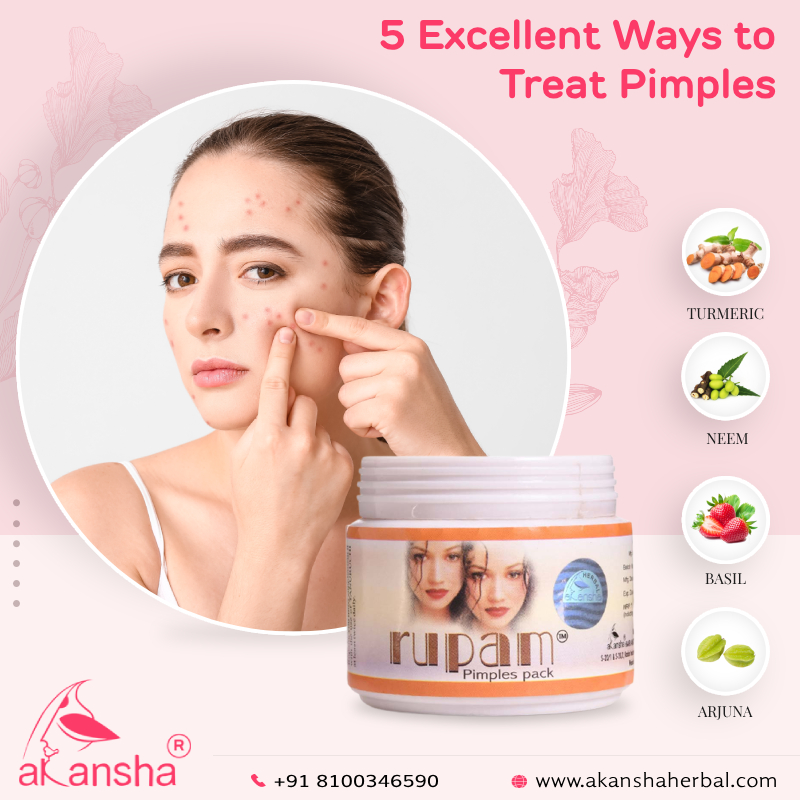 Among many skin issues, pimples can be a bothersome skin condition that affects people of all ages. Although many over-the-counter medications are available, many people are turning to Ayurveda, a traditional holistic medical system, to address this condition. An all-natural method of treating acne is provided by Akansha Herbal, a reputable name in Ayurvedic products. With the aid of the superior Ayurvedic skin care products from Akansha Herbal and five suggested Ayurvedic ways, we will find out in this blog how they help to get rid of those bothersome pimples.
5 Best Ayurvedic Remedies to Remove Pimples & Get a Clear Skin
Here are some of the top Ayurvedic solutions that can help to get rid of pimples that can otherwise leave poor marks on the skin. Take a look to know.
Turmeric
Due to its powerful anti-inflammatory and antibacterial qualities, turmeric has been utilized in Ayurvedic medicine for millennia. This golden spice includes curcumin, a chemical with anti-inflammatory and acne-causing properties. Alternatively, for the treatment of pimples, you can also use Akansha Herbal's Ayurvedic skin care product, which harnesses the power of turmeric in its herbal compositions. In addition to treating existing pimples, turmeric also works to prevent new ones from developing.
Neem
Rightly named "Nature's Pharmacy," neem is a potent source of minerals and antioxidants. It is a vital component of Ayurvedic skincare because of its antibacterial, antifungal, and anti-inflammatory effects. Neem-based solutions from Akansha Herbal efficiently treat pimples by cleaning the skin, halting bacterial growth, and easing inflammation. Neem is kind to the skin and can lessen acne-related skin inflammation.
Basil
In Ayurveda, tulsi, often known as holy basil, is valued for its curative qualities. This herb detoxifies the body and cleanses the blood, which is essential for both treating and preventing pimples. Tulsi is included in Akansha Herbal's formulas to provide you with a holistic approach to skincare. Tulasi's antibacterial and anti-inflammatory characteristics aid in clearing up skin and minimizing acne outbreaks.
Arjuna
Arjuna is an Ayurvedic herb with cooling and astringent effects that is made from the bark of the Arjuna tree. It helps in skin healing by reducing acne scarring, which is caused by acne. You can get smoother, zit-free skin by including Arjuna in your skincare regimen.
Also, you can use Akansha Herbal's product, Rupam pimples pack, which is made up of top herbal ingredients like Arjuna, tulsi, haritaki, and others. Using this pack daily in the morning can be a great way to treat pimples.
Sandalwood
Since ancient times, sandalwood has been used in Ayurvedic cosmetics because of its calming and cooling effects. So, you can use the Sandalwood paste to soothe irritated and inflamed skin brought on by zits. In addition to reducing swelling and redness, sandalwood also aids in reducing the size of zits. Its all-natural scent gives your skincare routine a revitalizing touch.
Some extra tips
Make sure that you cleanse, tone, and moisturize your skin daily to get the best result. This routine, when followed regularly helps to keep the excess oil at bay and helps to give you beautiful, clear, and acne-free skin. Last but not least, don't forget to eat healthily, stay hydrated, and get a good night's sleep.
For the products, you can buy herbal beauty products from Akansha Herbal. To choose the best-suited products, visit their online store to place your orders.
Take away
Pimples can be a chronic and annoying skin issue. You may successfully treat acne while nourishing your face with natural substances by including Ayurvedic components like turmeric, neem, basil, Arjuna, and sandalwood in your skincare routine. Akansha Herbal will help you say goodbye to those bothersome zits and hello to glowing, zit-free skin. Want to use their Ayurvedic skin care products, then make sure that you visit their website.