Top 5 Benefits of Aloe Vera for Your Hair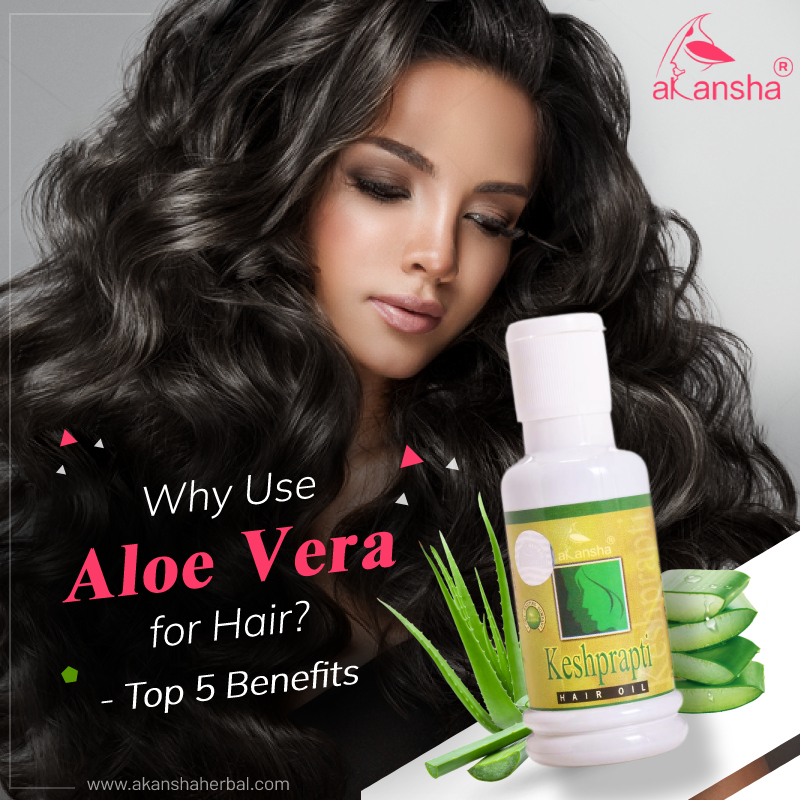 Aloe vera is well known for its medicinal properties and many benefits when it comes to skincare. You may have used aloe vera as a face moisturiser, for soothing sunburns, in face masks and more. Similarly, aloe vera can help to strengthen hair, protect it from UV rays and offer many other benefits. The minerals, vitamins and other ingredients that are present in aloe vera help to supply essential nutrients to the hair. Thus, if you are facing multiple problems with your hair such as weak hair, itchy scalp and more, then you can solve them by just using aloe vera. To find out how aloe vera can help your hair, you can read this blog. To cure all the hair related problems that are mentioned here you can also buy herbal products online from Akansha Herbals.
Top Ways Aloe Vera Can Benefit Your Hair
Check out the many benefits of aloe vera for hair here.
Strengthens hair
Aloe vera is packed with several active ingredients such as minerals that help to strengthen the hair roots and fight hair loss. Besides, minerals, it also has amino acids, fatty acids and vitamins such as vitamins A, C, E, and B12, which play a vital role in promoting healthy hair follicles. If you are someone who is facing issues due to weak and fragile hair such as split ends and hair breakage, then you can consider applying aloe vera to your hair. For achieving the same benefits, you can also buy herbal products online from Akansha Herbals.
Cures itchy scalp
If you have an itchy scalp then you can use Aloe vera to get relief from it. Generally, a common skin condition called Seborrheic dermatitis causes dandruff, scaly patches and red skin. These problems trigger an itchy feeling in the scalp, which can be a source of great discomfort. Aloe vera has been found to significantly reduce the itchiness and scaliness in the scalp on application. Besides aloe vera, you can also use Akansha Herbals products to cure scalp itchiness. Find their online Ayurvedic products by visiting their website.
Protects hair from UV damage
Among all the benefits that aloe vera offers, it also helps to protect your hair from the harmful UV rays from the sun. UV exposure can cause hair to lose the original colour, shine and trigger roughness and aggravate breakage problems. To prevent all these problems, you can apply fresh juice from aloe vera leaves to your hair regularly. This will not only heal your hair but also, keep it protected from many problems.
Boosts hair growth
If you want to stimulate new hair growth then you don't have to depend on multiple things, simply using aloe vera can help. It is thought that a chemical compound called aloenin that is responsible for promoting hair growth is present in plants such as aloe vera. Also, other nutrients that are present in aloe vera help to boost hair growth. You can also depend on Akansha Herbal's Keshprapti hair oil to boost hair growth and for other benefits.
Fights dandruff
Aloe vera has several properties that help to fight dandruff problems. This includes, aloe vera can moisturise the scalp, it has anti-fungal properties. The anti-oxidant properties present in the plant help to prevent cell damage. Also, the anti-inflammatory properties that are present in it help to reduce irritation. Further, it has essential enzymes, which help to reduce scalp inflammation. Thus, aloe vera is one miracle ingredient that can cure your dandruff woes effectively. You can also buy herbal products online from Akansha Herbalsto reduce problems like dandruff, hair thinning, itchy scalp and more.
Conclusion
We face many problems with our hair due to pollution, ageing, chemical damage and more. Most of the time people run behind quick results and they do more damage to their hair in the process of using chemically formulated hair products. Aloe vera is a natural ingredient that can solely solve many hair problems. However, you to need to use it regularly and include it in your daily hair care routine. You can also, get the same benefits of aloe vera by using Akansha Herbal products. They have many hair care products that are made with 100% Ayurvedic ingredients, you can buy herbal products online at Akansha Herbals by visiting their online site.