Top 5 Ways Turmeric Can Help You Take Care of Your Skin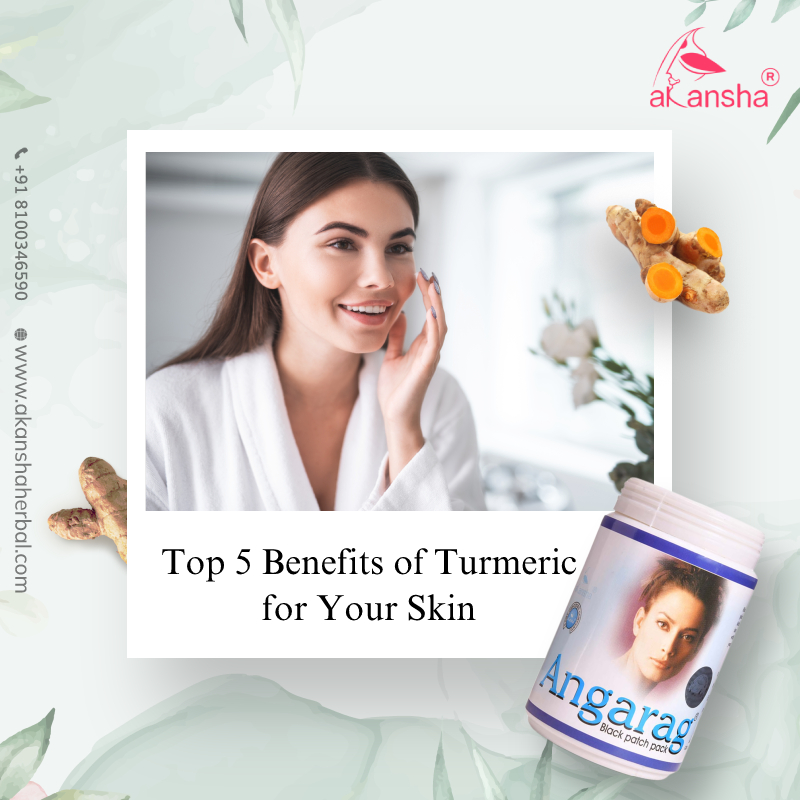 Turmeric has been known to humans since ancient times for its medicinal and healing properties. Further, it is also known to all of us for its cosmetic benefits. This bright yellow spice is considered a boon and is considered very auspicious in India, where it is included in many rituals like weddings, rice ceremonies, etc. Turmeric generally gets its health benefits due to the presence of curcumin in it, which is a bioactive component that is packed with antioxidant properties. Therefore, it is used by many to fix various skin issues. Now, if you want to switch to Ayurvedic skin care products, that is a great decision you are making for your skin. To help you know the wide range of benefits of turmeric and Akansha Herbal products, we have discussed the top benefits in this blog.
 
Heal acne

Acne is one of the most common skin problems that people struggle with. Cutibacterium acnes bacteria cause lesion-type acne on the skin. Turmeric is a highly regarded ingredient because it helps to heal this kind of acne problem. Again, as it has been pointed out in a study, the healing power of turmeric comes from curcumin, and this is the component whose antioxidant properties help to combat acne vulgaris. Plus, the anti-inflammatory properties help to minimise the skin-inflammation, which eventually heals the skin.
 
Lightens hyperpigmentation

When it comes to skin lightening, turmeric can be your go-to product. This is possible because of the presence of potent antioxidant ingredients, which can reduce dark spots, hyperpigmentation, blemishes, etc. Also, it helps to add a natural glow to the skin, which is why it is applied to the bride and groom on their D-day to add a natural glow to their faces. You can also try Akansha Herbal's Ayurvedic skin care products to minimise the hyperpigmentation in your skin.
 
Reduces dark circle

Another benefit of turmeric is that it helps reduce the dark circles around the eye area. Dark circles are another common skin problem that generally occurs due to a poor sleep routine, lifestyle, and other reasons. Applying turmeric to that area can be problematic since it boosts circulation in the area and reduces the appearance of dark circles. This way, it reduces puffiness and lightens up the skin around the eyes.
 
To get rid of dark circles, you can also rely on Akansha Herbal's skin care products. To find and buy suitable products, you can visit their herbal shop online.
 
Treats dry and dull skin
 
Dry skin in winter is a natural problem. Due to a lack of moisture in the air, the skin at this time becomes dehydrated, and the skin becomes dry and dull. With the application of turmeric, you can fix this problem. Applying a pack of turmeric and honey can remove the dead skin cells and reveal the new skin cells in the process. Alternatively, you can use Akansha Herbal's skin care products like Tarunima for fair and glamorous skin. This is a delicate baby skin care product, so you can also use it on your baby's skin just like you can apply turmeric to their skin.
 
Heals Eczema and Psoriasis

Both eczema and psoriasis are skin problems that can be painful for patients. While psoriasis makes the skin thick and extremely dry, causing severe irritation in the skin, eczema, on the other hand, causes red, itchy rashes on the skin. The application of turmeric can improve both of these conditions since it has anti-microbial and anti-inflammatory properties; thus, the application of it can kill the bacteria that cause psoriasis, and the anti-inflammatory effects help reduce skin inflammation in the case of eczema.
 
Conclusion

By now, you know the multiple skin issues that turmeric helps to fix and why it is an effective remedy. So, you can hopefully now make a better decision for your skin and keep it protected and well-maintained by including turmeric in your skincare routine (if you need to treat any of the above-mentioned problems). Alternatively, you can also use Akansha Herbal's Tarunima and their other suitable Ayurvedic skin care products for visible results.