Top Ayurvedic Remedies to Take Care of Your Hair in Summer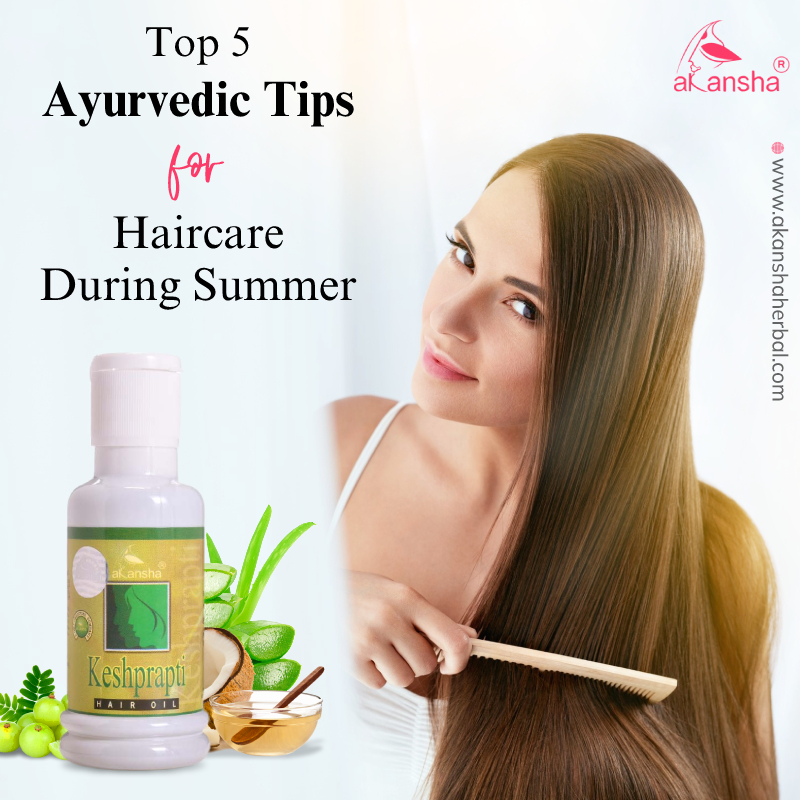 Summer can make your hair dull and lifeless. The scorching heat of the sun can be harmful in many ways now. Primarily, during the summer, your hair can suffer oxidative damage caused by the hot weather conditions. You can face hair fall as the extreme heat leads to more sweat, which does not evaporate quickly as the scalp is covered with hair, which obstructs the flow of air. This also leads to the accumulation of more dust and dirt, which causes the pores to get clogged and weaken the roots of the hair. You can face more such problems during the summer. If you rely on chemical-loaded products to get rid of these, it can cause more harm. Thus, you can rely on Ayurvedic hair care products and the ingredients that have been mentioned below for the best results with no side effects.
 
Coconut oil
 
During the summer, you can apply coconut oil to your hair. Regularly massaging your hair with oil can soften the tissues and also nourish the hair. Plus, since it is rich in fat, it can help to fix the split ends of hair and protect it from getting tangled.
 
For similar results, you can also use Akansha Herbal's Keshprapti hair oil. The hair oil is made up of different types of oils and offers wonderful results when applied regularly.
 
Neem
 
Neem has great conditioning qualities. Therefore, using it during the summer would keep the hair in good health and restore the pH level of the hair. Plus, it also helps to get rid of dandruff and stop hair fall. What you need to do is grind the neem leaves into a paste and apply it to the scalp. Let it sit for 30 minutes, and then rinse it off.
 
You can also use Akansha Herbal's Ayurvedic hair care products, they would provide you with the same results. However, make sure that you choose the right products.
 
Aloe vera
 
Aloe vera gel is one of the best Ayurvedic ingredients that should be added to your hair care routine. It not only adds shine to the hair and properly nourishes it, but it can also repair infections, fix dry hair, and solve hair loss problems. So, take a few leaves, scoop out the gel, and massage it directly into your hair. Leave it there for half an hour, and then wash it off with clean water.
 
Amla
 
Amla is another ingredient that you can use to fix several summer-related hair issues. Firstly, hair fall, which tends to increase during the summer, can be tamed using amla. Plus, it can strengthen the hair, reduce dandruff, and cleanse your scalp. Further, it deeply conditions the hair. So, if you can make a paste out of it and add curd to it, apply it to your hair and scalp. Leave it for thirty minutes, and wash it off. You can see your hair issues are considerably reduced.
 
For the same results, you can use the Keshasree hair pack regularly. Made with the best natural ingredients, it can offer great results.
 
Sesame
 
The fatty acids present in the hair help by soaking into the roots and scalp, reducing inflammation and hair fall. Plus, it also helps to boost hair growth. Sesame oil carries nutrients, so it is a great way to bring the hair back to life. So, just massage this oil every day into your hair and see the amazing results.
 
For similar results, you can use Akansha Herbal's products. If you want to go through their hair care products, you can visit their herbal shop online.
 
Conclusion
 
So, these are some of the best Ayurvedic tips that you can follow to take care of your hair during the summer. Not only would it help to induce life in your hair, but it would also help to maintain it for a long time, which may not be possible if you use chemical-loaded products. You can also give Akansha Herbal's Keshashree and Keshprapti a try. To buy these Ayurvedic hair care products, you can visit their herbal shop online.