4 Ayurvedic Ways to Keep Skin Moisturized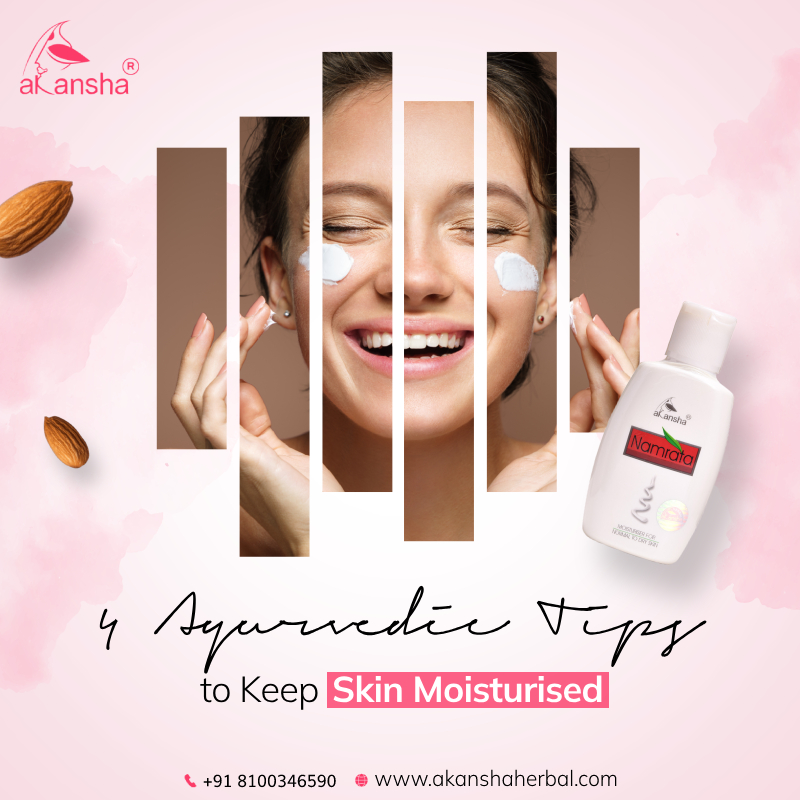 The age-old knowledge of Ayurvedic medicine stands out in a world when skincare products are widely available and promise incredible effects. Ayurvedic medicine is a tried-and-true way of nourishing and moisturizing the skin. Some Ayurvedic ingredients have been proved to be highly helpful for keeping skin moisturized despite the wide range of choices available. In this lesson, we'll examine four Ayurvedic techniques for naturally hydrating your skin: almond oil, aloe vera, sandalwood, and coconut milk. In addition to the natural ingredients, Akansha Herbals offers online Ayurvedic products.
Almond oil
An essential component of Ayurvedic cosmetics, almond oil is obtained from the nutrient-dense almond kernel. This golden elixir, which is abundant in vitamins A and E, deeply nourishes the face assisting in moisture retention and maintaining a beautiful complexion. It is a go-to treatment for dry, dull skin because of its emollient qualities, which make it a great option for retaining moisture.
Warm a few drops of almond oil between your palms and use a gentle massage motion to apply it to your face and body as part of your skincare routine. Leave it on overnight for an extra moisturizing boost, and wake up to skin that is refreshed and soft.
Pro Tip- For a luxurious treat, mix almond oil with a pinch of turmeric for added anti-inflammatory benefits.
Alternatively, you can also use online Ayurvedic products from the house of Akansha Herbals such as Namrata moisturizer for the same result.
Aloe vera
Aloe Vera is well known for its therapeutic and moisturizing qualities and is sometimes referred to as the "plant of immortality" in Ayurveda. Aloe Vera leaf gel is a naturally occurring humectant that draws moisture into the skin and forms a barrier of defence. It is therefore the perfect option for people with dry or sensitive skin.
To begin benefiting from the hydrating properties of aloe vera, just extract the gel from the leaves of the plant and generously apply it to your skin. Aloe Vera gives your skin a quick moisture boost and leaves it feeling renewed, whether you use it as a stand-alone moisturizer or mix it with your favorite skincare products.
Tip- Freeze Aloe Vera gel into ice cubes and rub them on your face for a refreshing and moisturizing ice facial.
You can also buy herbal beauty products from the collection of Akansha Herbals for the best result.
Sandalwood
Ayurvedic skincare has long relied on sandalwood, which is valued for both its unique scent and healing qualities. Sandalwood paste, which is made by finely powdering the wood, contains natural oils that are very good for skin hydration. It works particularly well to relieve irritated or inflamed skin.
Make a paste out of rose water or sandalwood powder and apply it to your face. Before rinsing it off, let it dry. This gives your skin a healthy glow and hydrates it as well. It also makes you feel peaceful and at ease.
Tip- To enhance the hydration and smell of your sandalwood paste, add a few drops of rose water for a luxurious experience.
Coconut milk
Coconut milk, which is made from the flesh of coconuts, is an excellent source of fatty acids, vitamins, and minerals that are great for hydrating skin. Coconut milk is highly valued in Ayurveda for its profound moisturizing properties that leave skin smooth and silky. It's especially good for dry skin.
You only need to apply coconut milk to your skin and let it sit there for 15 to 20 minutes before rinsing it off to reap its hydrating benefits. Even the driest skin can benefit from the natural lipids in coconut milk acting as emollients to replenish moisture.
Tip- Combine coconut milk with a pinch of saffron for an Ayurvedic face mask that not only moisturizes but also promotes a glowing complexion.
Conclusion
The demand for real Ayurvedic goods has increased as more people come to understand the benefits of Ayurveda. Purchasing online Ayurvedic products from Akansha Herbals gives you access to a wide variety of Ayurvedic formulas, each tailored to address particular skin issues. These products, which range from cleansers to moisturizers, frequently combine traditional formulas with contemporary ingredients to give you the best of both worlds.