5 Amazing Ayurvedic Hacks for Silky and Shiny Hair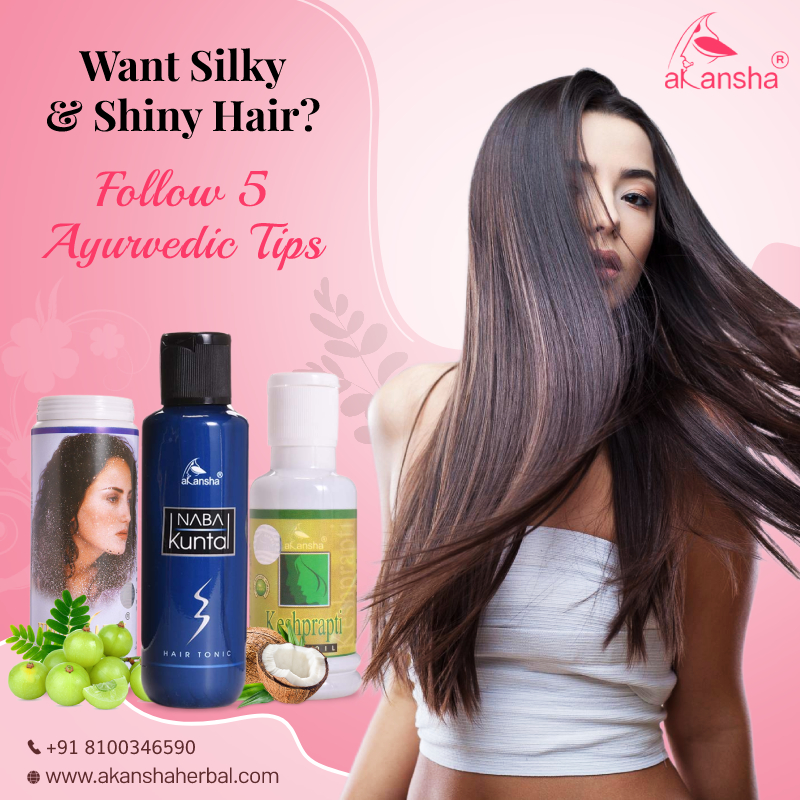 Proper hair care requires a lot of time and effort. However, on the contrary, many are under the impression that chemical-based products can give them an immediate solution to achieve silky and shiny hair. In fact, believing such attractive offers and using ineffective products often lead people to deal with several hair-related issues such as hair loss, split ends and rough hair and achieving shiny and silky hair remains a distant dream. Thus, if you want to achieve a beautiful silky and shiny mane, you have to follow a proper hair care routine and most importantly stay away from chemical-based hair care products. Ayurveda offers a lot of benefits when it comes to taking care of your hair and it delivers the results that you are seeking. In this blog, we have shared top Ayurvedic remedies and the best online Ayurvedic products from Akansha Herbals that can help you to achieve strong, shiny and silky hair.

Coconut

Coconut oil is an age-old remedy that offers a range of health benefits for tresses and scalp. It can reduce hair dryness, hair breakage issues and seals the top hair layer and protects it from any kind of damage and makes the hair soft and silky. Using Akansha Herbal's Keshprapti hair oil regularly can also offer the same results and help you to achieve beautiful hair.

Aloe vera gel

Aloe vera is one ingredient that needs no introduction. Used for many hair related issues, Aloe vera can be considered one of the most reliable Ayurvedic ingredients. Rubbing Aloe vera gel on the scalp and letting it penetrate properly into the hair follicles can improve the condition of the hair gradually, add shine to your hair and make it silky. For getting the same results, you can also rely on Akansha Herbal's products and buy them at their herbal shop online.

Bhringraj

Bhringraj herb in Ayurveda is considered one of the best foods for hair. This herb has been used for ages and still now it is used for making various Ayurvedic products. The leaves of this plant act as a hair tonic and work miraculously to solve a host of hair related problems such as hair fall, parched hair, dandruff issues and even premature ageing of hair. Applying Bhringraj oil or its hair mask to the scalp offers the best results. Alternatively, you can also use Akansha Herbal's Keshprapti hair oil to get the same results.

Amla

Amla is packed with loads of essential fatty acids that help to turn the hair softer, shinier and also, help to add volume. Moreover, owing to the presence of the high amount of iron and carotene in it, using Amla as a hair pack can help to trigger faster hair growth. For the same amount of benefits and more, you can also use Akansha Herbal's Keshasathi shampoo.

Fenugreek

Fenugreek seeds are known for their lustre rendering properties to dull and damaged hair. Soaked and pasted fenugreek seeds when applied to the scalp act as a conditioner and add an adequate amount of moisture to the hair making it soft, silky and shiny. To achieve the same results, you can also use Akansha Herbal's Nabakuntal hair tonic.

Conclusion

For achieving a silky and shiny hair, following a proper hair care routine and using the right products are essential steps. The above-mentioned Ayurvedic hacks are some of the best solutions that you rely on to get your desired hair. Also, you can buy Akansha Herbal's products at their herbal shop online to achieve the same results.