5 Excellent Ayurvedic Tips to Control Hair Fall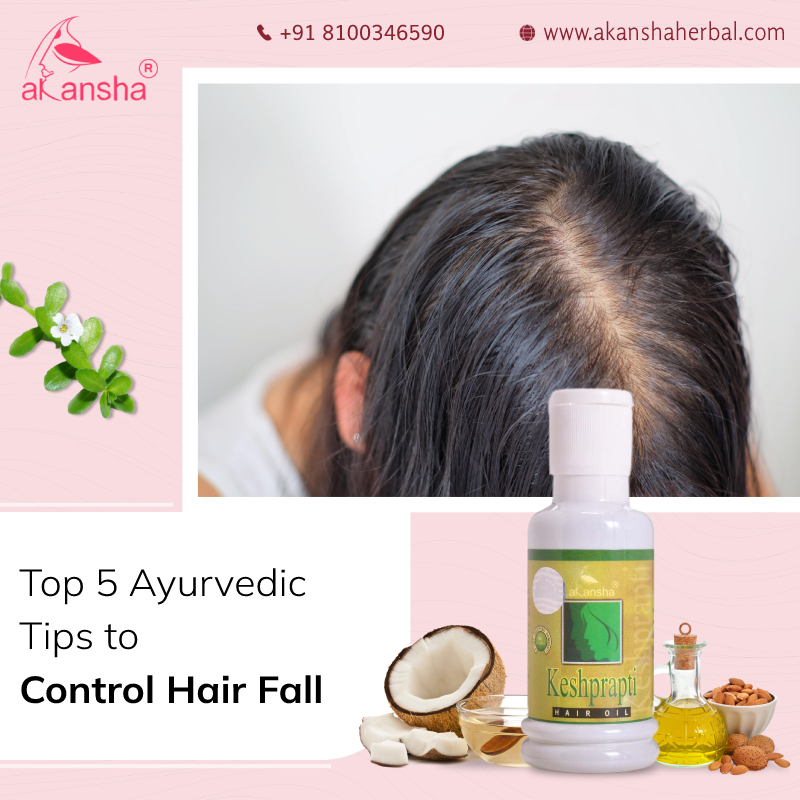 Everyone wishes for thick, long, and lustrous hair. However, we often see our strands of hair fall while combing or otherwise, sometimes at an alarming rate. This can be attributed to a lot of reasons, including pollution, heredity, stress, and others. Notwithstanding the above, we have good news for you! You can reduce hair fall without having to use a ton of chemicals and make your hair and scalp look amazing. Also, you must try out the Ayurvedic hair care products from Akansha Herbal for their amazing benefits.
Top Tips to Know
Here are the 5 key ingredients that can reduce hair fall while keeping your hair strong and nourished.
1. Sesame Oil
Hair loss and thinning in patches can be caused by inflammation and irritation on the scalp and around the hair roots. Sesame oil has fatty acids that penetrate the skin and aid in the healing of the scalp and roots. Applying sesame oil may help strengthen your hair roots and give them proper nourishment. It may also help to prevent hair damage and split ends. Since sesame oil has emollient and occlusive characteristics, it can fill the balding patches and create a protective seal on the hair.
Use
Apply sesame oil to your hair before taking a shower. This moisturises and treats both your hair and scalp while leaving no greasy residues behind.
2. Coconut Oil
Coconut oil is often regarded as the finest hair oil for reducing protein loss and maintaining a healthy appearance of your hair. When applied before washing your hair, coconut oil can restrict the loss of protein from the hair. Coconut oil is mostly composed of lauric acid, a medium-chain fatty acid that provides it with a long and straight structure. This allows the oil to penetrate deep into the hair shafts and strengthen them from the roots. Thus, it reduces hair fall.
Use
Applying coconut oil to your hair before washing can lessen the level of damage it experiences while washing or being wet. Simply take a few drops of coconut oil and mildly massage it onto your scalp. You can even heat the oil a little. Leave it on for an hour, and then rinse it off with a mild shampoo.
3. Almond Oil
Almond oil has several benefits for your hair. This is due to its anti-inflammatory properties and high content of fatty acids such as omega-6, omega-3, and omega-9. Almond oil also includes vitamin E and magnesium, which are recognised for their high antioxidant traits. It includes nutrients and proteins that promote hair growth while also strengthening the hair. Anecdotal evidence suggests that the oil softens and adds shine to hair as well. It smoothes, moisturises, and strengthens the interior hair shafts, preventing more heat damage. Moreover, this oil also aids in the healing of chemically damaged hair.
Use
Massage your hair with almond oil and leave it on for a while. Wash it off with a good quality shampoo.
4. Brahmi
Bramhi boosts hair growth by strengthening hair follicles and promoting new and denser hair strands. Split ends not only make hair seem limp and frizzy, but they also have an impact on the quality of hair. Brahmi aids in the healing of broken ends and prevents damage to the new ones. Also, thin and limp hair is undesirable and causes people to cut a significant amount of their hair since their tresses appear to be lifeless. Brahmi completely resolves this issue.
Use
Apply Brahmi to your hair at regular intervals. It strengthens the hair and nourishes the follicles, thereby making your hair appear fuller and shinier. You may also try out Keshprapti from Akansha Herbal.
5. Amla
Amla can minimise hair loss, just as it can increase hair growth. According to studies, amla oil is a potent inhibitor of 5-alpha reductase. When applied topically, the minerals and vitamins in amla, together with the phytonutrients, enhance the circulation of blood on the scalp. Besides, it also stimulates hair growth. Blood circulation ensures the scalp receives all the nutrients and oxygen it needs to be healthy. Furthermore, subcutaneous blood flow promotes hair growth during the anagen period.
Use
You can cut amla into small pieces and rub them on your scalp or extract the juice and apply to the hair roots. Leave it on for a while before washing it off.
Conclusion
The above-mentioned tips have been tried and tested to prevent hair fall and promote healthy hair. If you are facing rapid hair fall, you must try out these ingredients. Also, check out Akansha Herbal to buy and use the most effective Ayurvedic hair care products for best results.