6 Most Common Ayurvedic Herbs to Fight Hair Fall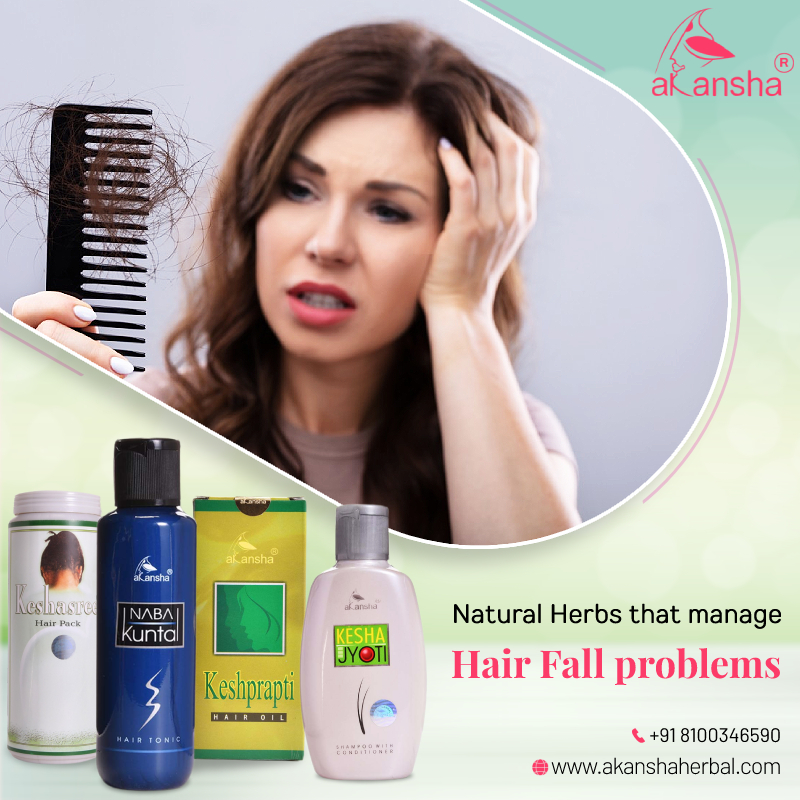 Be it straight, wavy, or curly hair, hair fall is a problem faced by all of us. The modern-day lifestyle exposes us to pollution and stress, which then leads to excessive hair fall for most people. It can also be caused by genetic or hormonal factors for some. The ancient science of Ayurveda can find solutions to your hair fall problems naturally and effectively. You can now order Akansha Herbal Ayurvedic products online in UK and choose among our wide range of hair care products made with completely natural ingredients.
In this blog, we look at the most popular Ayurvedic ingredients found in nature that can help with hair fall problems.
Amla
Amla, or the Indian gooseberry, is a rich source of Vitamin C. When it comes to managing good hair health, amla is one of the best natural ingredients. It has lots of essential fatty acids that strengthen your hair follicles and increase the shine and lustre of your hair. The fruit also contains high contents of iron, antioxidants, gallic acid, and carotene, which improve the blood circulation of your scalp and stimulate hair growth. Akansha Herbal's Keshasree Hair Pack helps with prevention of hair loss, premature greying of hair, dandruff, and itchy scalp.
Bhringaraj
Bhringraj is one of the most effective ingredients in the fight against hair fall. Bhringrajoil goes deep within your roots, stimulates blood circulation, and nourishes yourhair follicles to encourage faster and thicker hair growth. If your hair fall is caused by bacterial growth or infection, this natural herb effectively kills all hair fall causing bacteria. It promotes a clean and healthy scalp, which further contributes to natural hair growth. Regularly apply Akansha Herbal's Keshprapti Hair Oil for strengthened hair roots.
Methi
Methi, or fenugreek seeds, is another powerful ingredient that effectively fights against hair fall. It promotes hair growth and hair follicle health. Methi contains high contents of Vitamin C, potassium, and nicotinic acid. It helps prevent hair fall, encourages good scalp health, repairs damaged hair follicles, and promotes hair regrowth. Akansha Herbal's Nabakuntal Hair Tonic is great remedy against hair loss.
Hibiscus
Yes, you read that right! The beautiful blooming hibiscus flowers found in your garden are powerful herbs against hair fall. Rich in amino acids, vitamins, and antioxidants, they are good for your scalp health and promote hair growth. Both the hibiscus flowers and the leaf extract have properties that promote natural hair growth. They produce natural keratin, which is the binding element that strengths your hair and prevents them from breakage.They also make your hair thicker and more lustrous. Regular usage of Akansha Herbal's Keshajyoti Hair Shampoo containing hibiscus extracts can help prevents hair fall and make your hair more manageable.
Aloe Vera
Aloe vera is great for all hair and scalp problems. It is anti-bacterial, anti-fungal, and anti-inflammatory. It has proteolytic enzymes which improve your follicle health. If your hair fall problems are due to an excessively oily scalp, aloe verahelps remove the excess oil and prevents itchiness and dandruff caused by it. This also successfully prevents hair fall caused by oily or itchy scalp.
Rosemary
Rosemary is highly effective in fighting hair loss problems. It has strong antibacterial, antiseptic and anti-inflammatory, and antioxidant properties.They detoxify the scalp and prevent the chances of dandruff and flaky scalp, which helps reduce hair fall. It is also known to repair and improve follicle health,which stimulates natural hair growth.
Conclusion
Akansha Herbal offers an extensive range of natural hair care products that can effectively fight against hair loss problems. Place an order for Ayurvedic products online in Australia and ensure a natural hair care regime for your beautiful tresses!