Ayurvedic Practices: What Baby Care Products Are Best For Your Kids?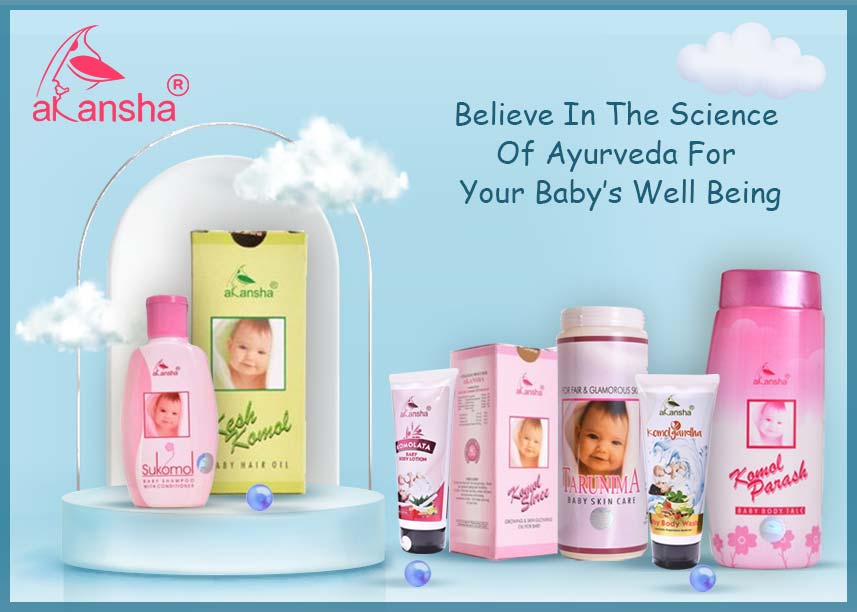 Rely on the best herbal products online for kids. Let your little one receive maximum protection and care from the lap of nature through Ayurvedic products.
There is nothing more special than welcoming a new life in this world. As parents, we are sure you would always want to provide the best for your babies. When it comes to baby care, online Ayurvedic products have the goodness to provide much-needed nourishment. The science of Ayurveda encapsulates the wholesome treatments of various ailments and shows the path to lead a healthy life.  
Why Should You Incorporate Ayurveda In Baby Care?
According to Ayurveda, our health relies on how we treat Nature, on how we bond with Nature. The more we are in tune with nature, the more we are going to reap the benefits it will bestow on us. Harmonising with nature makes us feel connected, shapes our perspectives, and strengthens our vision. The best Ayurvedic baby care products keep your child protected through their formulation that is safe. The little one receives top to toe solutions directly from natural sources and ingredients.
Why Should You Purchase Akansha's Babycare Products?
Akansha Herbal brings to you herbal baby products to buy online. The brand is a pioneer in beauty and wellness products and has been in the industry since 1992. Using their kids and baby products can be the best for your toddler. Here are some that you can purchase:
Skin Care:
Komolshree: Helps your baby's skin to be soft, fair, and glowing. Prevents sunburn, rashes, dryness, discoloration, and burning sensation of the skin. Moreover, this body oil helps the growth of your baby by strengthening bones, improving blood circulation, and contributing to the baby's development. After massaging with the oil you should use TARUNIMA for the baby's bath. It helps to remove the dead skin cells completely. Also, it will give a fair complexion, soft and glowing skin. Then puff Komal Parash powder to prevent any kind of fungal infections, rashes, or itchiness.
Komolata: This is a body wash that gently removes all the dirt and pollutants from the baby's skin. It helps to maintain hygienic skin. Herbal baby products like this will nourish the skin of your little one and will never let it be dry. Komol Gandha body lotion nourishes the baby's skin and helps to keep the skin soft, glowing, and supple.
Hair Care:
Keshkomol: It is a baby hair oil that is the right fit for your toddler's hair. It helps to prevent hair loss, removes dandruff, stops greying of hair, and promotes hair growth effectively. Moreover, it promotes natural sound sleep and improves memory. You should regularly use this oil for the best results for your baby.
Sukomol: A mild shampoo that takes care of your newborn's hair perfectly. It gently cleanses the hair, removes dandruff, and makes it soft and silky. You can either use it regularly or at least 3-4 times a week. Continuous usage will ensure your baby has no hair problems ever.
So, you trust this brand to buy skincare and haircare products for your kids. You do not need to worry about the product quality as they offer only the best.