4 Ayurvedic Remedies to Naturally Moisturise Dry Skin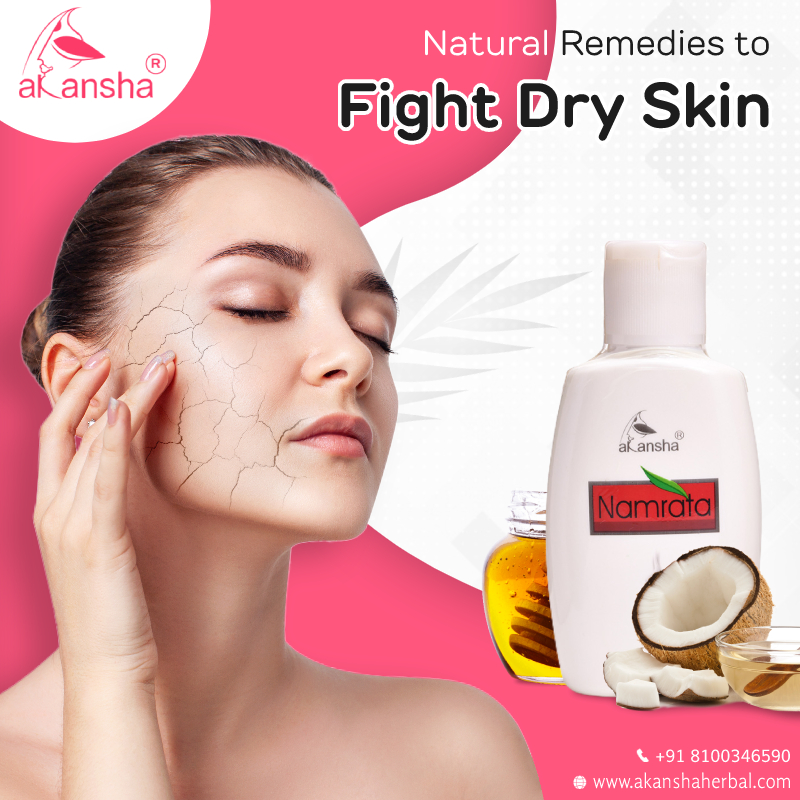 All of us want radiant and smooth skin all the time. But seldom does it happen. Especially during the winters, your skin starts feeling dry, itchy, and uncomfortable. In Ayurveda, dry skin is said to be a result of Vata dosha. Excessive dry skin can even lead to cell damage and skin infections. To prevent such a thing from happening, regularly use Ayurvedic skin care products made of completely natural ingredients. Akansha Herbal offers a wide range of natural skin remedies to moisturize and rejuvenate your dry skin. In this blog, we take a look at some common home remedies for dry skin.

Coconut oil

Pure coconut oil is said to be one of the best natural oils to nourish and hydrate your skin. Coconut oil has strong emollient properties, which makes the skin feel soft and smooth. It penetrates deep into the layers of your skin and fills up the gap between skin cells. It is perfect for dry and dehydrated skin. Coconut oil is rich in fatty acids and helps improve the lipid content of the skin. It deeply moisturises and nourishes the skin, keeping it hydrated and soft and smooth. Apply coconut oil daily during the winters to protect your skin. It leaves no side effects and can be used for sensitive skin too.

Honey

Honey has multiple beauty benefits and is therefore used in several products of Akansha Herbal Shop online. It has antiseptic, anti-bacterial, and anti-inflammatory properties. Honey is a natural moisturiser that can get rid of dry skin effectively. It is a rich source of antioxidants and potent enzymes that work as a natural humectant and emollient. It deeply nourishes and hydrates the skin, which helps to moisturise it well. Excessive dryness of the skin can lead to cracks and infections. Honey has natural healing properties and the high level of oxidants helps protect from any cell damage. The anti-microbial and anti-inflammatory properties reduce itchiness and redness of the skin. Honey also works as a gentle exfoliator, making your skin soft and supple and giving it a natural radiance.
Mehendi

Mehendi, or Henna leaves, have long been a part of Ayurvedic medicine. The plant has nourishing properties for both the hair and the skin, as well as several medicinal benefits. Mehendi is known to cure skin infections, burns, scars and blemishes. It has strong anti-bacterial, anti-viral, and anti-inflammatory properties. It also has mild astringent properties that can be useful in preventing signs of ageing and reduce your fine lines and wrinkles. The anti-inflammatory agents present in Henna help reduce the itchiness and dryness of the skin. It has a cooling and soothing effect, which in turn, has a nourishing and moisturising effect on your skin. During the winters, regularly apply Akansha Herbal's Namrata Moisturiser to keep your skin soft, smooth, and hydrated. The cream also prevents skin rashes and burning sensations.

Haridra

Turmeric is used in plenty of Ayurvedic skin care products thanks to its anti-bacterial, anti-fungal, and anti-inflammatory properties. It is a rich source of Vitamin C and antioxidants. Curcumin present in turmeric is an active ingredient that helps neutralize the free radicals in your skin, which could otherwise cause dry and patchy skin. Turmeric cleanses your pores, removes dead skin cells, and deeply nourishes and moisturises the skin. It reduces dryness and flakiness, improves hydration, and boosts the natural glow of your skin.

Conclusion

With the winters coming soon, dry skin is going to be a common problem for many people. Buy your skin care regimen from Akansha Herbal Shop online and enjoy the benefits of nature-based Ayurvedic products.