Bid Goodbye to Scar Marks With 5 Ayurvedic Solutions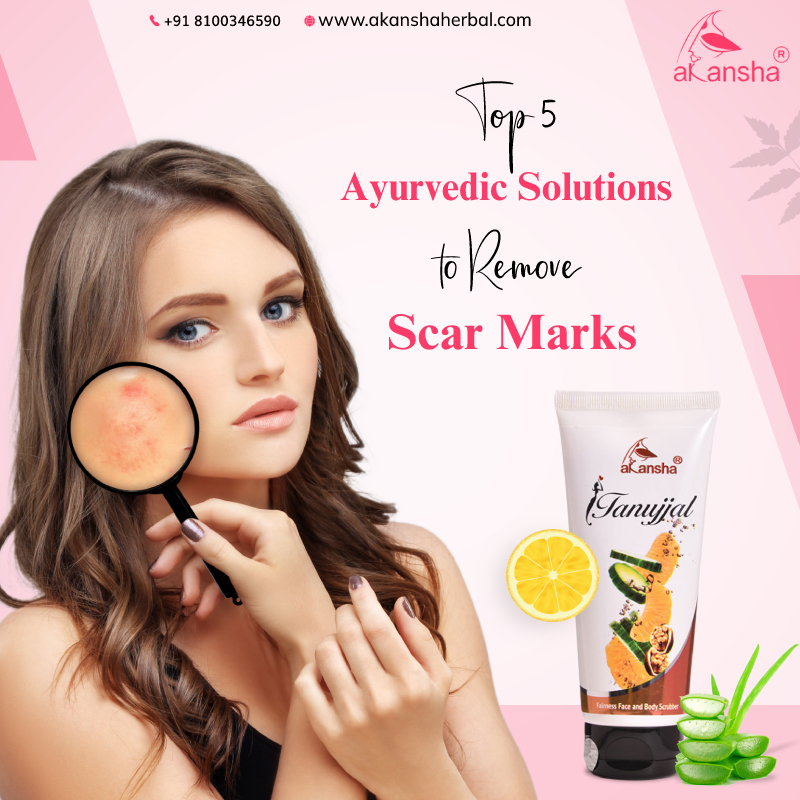 A scar appears due to damage caused by cuts, acne, and chicken pox. Now, when the skin is wounded or damaged due to any issues, what happens is that a protein called collagen is formed around that wound to heal it. Now, this collagen layer and the repaired skin leave a mark, which is known as a scar. While the formation of scar tissue is a part of the natural healing process, many people do not like the appearance of scars and want to make them less visible. This is why they start using various ointments to remove the scars. However, most scars are stubborn and take time to go away, and chemical-loaded products can cause further damage instead of eliminating the scars completely. This is why it is better to use Ayurvedic remedies to heal the scars, as they remove the scars completely without side effects; however, you need to give them time. To get rid of scars, here are some of Akansha Herbal's Ayurvedic skincare products and tips to help you. Take a look to learn more.
 
Sandalwood water

It is not an unknown fact that sandalwood is one of the best Ayurvedic remedies when it comes to skincare. It is a highly effective cooling and soothing agent. Mostly red sandalwood has been observed to be effective in curing deep scars, for instance, the ones left after chicken pox and deep wounds.
 
What you need to do is soak the red sandalwood in water for hours. Thereafter, remove the wood, dry it, and store it. Dip a small cotton ball in the water, and then apply it to the skin where the scars are present. Repeat this daily for a week, and you can see the visible results yourself.
 
Alternatively, you can also choose to use Akansha Herbal's Ayurvedic skincare products for similar effective results.
 
Lemon juice

Another effective ingredient for healing scars is lemon juice. We know that lemons are power fruits that are packed with vitamin C, which is vital for collagen synthesis in our body. This is why, if you use lemon on the scars, you can be able to eliminate them. Just squeeze the juice from a few lemons, and then directly, with a cotton ball, apply it to the face. Follow this skincare routine for a week, and you will see visible results.

Fenugreek extract

Fenugreek contains anti-inflammatory and anti-septic properties that cause the skin to soothe and heal. Most importantly, it helps to get rid of skin scars, and blemishes. What you can do is put a little amount of water, add some fenugreek seeds, and then boil it for around ten to fifteen minutes. Allow the liquid to cool, strain the seeds with the help of a cotton ball, and then apply this water to the scars. Do this on a daily basis, and you will find that the scars are slowly disappearing.
For similar benefits, you can use Akansha Herbal's products. If you are interested in buying them, visit their herbal shop online and find suitable products.
 
Aloe vera

Aloe vera has a great ability to heal skin scars. Known for its wonderful benefits, the aloe vera plant has magical abilities to cure numerous skin issues. What you should do is take a leaf of the plant, wash it completely, and then peel off the outermost green layer, scoop out the gel, and apply it directly to the scars.
 
Walnut

Walnuts contain vital vitamins and nutrients and, thus, help to keep your skin clear and even help to fade skin scars. In fact, the vitamins present, like B5 and E, help to diminish scars, lighten spots, and other concerning skin issues. Also, it provides intense moisture to the skin. What you can do is use walnut oil and massage it regularly in the concerned area, or make a paste and apply it, then wash it off after a few minutes.
 
Alternatively, you can use Akansha Herbal's Tanujjal Fairness Face and Body Scrubber. Made with great Ayurvedic ingredients, it offers great solutions to skin problems.
 
Conclusion

These are some of the effective Ayurvedic ingredients that you can use on your scars to remove them and give you a spotless, scar-free look. In case you are running short of time, you can use Akansha Herbal's Ayurvedic skincare products and get similar effective results.