Fight Oily Skin Problems with Top 5 Homemade Ayurvedic Face Packs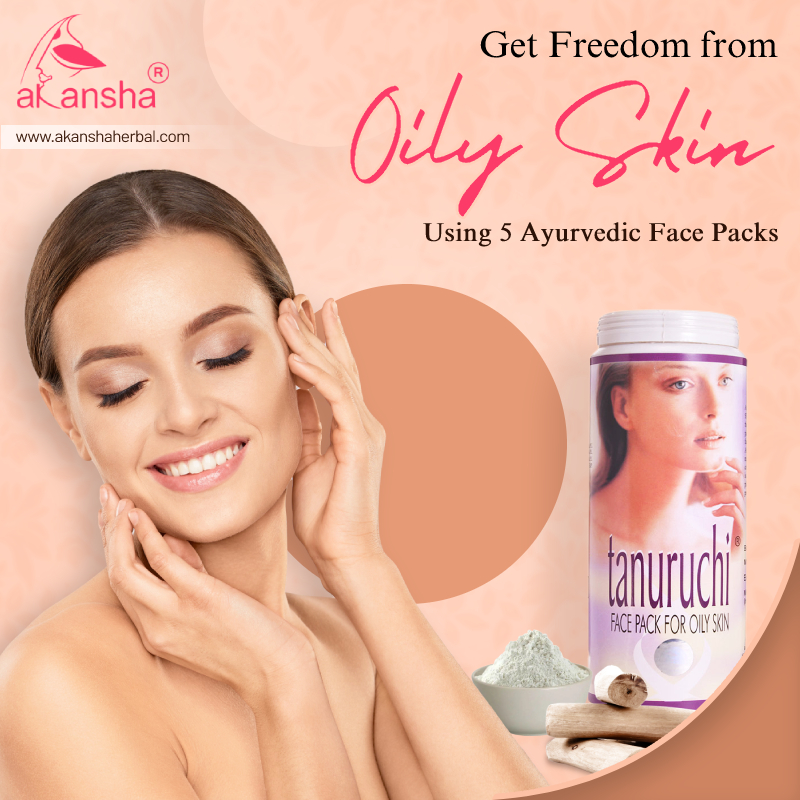 People with oily skin suffer from a lot of skin problems and are always seeking the perfect solutions. However, they are often disappointed with the result as even after a lot of research they are unable to find the right product. Although ample solutions are available in the market, most of the products damage the skin instead of healing. So, they keep on looking for remedies that they can rely on. Years of experience have helped us to find some effective Ayurvedic skincare products that can do wonders on oily skin. Hence, if you are struggling with oily skin woes and are in the quest to achieve clear, glowing and soft skin, then we can help you. Take a look at some of the expert-recommended Ayurvedic face packs and Akansha Herbal's products for achieving the best results.

Our solutions include natural ingredients such as clay, herbs, and more, as we believe nothing can beat nature's healing power. So, are you ready to switch from your chemical-ladened products to Ayurvedic solutions? Then, without any further ado let's check out the remedies.

Top 5 Face Pack and Ayurvedic Skin Care Products to Cure Oily Skin Problems

You can follow these Ayurvedic remedies if you are looking for permanent results.

Multani mitti face pack

If you have pesky oily skin problems such as large pores, blackheads and whiteheads, then Multani mitti can be a godsend product for you. The clay has a great texture that helps to zap oil, impurities and dirt from the skin. Further, as it is rich in magnesium chloride, it helps to kill bacteria and minimise breakouts.

Face pack recipe:

> Take two tablespoons of Multani mitti, add one tablespoon of sandalwood powder and turmeric to it
> Make a smooth paste using these three ingredients by adding water to it
> Clean your face and apply this paste (leave it for 20 minutes)
> Wash the face with lukewarm water and apply some moisturiser
> Use this twice a week for the best results

For the same results, you can also use Akansha Herbal's other Ayurvedic skincare products for getting rid of oily skin problems.

Labanga or clove face pack

Here's another wonder product that can help to cure oily skin problems such as acne. Clove is packed with antiseptic properties that help to cure acne completely and remove germs and bacteria from the skin. If you want visible results, you can apply this clove face pack twice a week and feel the difference yourself.

Make the face pack:

> Take clove powder, clove oil, apple and green tea
> Mix in a bowl green tea, apple paste, Clove oil 1 drop, 1 teaspoon of clove powder
> Apply this on a clean face
> Wash off with lukewarm water

Alternatively, you can also buy Akansha Herbal's Tanuruchi face pack from their online Ayurvedic products store to get similar results.

Gopi Chandan face pack

Gopi Chandan or sandalwood needs no separate introduction when it comes to curing skin problems such as pimples, acne, rashes and others. This old remedy is useful as together with its soothing effect and antiseptic properties it can cure oily skin problems totally.

To make the face pack:

> Take sandalwood, camphor, turmeric and milk
> Make a fine paste
> Apply to the affected areas and leave for fifteen to twenty minutes
> Wash off with water

If you were looking for a single Ayurvedic face pack that has the power to cure almost all oily skin problems such as acne, whiteheads, and dull skin, then this is the one for you.

Oatmeal face pack

As oily skin people generally have large skin pores they struggle a lot to keep their skin clear, dirt free. Oatmeal when applied not only works as a dirt magnet but also, helps to cure many other problems. It may surprise you that oatmeal repairs skin damage, and acne rosacea and is even used for healing atopic dermatitis. So, you can understand that oatmeal can be the reliable product you are seeking for your oily skin issues. Now, let's learn how to make a face pack with it.

Make the face pack:

With two tablespoons of oatmeal mix one tablespoon of honey, and add some drops of rosewater
Apply this paste to your face and leave it for 10 minutes
With circular movements remove the pack from your face and wash with lukewarm water

After the application of this face pack, you can instantly notice a glow on your face. Also, if you want the same results you can visit Akansha Herbal's online Ayurvedic products store and pick suitable products.

Kaolin powder face pack

Kaolin powder is a type of clay that is soft and is also known as china clay as it used by Chinese people for centuries. This clay helps to effectively cure acne, known to absorb sebum or excess oil yet is one of the mildest products that you can use for skin problems. For best benefits, you can use it in form of face packs with other products.

Make the face mask:

> Take 2 tablespoons of kaolin clay, ½ tablespoon of honey and ½ tablespoon of rose water
> Make a smooth paste with these ingredients
> Apply on a clean face and leave it for 10-20 minutes
> Wash off the pack with a cleanser or water and pat dry your face

Take Away

These are some of the great face packs that you can try for getting rid of several problems that are caused by oily skin. Since most of the ingredients are easily available you can make these face packs for the best results. However, nowadays we live in a fast-paced world where most of us lack time. If that is the case with you and wondering, how will you find out time to make these face packs, then don't worry we have solutions for you as well.

Akansha Herbal's Ayurvedic skincare products are made up of 100% natural ingredients and are created to suit oily skin people perfectly. If you want to check out their products you can dial +91 81003 46590 / +91 33 2475 583 for more information.