Fix Frizzy Hair With 5 Ayurvedic Hacks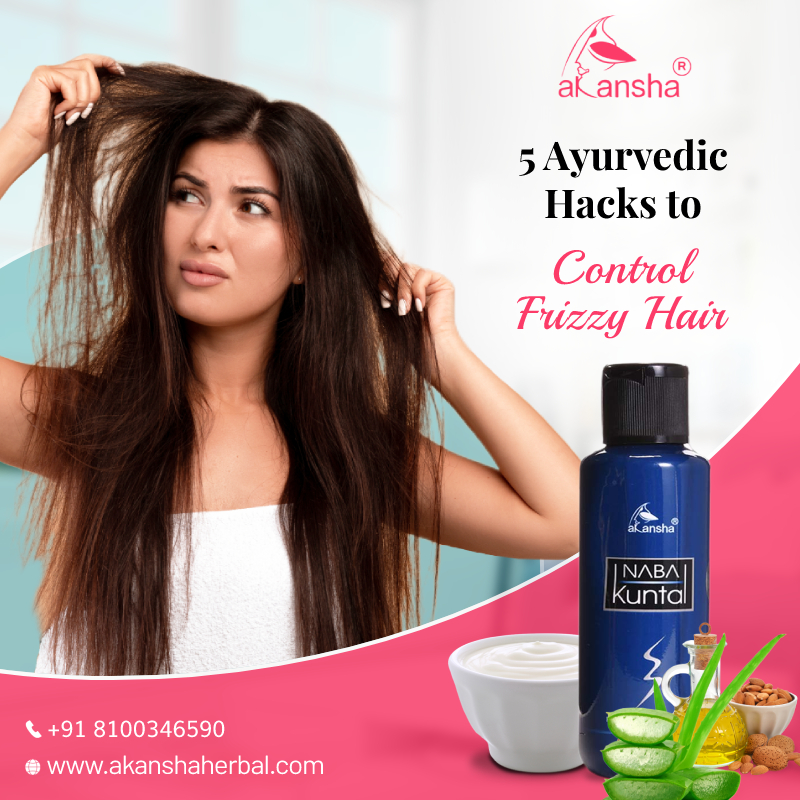 Frizzy hair is never fun and may be quite unpleasant when it comes to styling. You go to great lengths to make your hair appear beautiful, only to have it fall apart a few minutes later. All you have to do is pay special attention to your hair. So, here are a few cures for naturally frizzy hair, besides using the effective hair care products from Akansha Herbal.

Special Care for Frizzy Hair

Try out these natural and safe Ayurvedic hacks for frizzy hair.
Lemon Juice

Lemon is known for its high levels of antioxidants, vitamin C, and other minerals. It is popular for its flavour and has certain health and beauty advantages. Thus, it comes as no surprise that lemon is beneficial to hair. Lemon may be mixed with other substances to create incredible hair packs. If your hair is always rough, lemon can help. Lemons contain limonene, which helps renew dry, frizzy, and harsh hair. Lemon juice is also high in folic acid. Furthermore, it can help reduce oiliness.

Use

Make a mixture of lemon juice and honey. Apply it to your hair and leave it on for a while. Following this, use a mild hair shampoo to rinse it off. You will see the results in no time.

Apple Cider Vinegar

Apple cider vinegar is a mildly acidic alpha hydroxy acid. As a result, it may be effective for controlling frizzy hair when applied topically. This ingredient may also be used to eliminate product residues, making your hair shinier. It also has antibacterial and antifungal effects and may help decrease dandruff.

Use

Mix 1 quart warm water with 1/3 cup organic apple cider vinegar. Pour as much as you require into your hair. You can save the remainder for later use or use it all, depending on the thickness and length of your hair. Allow the mixture to sit on your hair for 1–3 minutes. Rinse it off well with cold water and air-dry your hair. Use once or twice each week.

Honey and Yoghurt

Yoghurt is an organic conditioner that helps your hair retain its natural structure while providing the beautiful shine you have always desired. Yoghurt has vitamins and fatty acids that help remove dandruff and irritation, making your hair healthier. All you have to do is make a hair pack out of yoghurt and a few other pantry goods to turn damaged and weak hair into stronger, longer, and shinier hair. The same can be said for honey. Honey itself has a moisturising effect and works miraculously on frizzy hair. You can try out different hair packs for frizzy hair, with yoghurt being the main component. Also, you must try out a hair tonic, Nabakuntal, from Akansha Herbal.

Use

Making a yoghurt and lemon hair pack is the easiest approach to dealing with frizzy hair. This will clean the scalp off dead skin cells and allow nutrients to enter the hair follicles. Simply combine two tablespoons of yoghurt, a few drops of lemon juice, and one teaspoon of honey. Combine these ingredients thoroughly. Cover your hair with a shower cap after applying this mask to the roots and length of your hair. Wait for 30 minutes before washing it off with water.

Aloe Vera and Almond Oil

Aloe vera is a hydrating substance that may be used to calm frizzy hair and give it a more polished appearance. It also aids in moisture retention, leaving your hair lustrous and silky. To get more impressive results, mix almond oil into it and use the mixture on your hair.

Use

Combine some aloe vera gel with a few drops of almond oil. Allow the mixture to sit on your hair for 30 minutes before washing it with a gentle shampoo. To attain the best results, repeat this treatment for a couple of times each week.

Egg and Olive Oil

If you want smooth and glossy hair, use an egg hair mask to keep the frizz at bay. A nutritious egg mask will increase moisture retention while deeply nourishing each hair follicle. An easy egg mask for frizzy hair can contain olive oil to calm stressed strands and hydrate dry locks, and even lemon juice to organically flatten the cuticles of your hair.

Use

Combine the eggs, olive oil, and lemon juice in a small bowl. Whisk the ingredients together with a fork until foamy. Apply the mask to your hair evenly. Wait for 20 minutes and rinse off the mask with cool water, shampoo, and conditioner.

Conclusion

Keep your frizzy hair tamed with these hair packs. Give your hair more health and strength by using the top hair care products from Akansha Herbal. The ingredients are handpicked to give you the best hair treatment right in your home.