Get Parlor Like Glow From The Comfort Of Your Home Now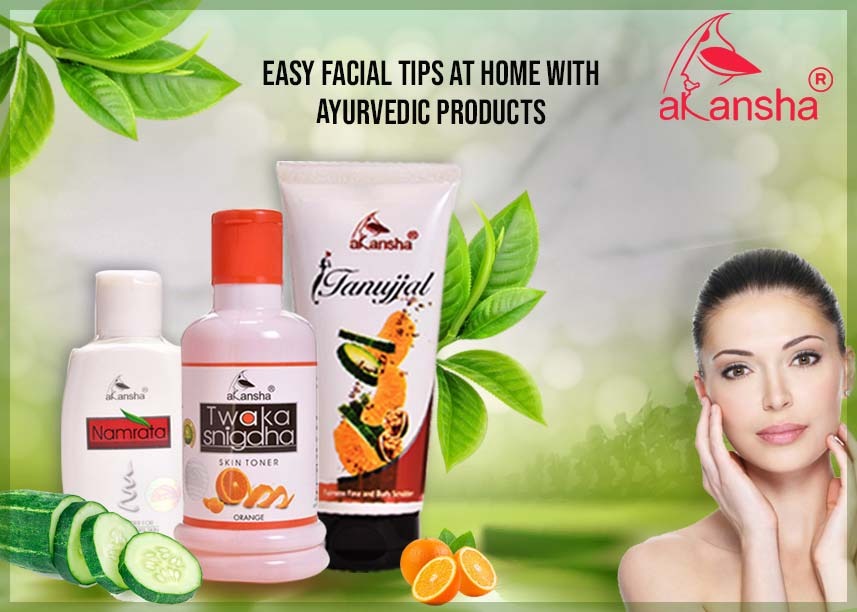 Ayurvedic beauty experts agree that for embracing internal glowing skin, it is imperative to opt for a Parlor proper routine. Use herbal care products to experience the best results.
Ayurveda always highlights the mantra that beauty comes from within and from the use of nature's resources. Online Ayurvedic products can boost your overall wellness while giving you the much-needed glow. Maintaining a skin and hair care routine will help you enhance beauty doubly and keep you away from normal and dry skin problems.
We often go to the parlour to clean our face and make it look healthy and beautiful. But do you know that you can achieve smooth, radiant, and glowing skin from the comfort of your home? Do not believe us? Here are some of the best herbal skin care products from the brand Akansha. 
Facial At Home In Easy Steps: Normal And Dry Skin:
Taking care of your skin should not be only a one-time process. While sitting in the parlor chair can snatch away a few hours, we suggest you carry out a regular skincare routine that will only need a few minutes.
Exfoliating: Tanujjal, which is a fairness face and body scrubber suitable for normal and dry skin. You can apply this directly to your face & body. It helps to exfoliate dead skin cells, pigmentation, blackheads around the nose, and remove tanning from the sun or after visiting beaches. Also if you have been bitten by any insects, you have acne marks, or freckles, this product will remove such spots. Thus, you get smooth, glamorous, and radiant skin. 
Cleansing: TwakaSnigdha, is a stellar product that helps to retain the natural firmness of the skin, deeply cleanses all the dirt from the 6th layer of skin. It also hydrates the skin to make it glowy and smooth. All you need to do is take some amount of the product on the cotton and apply it by dabbing it on your face. You can choose among different options like TwakaSnigdha Rose, Orange & Lemon. 
Moisturizing: After scrubbing, the skin loses its moisture and becomes dry. To retain its much-needed nourishment again, Ayurvedic creams make your skin supple, and radiant. 'Namrata' is a moisturizer for normal and dry skin. It helps to moisturize, soften & hydrate the skin. Prevents the skin from rashes & burning sensation. Thus, this  Ayurvedic product helps you get soft, glowing & healthy skin easily. 
Grab them now to get clear, glowing, and radiant skin. Stay away from regular skin problems like rashes, freckles, pigmentation, acne, and pimples. Embrace the science of Ayurveda and stay away from harmful chemicals. Purchase Ayurvedic face packs, face washes, moisturizers, and toners from Akansha Herbal, the best beauty brand in town.