How To Protect Your Skin From The Sun & How To Enhance Your Complexion?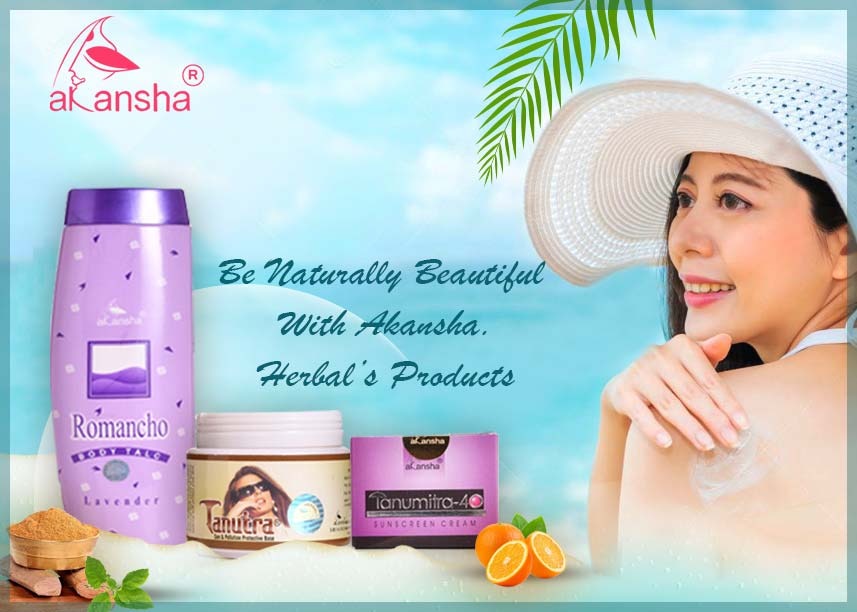 Trust Ayurvedic face packs, Ayurvedic face wash, and other products to enhance your complexion. Akansha Herbal has the best skincare tips for beautiful and fair skin.
The sun can create havoc in our lives. Just as it drains us of our energies, and makes it almost impossible to step out, it has harmful impacts on our skin too. The scorching sun rays can play a spoilsport and tan your skin to a great extent if you do not use any protection or follow a healthy skincare routine. The best herbal skincare products have quality ingredients that provide much-needed coverage from the sun.
How Does Tanning Affect Your Skin?
The foremost reason for tanning is exposure to the sun. When harmful ultraviolet rays of the sun hit your exposed skin, it increases the production of melanin. This melanin is the pigment that is responsible for your skin coloration. Thus, excessive sun exposure not only makes your complexion darker due to tanning but can also lead to genetic damage. Hence, you need to protect your skin from unwanted tanning through sun protection using online Ayurvedic products.
How Can Akansha Help You Remove Tanning Using Ayurvedic Products Purchased Online?
Akansha Herbal has been serving people since 1992 and is a pioneer in the beauty industry. The specialty of the brand lies in using natural plant, hern, and fruit extracts in their products. Thus, you can be tension-free about not applying any kind of chemicals to your skin. 
For Protection Against The Sun:
To protect your skin from harmful sun rays all year round and maintain your natural skin colour you should try the following products from the brand:
Oily Skin: In a container mix an adequate amount of Tanutra and Romancho powder. When stepping out, puff this mixture on your face and neck nicely. This will safeguard your skin from the sun. It is a sun and pollutant protective base that will be effective for your oily skin.
Dry To Normal Skin: Mix a certain amount of Tanumitra 40 and Romancho powder and puff it on your face and neck. Tanumitra 40 is an Ayurvedic Sunscreen that will not tan your skin. It prevents sunburns, darkening of the skin, and naturally safeguards against pollutants. Instead, it will give a fresh feel all around the day when you are working.
Thus, using these Ayurvedic skincare products will surely be effective for your skin this summer. You can visit Akansha's website to browse through their range of products.