Repair Damaged Hair With the 5 Best Ayurvedic Solutions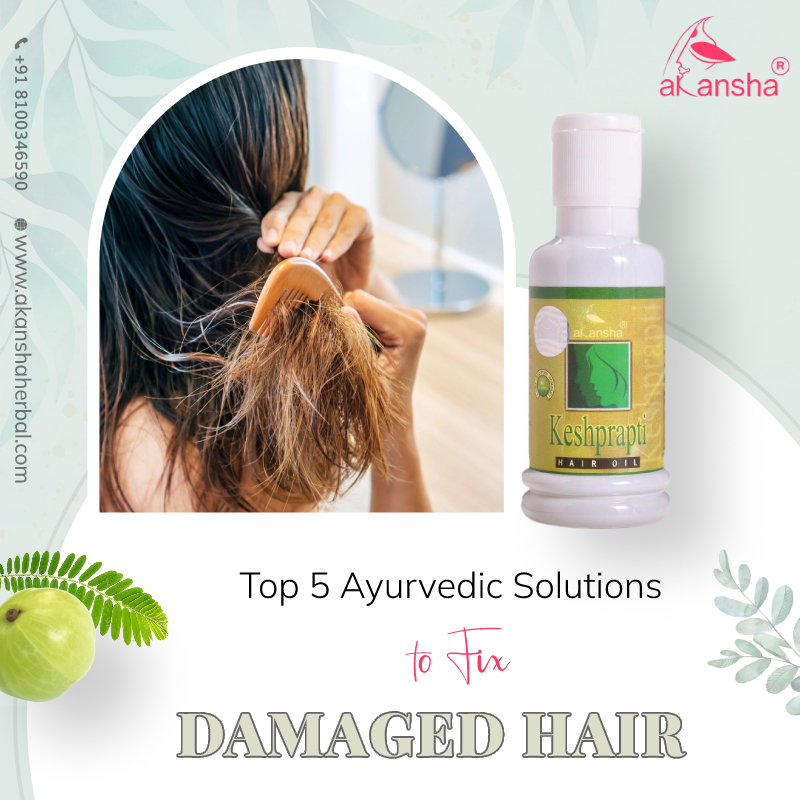 Everybody wants gorgeous hair, and in order to get it, many choose chemical treatment, use lots of chemical-loaded products, and resort to other things. All these, in the long term, damage the hair. And, then, the struggle with split ends, dry hair and scalp, and other hair problems begins. It is difficult to get rid of these problems easily, but if you follow the right hair care routine, then you can get a bit of relief. Know that when it comes to skin and hair care, no product out there can cure the problem immediately, so using all those products claiming "instant solutions" and "results in one week" is not true. You should invest a good amount of time, and your priority should be to use products that are good for your skin in the long term. In this case, ayurvedic products can do a lot of good. So, if you are considering switching to Ayurveda, here are a few solutions and Ayurvedic hair care product suggestions from Akansha Herbals. So, take a look.
 
Reetha

Reetha, also known as soapnut, is an extremely versatile Ayurvedic herb that comes with anti-fungal and antibacterial properties that help fight scalp infections and fix damaged hair. This dry fruit is widely used for the preparation of shampoos. What you can do is make a paste of reetha powder, add some warm water to it, and apply this paste all over the scalp and hair. Leave it there for some time, and then wash it off with plain water.
To get the same benefits and more effective results, you can use Akansha Herbal's Ayurvedic hair care products.
 
Olive

Olive oil offers great benefits for hair. The "liquid gold" oil helps to tackle an unimaginably long list of hair issues. For instance, you can treat dandruff problems and smooth frizzy hair as it acts as a natural conditioner. Also, it is loaded with antioxidants, and thus, it helps to improve hair and scalp health. It nourishes the hair and prevents all kinds of hair damage. Alternatively, you can use Akansha Herbal's Keshprapti hair oil for the same set of benefits and to fix hair damage naturally.
 
Brahmi

Brahmi is a well-known Ayurvedic ingredient that is known to almost every household in India for its great nourishing properties. Brahmi is used on hair as it helps to strengthen the hair and provide proper nourishment to the scalp and blood vessels. So, the hair roots get an adequate amount of oxygen and nutrition, which triggers a good amount of hair growth and stops hair fall. Besides this, Brahmi also restores shine and volume to the hair.
 
Amla

Amla does not require any introduction when it comes to hair care. It is one of the ayurvedic products that is an extremely rich source of vitamin C and antioxidants. Vitamin C is known to trigger the production of collagen protein, which helps promote the growth of hair. Further, the antioxidants that are present in the Amla fruit help to fix hair damage and protect the hair. What you can do is mix one tablespoon of amla powder with adequate water and apply this paste to your hair. Also, you can apply the juice of amla to the hair for great benefits.
For strengthening hair and fixing damage, you can also use Akansha Herbal's Nabakuntal hair tonic.
 
Fenugreek

Fenugreek is another Ayurvedic ingredient that is packed with loads of minerals like iron, potassium, and calcium. Plus, fenugreek seeds are also rich in protein content, and this helps to prevent hair fall, dryness of hair, baldness, and hair thinning problems. What you can do is take two tablespoons of fenugreek seeds and soak them in water. Leave them overnight. Grind these seeds and make a paste of them. Then apply the paste to your scalp and leave it there for around 20 minutes. You can give a quick massage to the hair and then rinse your hair with a mild shampoo.
 
Alternatively, you can also buy online Ayurvedic products from Akansha Herbal and get the same results.
 
Conclusion

So, these are some of the best ways you can fix your damaged hair. It can take some time, but regular use of these ingredients can help you get rid of the problems. So, if you are someone who is suffering from hair damage issues, it's time you made the switch from chemical cosmetics to Ayurvedic products. Besides using these above products, you can also use Akansha Herbal's Keshprapti, Nabakuntal, and other Ayurvedic hair care products for reliable results.