Top 4 Ayurvedic Remedies to Make Your Skin Healthy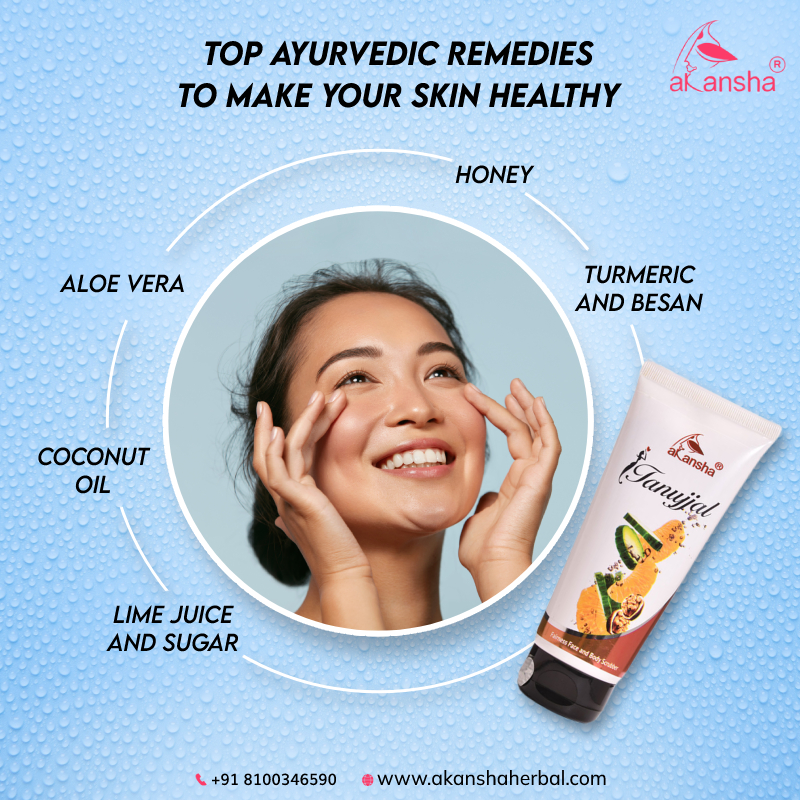 Maintaining healthy skin is not easy, many factors can damage the skin without your knowledge. For instance, lifestyle, exposure to pollution, chemical-laden products, UV rays, etc., are responsible for poor skin health. It is not always possible to avoid these factors, and thus skin problems are generally common, and many suffer from them. However, even if we are not able to keep the problems at bay, we can always protect the skin with credible, and reliable products. Unlike chemical products, Ayurvedic skin care products from Akansha Herbal, and Ayurvedic tips can actually help to keep the skin healthy.
So, if you want to keep your skin healthy, and flawless, then here are some of the top tips that you can follow for best results.
Aloe vera, Turmeric and Besan
All three of these ingredients are wonderful when used on the skin. Aloe vera the wonder skin ingredient has anti-bacterial properties and protects skin. Further, it has cooling properties and fixes itchy skin. On the other hand, turmeric has many qualities such as anti-inflammatory, and anti-oxidant that help to keep the skin free from radicals, and makes the skin appear youthful. Gram flour or besan, helps to make the clean and brighter. What you can do is take two tablespoons of aloe vera, mix it with one tablespoon of besan, and turmeric, make a paste and apply it on your face. After 15-20 minutes wash it off with water.
For the same result, you can use Akansha Herbal's Ayurvedic skin care products such as Tanujjal, which is a fairness face, and body scrubber, which gently scrubs the skin, and helps to get rid of skin impurities, and dead skin cells, and make skin healthy.
Coconut Oil
Coconut oil is not only for consumption, but it is also great for skin care. It has a great moisture content and is packed with a great amount of antibacterial properties. When applied to the skin it can deeply nourish the skin, and make it silky and smooth. The fatty acids present in this oil are important ingredients that help to protect the skin against infections.
Lime juice and Sugar
When it comes to skincare, and making your skin healthy, lime juice and sugar can be an unbeatable combination to get rid of dead skin. This natural bleaching agent helps to make the skin glow, and vitamin C content in the lime also helps to make the skin bright. What you need to do is combine two tablespoons of lime juice in the bowl. Apply the mixture, scrub the skin gently, and then wash your face using warm water. You can follow this twice a week, and get the best results.
Alternatively, you can use Akansha Herbal's Ayurvedic products and include them in your daily skincare routine. To buy their online Ayurvedic products, you can visit their online store, choose the ideal products, and place your order.
Honey
Honey is an answer to many skin-related problems. It is an ingredient that is packed with loads of antiseptic, and anti-bacterial properties. Using honey can help you to get rid of acne. Plus, it is a humectant that helps to hydrate the skin but does not make it greasy, so it saves you from dry skin problems. Further, it helps to get rid of blackheads and tighten the skin helping to make the skin tight, and smooth. You only need to apply raw honey to your face leave it for ten minutes, and then wash it off with plain water.
Conclusion
Keeping skin healthy, and beautiful is no doubt one of the greatest joys of life. However, to achieve the same, you need to put in some extra effort. Using over-the-counter products would lead to more harm although these are depended upon by most because they are easily available, offers attractive discounts, and are easy to use. The above-listed Ayurvedic ingredients and Ayurvedic skincare products from Akansha Herbals can help you get the best outcome that you desired for your skin.