Top 5 Ayurvedic Hacks to Remove White Heads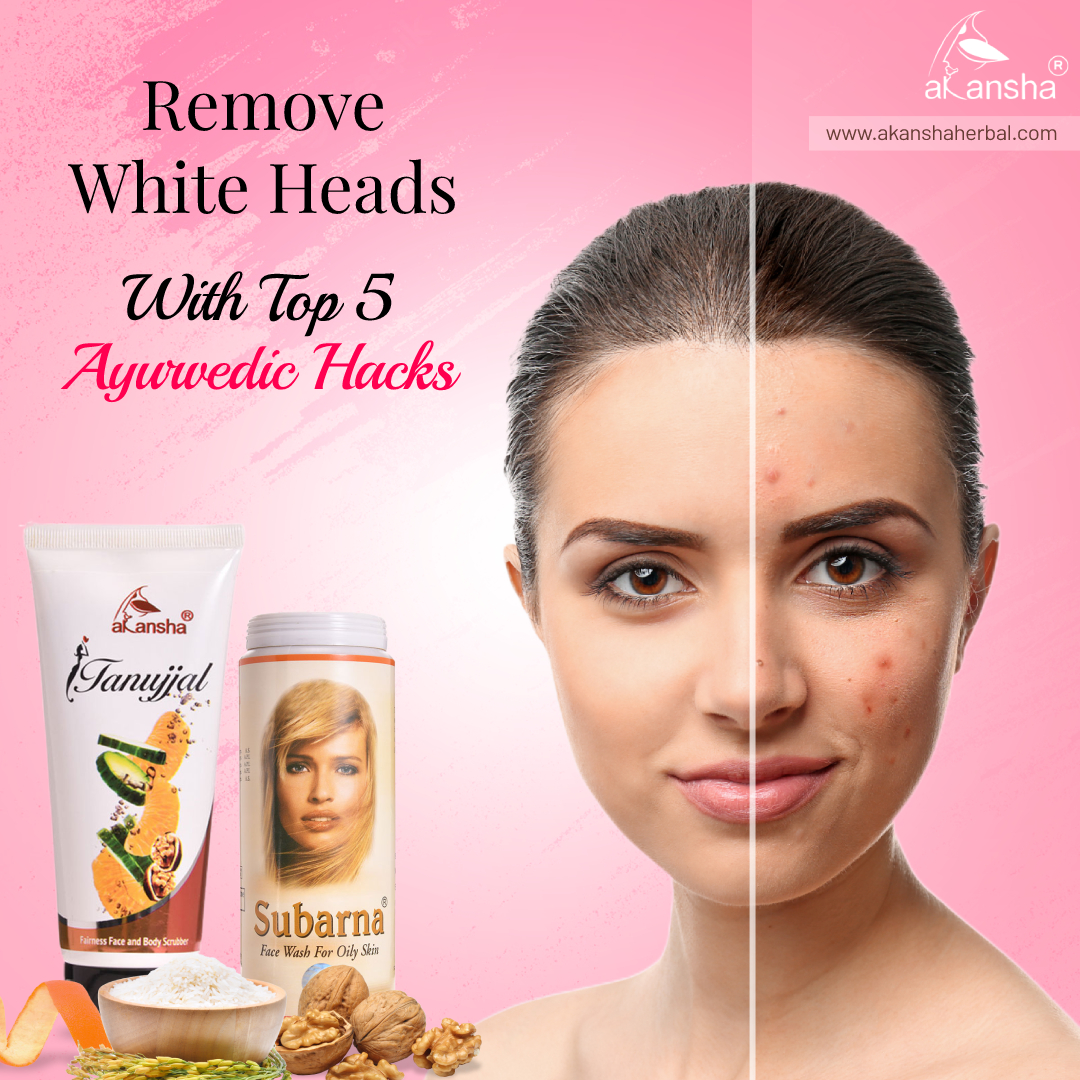 Whiteheads are one of the most annoying skin problems that many have to deal with. If you are wondering why these show up on your skin frequently, then know that many reasons trigger the problem. One of the main reasons for whiteheads is clogged pores. Over time the dirt, sebum and dead skin cells gather in the skin pores, which leads to whiteheads. While it is difficult to get rid of whiteheads quickly, with the help of the right products you can get relief from them gradually. So, until now if you have tried numerous products that have failed to produce results then, it will be wise for you to consider switching to Ayurvedic products. Without the fear of side effects and permanent damage to the skin, you can use Ayurvedic skin products and get the best results.
To help you find the proper cure for your white heads, in this blog we have mentioned some of the best Ayurvedic remedies, and Ayurvedic skincare products from Akansha Herbals.
So, let's check out some of the most reliable solutions for your white heads problem here.
Top Ayurvedic Skin Care Products and Remedies to Treat Whiteheads
Let's take a look.
Orange peel
Orange peel is considered one of the best natural exfoliators. It works effectively on the skin and helps to get rid of dead skin cells, dirt and excess sebum from the skin's surface. Also, it helps to promote new skin cells. What you need to do is take two to three tablespoons of orange peel powder in a bowl and mix it with some coconut milk and sugar. With this coarse paste gently scrub your skin and then rinse with water to get clear skin.
For the same results, you can try Akansha Herbal's Subarna face wash and get healthy skin free from dead cells, whiteheads and blackheads.
Lentil
The natural exfoliator properties present in lentil makes them a great choice for treating whiteheads. With the help of lentil paste, you can remove dirt, dead skin cells and extra oil from the face. It exfoliates the skin deeply and also helps you by fighting blackheads and acne, besides removing the white heads from the skin. To make the pack, what you can do is grind the lentils with water in a mixer, and apply the paste directly to the skin. Leave it there for ten to fifteen minutes, and wash off with water.
Alternatively, you can also try Akansha Herbal's Baranga face and body grain, and get white and black head-free clear skin on regular application.
Rice Flour
When it comes to removing white heads, rice flour can be an excellent choice. Its exfoliating properties can scrub away dead cell layers on the skin quickly, and make the skin clear and the tone brighter. Also, it helps to unclog the skin pores and draws the dirt and impurities that stays trapped in the skin. Hence, it offers remarkable results when used for reducing whiteheads.
Also, you can use Akansha Herbal's Ayurvedic skin care products for the same and more benefits.
Walnut
Vitamin B5 and E that are present in walnuts help to de-clog pores and clear the dirt and grime away from the face. This way walnut not only helps to solve the problem of whiteheads but also, other skin problems. Especially vitamin B5 which is present in the skin helps to reduce dark spots and skin tan, and on the other hand, vitamin E repairs the skin and gives a bright complexion. So, walnut can be a great go-to product for many skin problems.
Like walnut, you can also use Akansha Herbal's Tanujjal fairness face and body scrubber for the same problems, and get reliable results with continuous use.
Multani mitti
Multani mitti is power packed Ayurvedic product that is immensely helpful for treating several skin-related issues. Whitehead is one such problem that you can fix using Multani mitti. It is effective because it has oil-absorbing properties that eliminate dirt and impurities from the skin. When used as a scrub it can slough away the dead cells from the skin and give you clear, healthy and smooth skin. It also boosts blood circulation and helps to improve skin tone.
You can also try Akansha Herbal's range of skincare products that you can find on their online Ayurvedic products store for the same result.
Conclusion
Whiteheads are stubborn and appear frequently on the skin when not treated properly. It can be found more on skin type that has large pores. The above-mentioned Ayurvedic remedies can offer your respite from the pesky whiteheads. So, if you are someone who is suffering from whiteheads for a considerable amount of time and wants to get freedom from the problem, can try these Ayurvedic remedies. Alternatively, for effective results, you can also try Akansha Herbal's Ayurvedic skincare products.