Top 5 Ayurvedic Remedies to Cure Acne Breakouts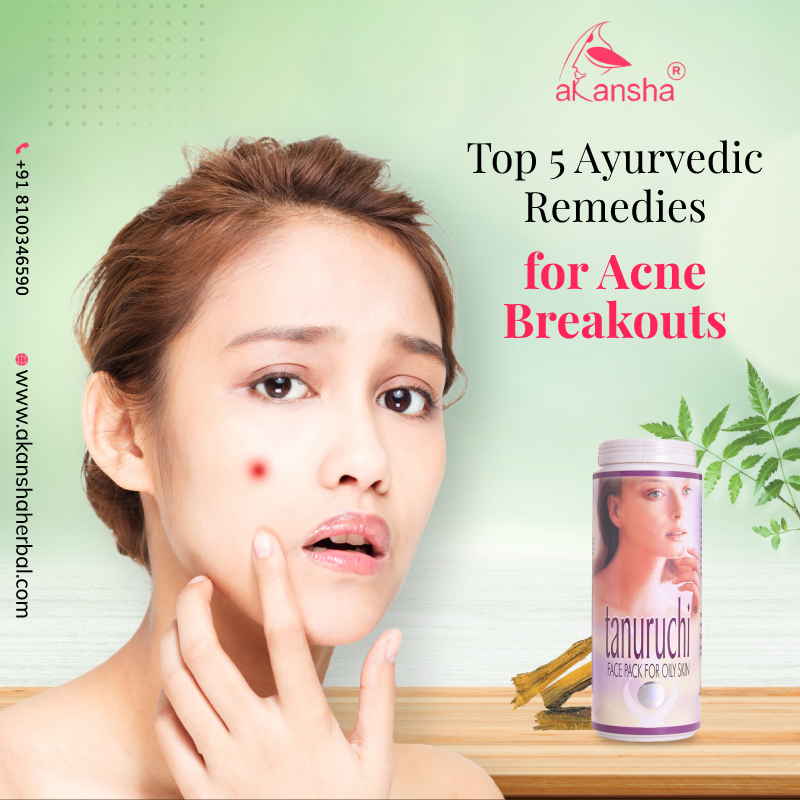 Acne is a sort of skin disorder that happens when the follicles of your hair become clogged with dead skin cells and oil. It is the main cause of whiteheads, blackheads, and pimples. Acne happens to be the most common among adolescents, although it may afflict people at any age and time. Acne treatments are effective, but acne can be stubborn, which is why you should choose an Ayurvedic face and body wash from Akansha Herbal. The acne bumps will slowly heal, and the acne scars will start to fade, leaving behind a beautiful skin.
Top Acne Cure Herbs: Ayurvedic Remedies
Try out these top ingredients to cure acne breakouts and diminish acne scars.
Neem

Neem's antibacterial characteristics combat acne-causing microorganisms, aiding in the prevention and treatment of acne. It is also great for regulating the skin's production of oil. Neem leaves possess antibacterial and anti-inflammatory qualities that can help alleviate itchy skin. Neem is useful for reducing skin irritation since it has a cooling impact on the skin. Furthermore, neem has a calming impact on parched or dry skin as well.
The green neem leaves are an outstanding component that will help you maintain your beauty regime with no acne breakouts. So, enjoy the unexpected advantages of using neem to get an enviably beautiful skin with no acne.

Arjuna

In Telugu, Terminalia arjuna is also known as an Arjun tree and Thella Maddi. It is a huge, evergreen tree with deep roots. According to Ayurveda, every component of the tree may be used to make traditional herbal remedies. So, it can be used to cure acne breakouts as well.
Arjuna's antioxidant capabilities aid in the reduction of pimples and acne scars on the skin. This Ayurvedic remedy is effective and does not cause any sensation or harm to your skin. Besides, it is a great treatment for acne scars and protects your skin from damage. In fact, Arjuna tea can help you with sundry health issues, too.

Daruharudra

Indian Barberry and Tree Turmeric are other names for Daruharidra. It has long been employed in the Ayurvedic system for its medicinal properties. Daruharidra's fruit and stem are frequently used for medical purposes. The fruit is edible and contains a lot of vitamin C.
Daruharidra contains anti-inflammatory and anti-psoriatic properties, making it particularly effective for skin conditions such as inflammation and psoriasis. Thanks to its antibacterial and anti-inflammatory qualities, it aids in acne management by limiting the development of acne-causing bacteria and decreasing inflammation.

Gopi Chandan

Sandalwood is a kind of wood that belongs to the Genus Santalum. These trees have a pleasant aroma. Sandalwood is highly beneficial due to its aroma as well as excellent healing qualities. Sandalwood paste is one of the most effective remedies for clear skin and can be used to soothe clear skin tanning and harsh sunburns. Sandalwood's natural oils clear the skin's complexion and give it a healthy glow.

Sandalwood face packs treat all sorts of facial imperfections and quickly reduce prickly heat caused by excessive perspiration. Sandalwood powder can be used to lighten the skin's complexion. Apply a sandalwood face pack to your skin to reap the benefits. Over time, it smoothes the skin and removes acne, scars, and blemishes.

To get the most out of sandalwood oil or powder, use it on a daily basis. If your skin is dry, you can substitute milk for rose water. Given the therapeutic and soothing capabilities of sandalwood or chandan powder, its face mask can soften your skin and aid the treatment of suntan as well. Apply sandalwood powder to your face overnight to treat acne, acne scars, and even blackheads like magic.

Jatiphala

Jatiphala or nutmeg contains an abundance of antioxidants, vitamin C, magnesium, zinc, and copper. To be honest, we need all of them to get million-dollar skin organically. Are you curious about how all of this will work? So, here are the reasons why nutmeg is a key Ayurvedic ingredient you need for your skin.

Nutmeg is the most effective Ayurvedic acne treatment. If you have blocked pores or oily skin that is prone to acne, you should definitely try out nutmeg. Nutmeg contains antibacterial and antimicrobial qualities that help in the regulation of sebum production as well as the removal of trapped pollutants that cause acne. You can also try out Tanuruchi from Akansha Herbal to give your skin an Ayurvedic treatment.

Conclusion

If you want your skin to feel the goodness of the best Ayurvedic ingredients, check out the skincare line from Akansha Herbal. We are sure you will be highly pleased with the products and get radiant, flawless skin in return.