Top 5 Ayurvedic Remedies to Reduce Large Skin Pores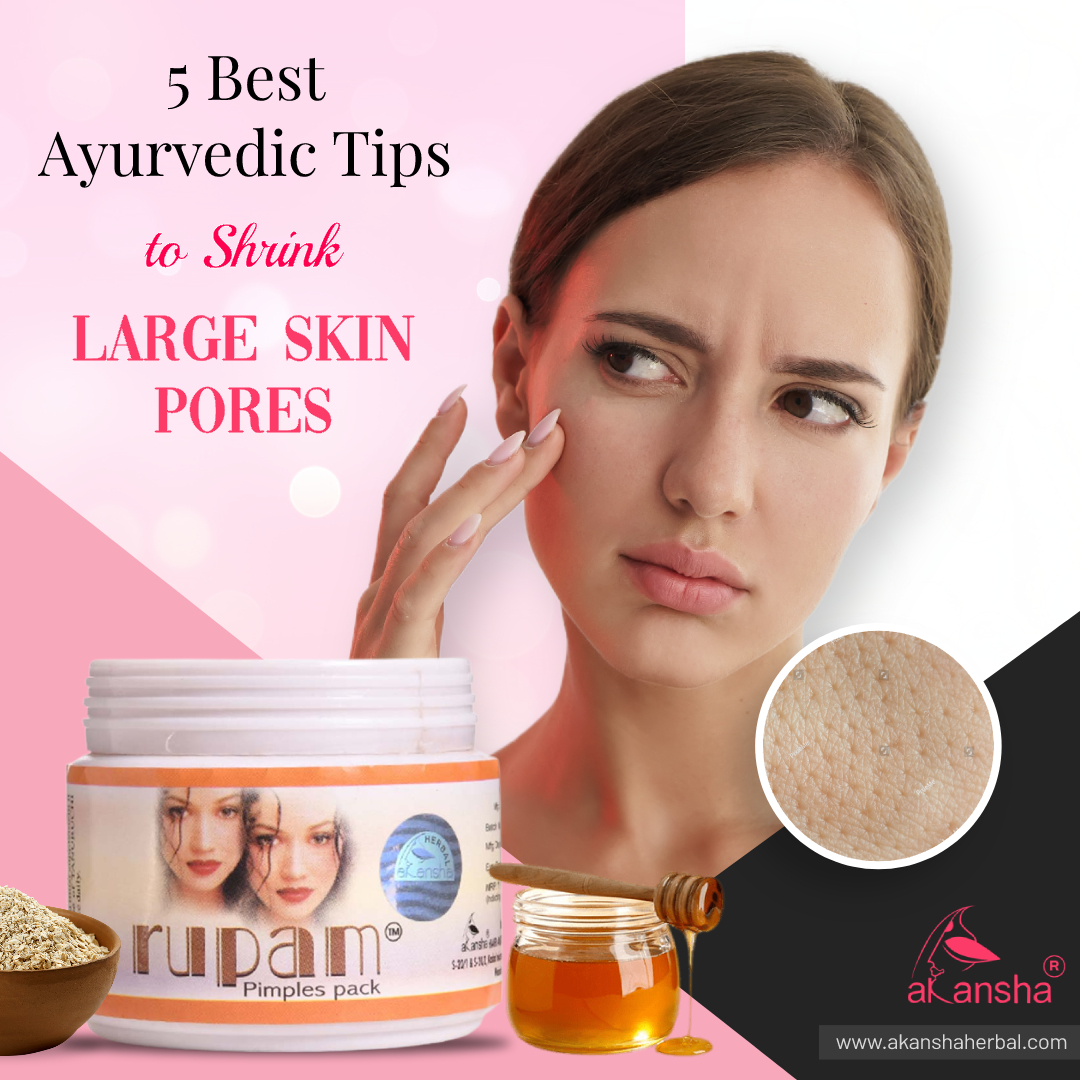 Skin pores help to release sweat and oils. However, these pores are small and are not visible to the naked eye. Now, the problem begins when these pores widen and become visible from a distance. Such a condition is triggered by acne, and high sebum production, etc. Besides, large pores can also be the result of sun damage and applying non-comedogenic makeup. Although it is very difficult to completely get rid of pores, you can shrink the size of the pores. So, you should be aware of any product that is claiming that pores can be healed that too in a short time. Know that it is a marketing gimmick. Shrinking pores is a gradual process, and happens over time with the help of the right products. In this case, relying on natural Ayurvedic products can be of great help. In this blog, we have mentioned some of the best Ayurvedic remedies and Akansha Herbal's Ayurvedic skin care products that can give you the best results.

Fuller's earth

Fuller's earth or Multani mitti is an incredible product that offers many benefits when applied to the skin. This ingredient can exfoliate the skin, unclog the pores by absorbing extra dirt and oil and eventually helps to shrink the pore size. It can also, reduce scars, and blemishes on the skin and therefore, restore skin health. What you need to do is make a paste of Multani Mitti with water, and rose water. Apply this paste and live it there for 15 to 20 minutes, thereafter, wash it off with cold water.

If you are running short of time you can try Akansha Herbal's Ayurvedic skin care products as they contain only natural ingredients and produce visible results.

Rice flour

People who have large skin pores can benefit a lot from rice flour. When used as a mask on the skin with other ingredients it can help to unclog the pores, shrink the pore size, reduce fine lines, heal acne and enhance skin's elasticity. So, what you need to make is a smooth paste by mixing a grated half apple, 1 tablespoon of orange juice, 2 tablespoon of rice flour, and 1 tablespoon of honey. Now, apply this to your face, and keep it for 15 to 20 minutes. After that rinse it with water. Use it once every week. Alternatively, you can use Akansha Herbal's Rupam pimple pack to get the same result.

Oats

This one could be anyone's go-to remedy for minimising the size of pores. This is because you need two items' oats and yoghurt to make the mask. As oats contain amino acids and silica content, they can be treated as emollients that can restore the skin moisture, plus oats have absorptive nature and help to cleanse and exfoliate the skin. Now, yoghurt on the other hand contains loads of lactic acid and enzymes that soften, soothe skin and make it smooth. To make the oatmeal mask, you only need 2 tablespoons of oats and the same quantity of yoghurt. Apply this paste to your skin, and leave it for 30 minutes. Rinse off with lukewarm water.

Milk

Another simple and effective remedy that can do wonders on your skin pore is sour milk. This ingredient can shrink the skin's pores effectively when used continuously. Apply just sour milk and wait for 10-15 minutes for it to get absorbed. Then wash it off with cold water.
You can buy online Ayurvedic products from Akansha Herbals if you want to tighten your skin and reduce the pores.

Honey

Honey is known for its anti-bacterial, anti-septic, and antioxidant properties. Further, it helps to remove impurities from the skin by penetrating deep into the layers, and this way it unclogs the pores reducing their visibility. What you can do is mix one tablespoon of raw honey with two spoons of coconut oil. Massage gently and wash off.

Conclusion

You may find many remedies and products for shrinking pores size, however, here we have mentioned some of the best tips that can work wonders on open skin pores. Using them continuously will help to shrink the pore size considerably, and give clean and smooth skin. Akansha Herbal's Ayurvedic skin care product such as Rupam is made from 100% Ayurvedic ingredient and thus, deliver similar results on regular application. If you want to buy Rupam and other products, you can visit their website.