Top 5 Ayurvedic Remedies to Regulate Bowel Movement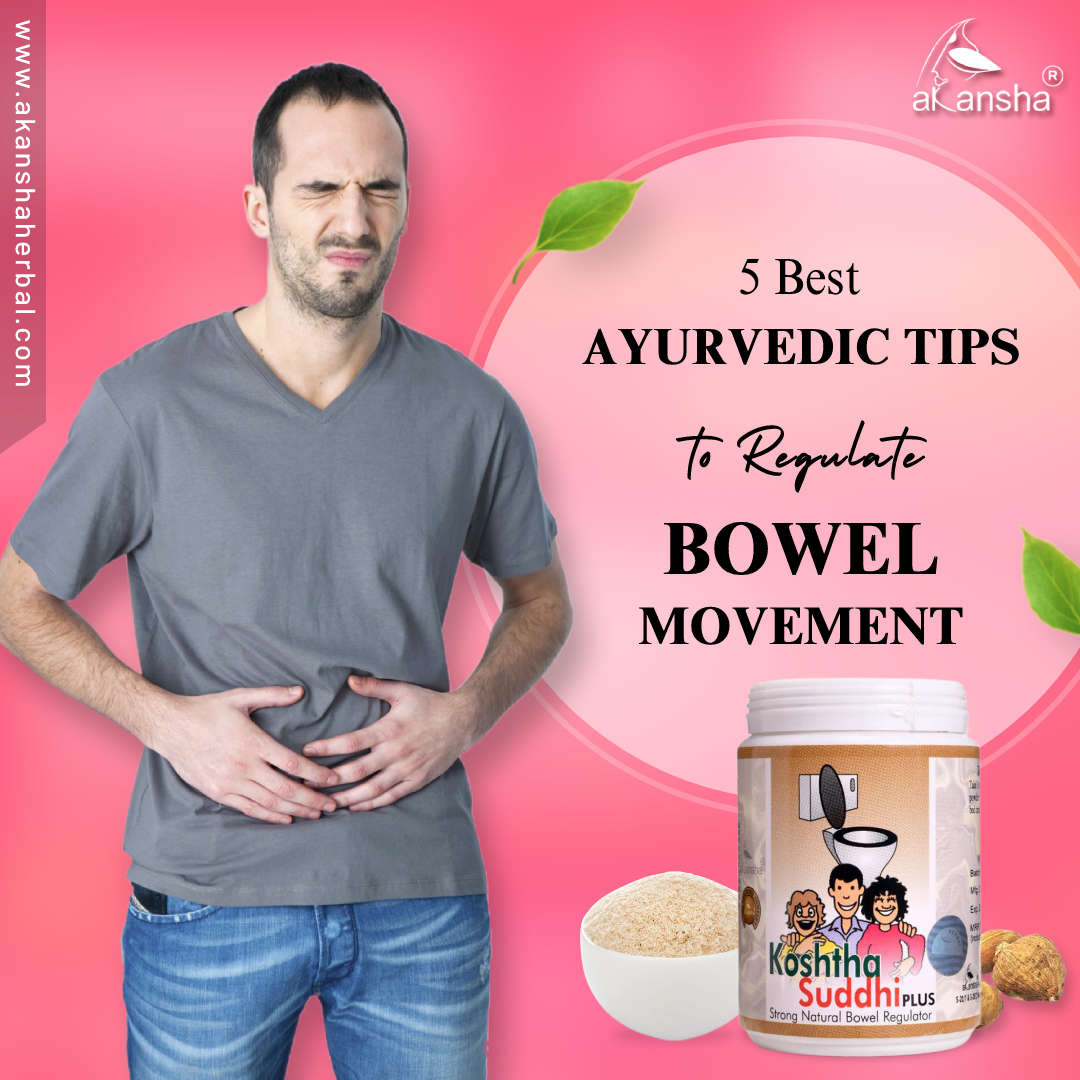 A major number of people today in the world struggle with ineffective bowel movements or constipation. Irregular bowel movements can be extremely unsettling and very painful as well. This health condition can be caused by unhealthy lifestyles, consumption of junk food, smoking, alcohol consumption, and over-eating. The individual who suffers from this condition feels bloated, and uneasy continuously. Here, in this blog, we have mentioned some of Akansha Herbal's online Ayurvedic products, and top Ayurvedic tips that can help you.
Triphala
Triphala is one of the go-to ingredients when it comes to curing constipation. It is a polyherbal medicine that is a mixture of three dried fruits- Amla, Haritaki and Bibhitaki. The glycoside content in this mixture has laxative properties, and thus, it can help to get relief from severe constipation problems and achieve an effective bowel movement. What you can do is intake Triphala as tea or take 1/4th tablespoon of Triphala powder, 1/4th of a tablespoon of cardamom seeds, and ½ of coriander seeds. Alternatively, you can also consume Akansha Herbal's Koshthasuddhi, a mild natural strong bowel regulator for similar results.
Sriphala
Sriphala or coconut is another popular fruit that can help to cure constipation. It is believed that the abundance of medium-chain fatty acids (MCFAs) helps to increase bowel movement, and prevent constipation. Also, you can rely on Akansha Herbal's online Ayurvedic products such as bowel regulator products to get relief from this condition.
Isabgol
Psyllium husk, better known as Isabgol is a natural polymer, which consists of epidermal and other collapsed layers of the plant Plantago ovata Forsk. It is packed with fibre and mucilage that can help to promote laxation. Isabgol is a popular bowel-regulating medicine that can provide great relief from ineffective bowel movements. For the same benefits, you can also consume Akansha Herbal's Koshthasuddhi Plus, a strong natural bowel regulator.
Pulp of bael fruit
Pulp of bael fruit or wood apple is an extremely effective remedy to prevent constipation. This is fruit is a powerhouse as it consists of various nutrients such as beta-carotene, riboflavin, protein, and vitamin C. Most importantly it contains a lot of fibres, so it helps to stimulate bowel movement. Consuming half a cup of bael fruit pulp, mixed with a teaspoon of jaggery daily can cure constipation. You can also buy the herbal product online from Akansha Herbal to get the same result.

Shyama

Shyama or barnyard millet is a great Ayurvedic ingredient that helps to cure bowel movement problems. It works smoothly as a purgative as it contains a lot of soluble and insoluble fibre. In fact, the fibre content in this millet is higher than other millets. Therefore, not only it helps to relieve constipation but also prevents bloating, excess gas and cramping. So, consuming it by adding it to foods such as chapattis, porridge, idlis, and cheela can help considerably. Also, you can depend on Akansha Herbal's online Ayurvedic products that are meant for effective bowel movements for the same results.

Conclusion

Eliminating constipation is not that easy. If you are someone who is suffering from this problem, then these are some of the best Ayurvedic remedies and Akansha Herbal's online Ayurvedic products that can help to cure the problem. However, besides consuming medicines, and Ayurvedic ingredients, you must also make proper lifestyle changes, eat healthy food such as more fibrous food, do regular exercise, and follow a proper routine. It is only when you will make the right decisions and take the right actions, you can eradicate this condition.