Top 5 Ayurvedic Remedies to Repair Heat Damaged Hair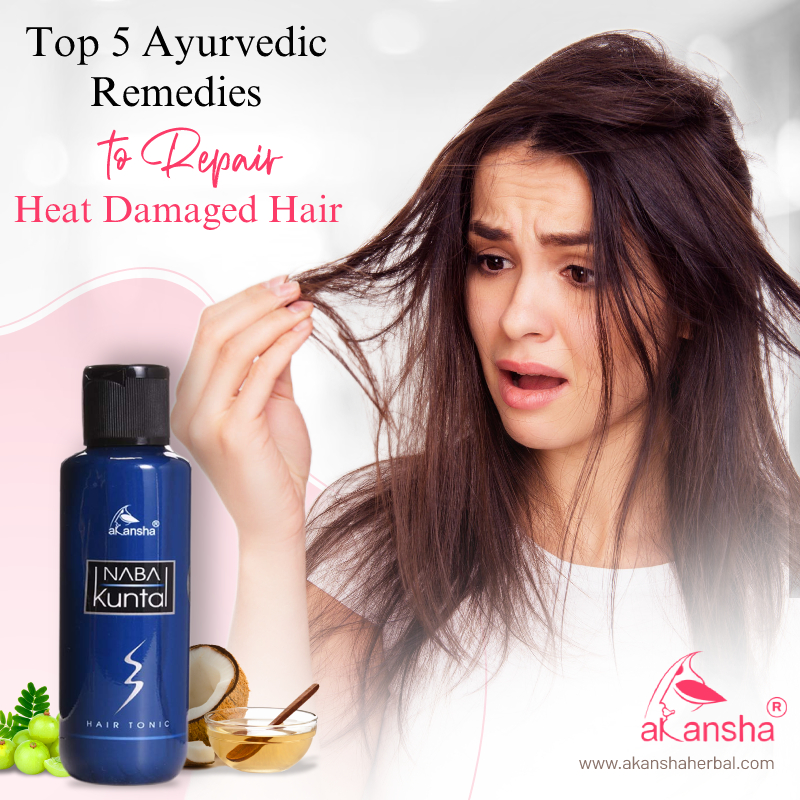 Today, having healthy and beautiful hair is no less than a blessing. Frequent visits to the parlour to style our hair with heat and chemical products have become a trend. However, little do we know that these temporary styles can intensively damage our hair later. So, if your hair appears lacklustre, dull and fragile, then you may have exposed it to an excessive amount of heat. Repairing heat damaged hair requires a lot of effort. Products claiming 100% heat damage cure are many in the market, using those products that are ladened with chemicals can do more damage. Thus, to get back beautiful natural hair, you can depend on Ayurvedic ingredients and products. Here, in this blog, we have shared some of the most reliable tips, and best Ayurvedic hair care products from Akansha Herbals.
Top Ayurvedic Hair Care Tips for Repairing Heat Damaged Hair
Amla
Amla fruit also, known as Indian Gooseberry has been an essential part of hair care since time immemorial. It is packed with several nutrients that are considered 'superfoods' for our hair. Nutrients like vitamins, amino acids, minerals, phytonutrients and antioxidants are present in amla, which helps hair in many ways. Specifically, the high quantity of antioxidants in it helps to maintain the health of the scalp and hair. You can either use the juice of the fruit or make a pack of dried Amla powder to apply to your hair and scalp to heal the heat damaged hair. For similar benefits, you can also check out the Ayurvedic hair care products from Akansha Herbals.
Fenugreek
For healing heat damaged hair, you can rely on fenugreek. These seeds are extremely powerful as they contain several minerals such as iron, potassium, calcium, flavonoids and saponins, which are good for hair. So, whether due to heat damage, your hair has become dry, thin or dull, using fenugreek can be helpful. You can make a paste of fenugreek seed after soaking them in water overnight. Then, mix this paste with coconut oil and apply it to the hair. Thereafter, cover the hair with a towel for an hour leaving the mask on the hair and use a mild shampoo and cold water to rinse the hair. Alternatively, you can also use Akansha Herbal's Nabakuntal hair tonic for the same result.
Sesame oil
Sesame oil is one of the most effective Ayurvedic products that can repair heat damaged hair. This oil has massive amounts of antioxidants called sesamolin, sesamin oils and sesamol. While Sesamin is packed with vitamin E and also, anti-inflammatory properties, sesamol has more than 20 pharmacologically active properties. Therefore, sesame oil when applied to the hair not only promotes faster hair growth it also, helps to revitalise the damaged hair. It can penetrate deep and nourish the hair and scalp from within. For similar benefits, you can buy herbal beauty products online from Akansha Herbals.
Coconut oil
Coconut oil has been found to have natural hair proteins and on application, it can easily penetrate the hair shaft. This is one oil that is capable of reducing protein loss from the hair, thus, it can minimise your hair loss problem effectively caused by heat damage. It also helps to add shine to the hair and make it healthy. You can apply coconut oil before washing hair as it acts as a prewash protector or you can use it as a conditioner and in hair masks.
Brahmi
Brahmi can be used for strengthening the hair roots and nourishing the blood vessels and scalp. Due to heat damage, you can observe more hair fall. Brahmi can be a great ingredient that can help to prevent hair fall by supplying oxygen and nutrients and stimulating hair growth. Plus, it can also, help to restore the lost shine and increase hair volume. To achieve the same results, you can rely on Ayurvedic hair care products from Akansha Herbals.
Take away
Many Ayurvedic ingredients can heal your heat damaged hair. Here in this blog, we have shared some of the best Ayurvedic products that can give out good outcomes. Hair damaged from heat can take some time to heal and thus, you should be patient and not get lured by products that claim to offer quick results. In fact, you should include the suitable above-mentioned Ayurvedic ingredients in your daily hair care routine only then you can expect results. Besides, these ingredients you can also use Ayurvedic hair care products from Akansha Herbals for effective results.