Top 5 Ayurvedic Solutions for Achieving an Effective Bowel Movement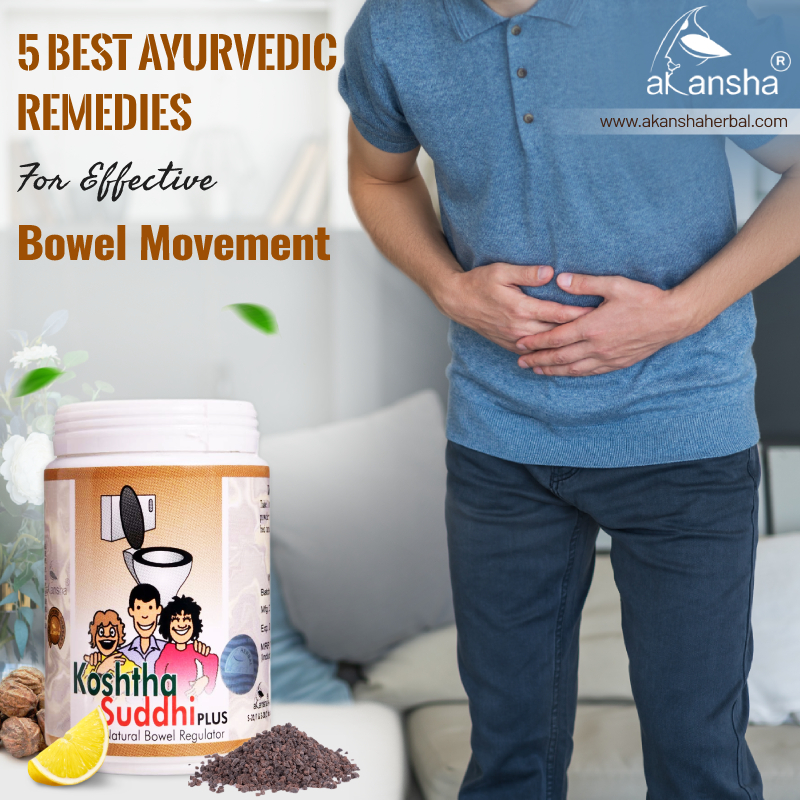 These days constipation is a common problem that is affecting many people. Even a single day without proper bowel movement can unsettle people and cause pain. According to experts, the problem is afflicting a majority of the population due to the modern lifestyle that we are following. The constant exposure to junk food, alcohol and overeating are suggestively triggering the problem. If you are seeking solutions to this problem, then you can rely on Ayurveda. Some Ayurvedic remedies can solve the problem and give your relief. In this blog, we have put together some trusted solutions and also, online Ayurvedic products from Akansha Herbals that can help you to achieve an effective bowel movement. Plus, we have discussed in detail about the problem.

What is Constipation?

Constipation is referred to as a condition where a person faces an acute digestive system disorder. This disorder also, indicates that the digestive tract in the body has some issues, which is why the elimination process is not functioning efficiently. When a person has an ineffective bowel movement, it will be a difficult task to stay energetic, healthy and fit.

Besides, Ayurveda also suggests that it is necessary to understand whether the colon is functioning properly. If the colon is not working as it is supposed to, then you can have an incomplete bowel movement.

Causes of Constipation

> Let's explain clearly the main reasons behind your constipation problem.
> Not consuming enough fibrous foods
> Not drinking plenty of water
> Leading an inactive life
> Not exercising properly
> Frequent changes in your regular routine, not having any routine as such
> Travelling, eating and sleeping at odd hours
> Consuming loads of junk food
> Leading a stressful life
> Resisting or ignoring bowel movement urges

Symptoms of Constipation

Take a look at some of the symptoms that indicates you might have constipation.

> Strenuous bowel movement
> Feeling blockage that prevents free bowel movement
> Feeling bloating
> Painful bowel movement

5 Best Ayurvedic Remedies to Achieve a Proper Bowel Movement

Here we have mentioned some of the best Ayurvedic solutions that you can follow for proper bowel movement.

Triphala

For chronic constipation, Triphala has remained one of the go-to Ayurvedic remedies. Triphala contains three fruits- haritaki, bibhitaki and amla and therefore is considered a polyherbal medicine. Consuming the mixture of three fruits in their dried powder form with water and honey can considerably help you to have a clear bowel movement. Alternatively, you can also rely on Akansha Herbal's online Ayurvedic products for an effective bowel movement.

Pulp of bael fruit

Bael fruit pulp or wood apple is a great Ayurvedic remedy for constipation. It acts as a laxative when consumed and therefore, helps to initiate a proper bowel movement. Besides helping to prevent constipation, the pulp of the fruit is packed with other nutrients as well such as calcium, tannins, fibre, iron and phosphorous. So, what you can do is have a half cup of bael fruit pulp with a little bit of jaggery daily before dinner and this can help you to get rid of constipation. Also, you can try Koshtha Suddhi Plus from Akansha Herbal's herbal shop online for great bowel regulation.

Black salt

Black salt aka "Kala Namak" is a kind of rock salt that is considered in Ayurveda as a cooling spice, which can be used for good digestion. As per Ayurveda, this salt improves the ability to digest properly by helping the liver to generate a good amount of bile production. To prevent constipation what you can do is drink black salt with water on an empty stomach during the early hours of the morning. Apart from being a good bowel regulator, black salt is also good for diabetes as it helps to balance the sugar level in the body. However, you must consume it in balanced quantities.

Lemon

Lemons are known for their high vitamin C content, which can cure many health problems. If you want to get rid of your poor bowel movement, lemons can help you considerably. This is because the vitamin C in the lemon acts as an antioxidant that helps to pull water into the gut. Therefore, the increased content of water in the gut helps to soften stools and thereafter, triggers proper bowel movement and elimination. Consuming lemon juice squeezed into the water with honey will help to achieve an effective bowel movement.

You can also try some online Ayurvedic products from Akansha Herbals to get major relief from your constipation problem.

Aragwadh

Aragwadh also known as Amaltas and Golden Rain Tree, is great for various health issues. Whether it is the leaves, roots, pulps or flowers, every parts of this tree have their own healing power. In fact, according to Ayurveda, this tree is a one-stop solution for many types of diseases. Besides, helping to boost bowel movement in the body, it also protects us from microbial infections. Plus, having abundant content of bioactive ingredients, carminative, strong purgative and anti-inflammatory and anti-pruritic properties present in it offers relief from the common cold, and skin disorders, boost immunity, cures the intestinal problem, prevents flatulence and manages diabetes.

Thus, Aragwadh can be of great help and saviour for those who are afflicted by constipation problems. Similarly, Akansha Herbal's products can also help you to get rid of constipation woes, you can shop these by visiting their herbal shop online at affordable prices.

Conclusion

If you are facing chronic constipation problems and tried a lot of medicines and yet the problem is not resolving, then you can try the above-mentioned products. There are many products that are known to give relief from constipation, however, in this blog we have mentioned some of the ones that are tried and tested. Besides, these medicines Ayurveda also recommends having an active life, consuming healthy foods, avoiding junk food, staying hydrated and having a lot of foods and fruits that have fibres. Also, you can try Akansha Herbal's online Ayurvedic products for leading a life free of constipation problems. You can visit our site https://www.akanshaherbal.com/ for placing orders for these products.
If you are interested to know more about these Ayurvedic products, you can dial to reach out +91 81003 46590 / +91 33 2475 583 to reach out.