Top 5 Ayurvedic Solutions for Bleeding Gums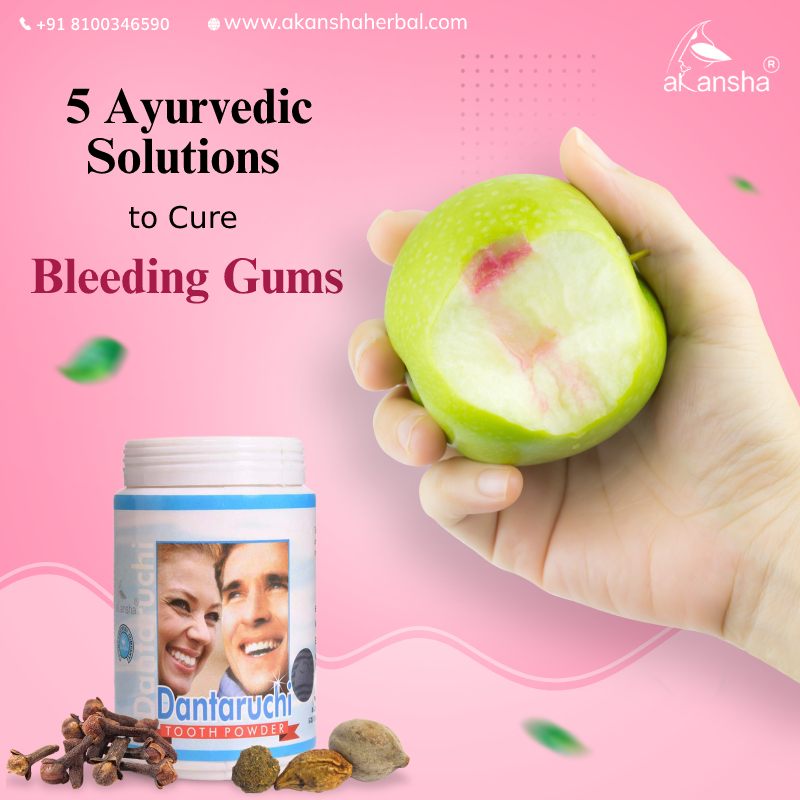 Bleeding gum disease is a common dental problem that many people face in their lifetime. So, if you are facing it, know that it is mostly curable. When you face this problem, you might notice that when you are eating, say, an apple, you see a patch of blood on the fruit when you bite into it, or blood oozes out when brushing your teeth. This mainly happens due to poor oral hygiene, periodontitis, gingivitis, poorly fitted dentures, hormonal imbalance, dry mouth, tobacco addiction, and many other reasons. The other symptoms of bleeding gums are pus-filled gums, bad breath, loose, shaky, and sensitive teeth, as well as difficulty eating. So, if that is the case, then it is important that you visit the dentist and fix the issue. However, to help you at home, here are some of the top Ayurvedic solutions recommended by Akansha Herbal, one of the top herbal shops online.
Cloves
When it comes to bleeding gums, cloves can be a great solution. Cloves contain antiviral and antioxidant properties that can reduce inflammation and even help get rid of plaque. If you want to use these small but powerful ingredients to treat gingivitis and other conditions that cause bleeding gums, soak a cotton ball in clove oil and then rub it on the gum area of the mouth for one minute.
Alternatively, you can buy Akansha Herbal's online Ayurvedic products for dental care to get effective results.
Yastimadhu
Yastimadhu or Glycyrrhiza glabra roots are known to contain bioactive components such as liquorice and lycoricidine. These components are extremely beneficial for curbing bacterial growth, which causes cavities. Yastimadhu is not only good for treating and curing bleeding gum problems, but it is also one of the best ingredients that can be used to cleanse the mouth and helps with salivation by improving the gastrointestinal tract secretions. What you can do is brush your teeth with Yastimadhu or Mulethi root powder and help your gums combat bleeding gums and other problems.
If you want a similar solution, then you can use Akansha Herbal's Dantaruchi toothpowder. This is a great Ayurvedic toothpaste that helps protect the gums and teeth against many dental problems.
Cinnamon
You may know that cinnamon is a spice that is used in cooking. However, what you may not know is that cinnamon is a spice that has a lot of medicinal properties. In fact, studies suggest this is not a regular spice that adds a lot of flavour to the food but contains anti-inflammatory, antioxidant, and anti-microbial properties. Thus, when it is used for dental problems such as bleeding gums, it works like a wonder and helps to combat pathogens such as fungi and bacteria.
Triphala
Triphala is not a single herb but a mixture of three important herbs: Haritaki, Amalaki, and Bhibhitaki. All these herbs have great healing properties. So, when they are mixed, the astringent and antimicrobial properties work extremely effectively and help treat a wide variety of dental issues that include bleeding gums, periodontitis, plaque buildup, and more. Take one spoonful and mix it in with some warm water. Use this solution to gargle about three to four times a day and keep dental problems away.
Also, you can use Akansha Herbal's other dental care products to cure your bleeding gum problem. To buy their product, you can visit their herbal shop online.
Jatiphala
Jatiphala, Jaiphal, or nutmeg is a small evergreen tree that is the source of many proteins, minerals, and oils. It has anti-inflammatory properties according to Ayurveda and is used for the many health benefits it offers. For instance, besides treating bleeding gums, it can also be used to get relief from tooth pain. All you need to do is apply the nutmeg powder, and after a while, rinse the mouth.
Conclusion
These are some of the top Ayurvedic solutions that you can use to cure and prevent bleeding gum issues. However, make sure to stay committed to the dental routine and use these regularly for a good amount of time to see visible results. If you are interested in buying Akansha Herbal's Dantaruchi or other dental products or online Ayurvedic products, then you can visit their herbal shop online.