Top 5 Ayurvedic Solutions to Repair Chemically Damaged Hair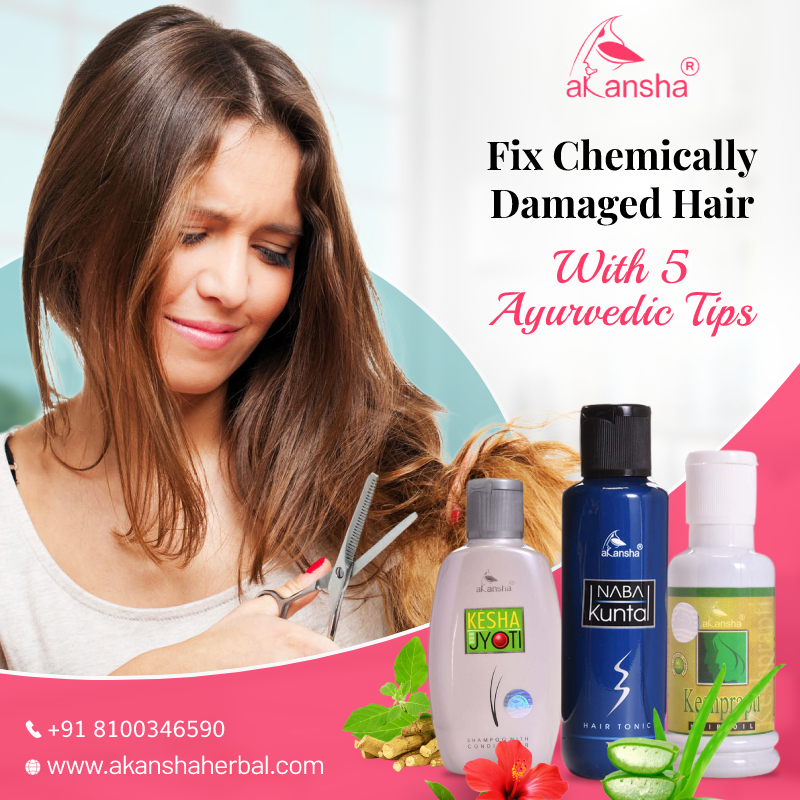 Everyone desires silky and smooth hair, however, in their quest to achieve beautiful hair, they end up depending on chemical treatments and styling methods. Such treatments offer temporary solutions and only in the long term do they realise that such steps have damaged their hair. If you are one of them and your hair has become dry, lifeless and frizzy, then switching to Ayurvedic products can do you a world of good. These products deeply nourish the hair and make it healthy and robust. Thus, if you are seeking the best solutions to fix your chemically damaged hair, you can read this blog to know some of the best Ayurvedic remedies and Akansha Herbal's Ayurvedic hair care products.
Ashwagandha
Ashwagandha is one of the most reliable Ayurvedic herbs, used for its great healing properties. This herb houses numerous biologically active components that work together to boost hair growth and heal damaged hair. You can make a paste with Ashwagandha powder and water and use it as a hair mask to fix your damaged hair. Alternatively, you can also buy herbal products online from Akansha Herbals for repairing your damaged hair.

Brahmi

Using Brahmi you can reduce the damaging effects of chemicals on your hair to a large extent. Brahmi is a herb that helps to nourish the scalp and blood vessels, and therefore, increases the supply of oxygen and nutrients to the scalp stimulating hair growth. Further, it helps to restore the lost shine in the lifeless hair and bring volume to your hair. For similar results, you can also rely on Akansha Herbal's Keshprapti hair oil.

Hibiscus

Hibiscus is rich in vitamin C, flavonoids, mucilage fiber, amino acids and antioxidants. All these components make Hibiscus one of the best remedies to repair your damaged hair. Hibiscus helps to strengthen hair roots by enhancing the blood circulation to hair follicles. Furthermore, it repairs damaged hair follicles and boosts keratin production in the cells of the hair follicles. Thus, it is one of the best ingredients that you can add to your hair care routine. If you want to draw the same results using other products, you can consider using Akansha Herbal's Keshajyoti shampoo. Packed with the goodness of Ayurveda, it helps to nourish your hair deeply and offer many other benefits.

Aloe vera

When it comes to repairing your damaged hair, Aloe vera is one ingredient that helps to cure many hair issues like parched, frizzy and stunted hair growth. It contains vitamins A, C and E, which contribute to cell turnover, stimulate healthy cell growth in the hair follicles and make hair shiny and beautiful. Moreover, Vitamin B12 and folic acid present in Aloe vera help to reduce hair fall and strengthen the hair.

Amla

Amla or the Indian Gooseberry is a wonder fruit that is packed with loads of vitamins, minerals, micronutrients and amino acids. Thus, when Amla juice is applied to the hair follicles and scalp, it contributes by strengthening and repairing the hair. The vitamin C present in it helps in producing collagen, which stimulates hair growth and helps to replace dead hair cells by regenerating new cells. For experiencing the same results you can also use Akansha Herbal's Nabakuntal hair tonic.

Conclusion

Achieving healthy and beautiful hair requires a lot of effort today, given that there is so much pollution around, harmful chemicals present in hair care products and more challenges. Thus, if you want to reverse the damage caused by chemicals to your hair, you can follow these Ayurvedic solutions or buy herbal products online from Akansha Herbals.