Top 5 Ayurvedic Solutions to Treat Dandruff in Kids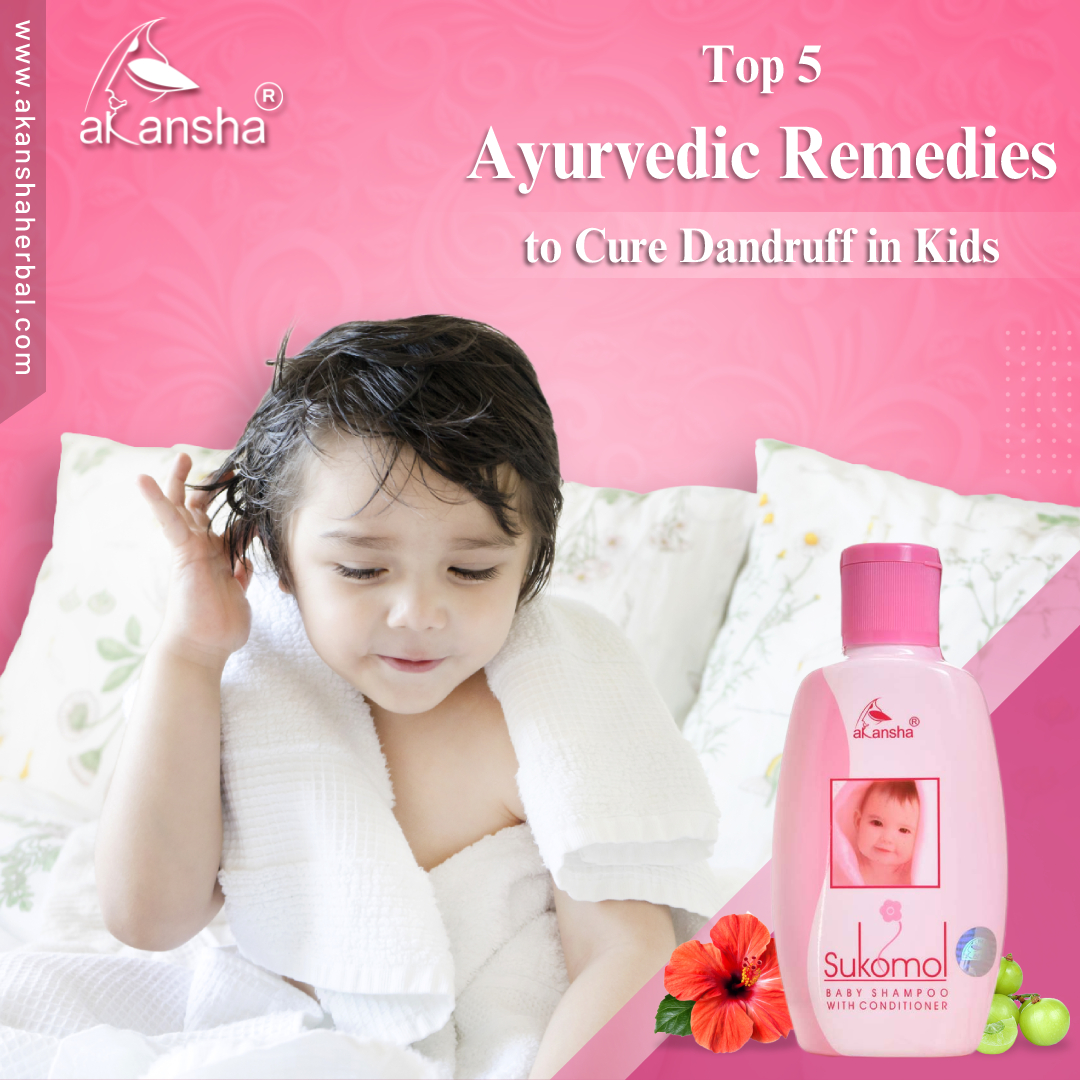 Dandruff is a common hair problem that affects individuals across different age groups. So, it does not spare small kids, Dandruff can be caused due to several reasons such as excess sebum secretion, dry scalp, irregular washing of the hair and more. Now, once dandruff is caused it can be hard to get rid of it. So, if your kid has got dandruff then you shouldn't try one product after another to get rid of it. Kids' skin is extremely sensitive and delicate, therefore using the wrong products on them can aggravate the skin problem. Instead of trying different baby products available in the market, you can use effective Ayurvedic hair care products from Akansha Herbals, and some of the best Ayurvedic solutions that we have shared with you here.
Methi
Methi or fenugreek is an amazing ingredient that has antibacterial and antifungal properties that can prevent fungi that causes dandruff. Moreover, it is a great source of vitamin C, protein, potassium, iron, nicotinic acid and more. These all together work to fight off flakes and prevent the skin from becoming dry. What you need to do is take two tablespoons of fenugreek seeds, and soak them in water overnight. In the morning grind these seeds, make a paste out of it, and apply this to your scalp and hair. Thereafter, wash your hair with mild shampoo. Do this regularly for a while to see the wonder it does to your hair.
To achieve the same effective results, you can also give a try to Akansha Herbal's Ayurvedic hair care products for babies, and get rid of dandruff issues.
Brahmi
Brahmi is an age-old hair care remedy used for treating many hair concerns. One of the many hair-related problems that it can cure is dandruff. It is very mild and gentle on hair, and yet offers effective results, therefore it can be great for treating dandruff in babies. Brahmi has exceptional moisturising properties, so using it for a while can offer you great results. What you can do is make a paste out of fresh Brahmi leaves, and massage it onto the scalp. Leave it for around 15 minutes, and wash off the hair.
Besides following this you can also use Akansha Herbal's Sukomol baby hair shampoo to treat your baby's dandruff problem effectively.
Hibiscus
Hibiscus are not only an aesthetically beautiful flower but also, it is a powerhouse of nutrients that can help to fix many hair problems. From strengthening hair to stimulating hair growth, and preventing dandruff issues, it can be very helpful. What you can do is in ½ cup of water, add two hibiscus flowers for around 5 minutes. After the solution cools down add 1 tablespoon of coconut, 2 drops of lavender essential oil and 1 tablespoon of yoghurt, and apply this to your hair. Leave it for around 20 minutes and wash your hair with mild shampoo.
Coconut Oil
Coconut oil is best known for its extraordinary healing potential and medicinal properties. It can be used to solve many hair-related issues. To cure dandruff in your child's hair you can do is pour some coconut oil and some honey into a bowl. Mix this well, and thereafter apply this to the scalp, leave it for around 20 minutes, and then rinse the hair thoroughly with a mild baby shampoo. Also, applying coconut oil to the hair regularly can keep your baby's hair and scalp moisturised always and prevent dandruff.
Alternatively, you can also use Akansha Herbal's Keshkomol baby hair oil regularly to prevent dandruff, itchiness and dryness, and get the best result.
Amla
When it comes to hair care Amla is one of the best ingredients that you can depend on. It contains vitamin C, a natural antioxidant in good amounts, and also has antimicrobial properties that help to prevent infections. What you can do to prevent dandruff from your child's hair is you can take ½ cup of amla powder, and add water to make a smooth paste. Thereafter, apply the mixture to the hair, and cover your head with a shower cap. Let this pack work for around 30 minutes, and then wash it off. Alternatively, you can also buy herbal beauty products from Akansha Herbals that are formulated for baby's hair and can cure dandruff effectively.
Conclusion
Dandruff can cause itchy skin, fungal infection and other problems. Therefore, you should never leave the problem untreated for long when it concerns your kids. These are some of the best Ayurvedic solutions that you can use to cure and prevent dandruff and keep your kid's hair in the best health. Besides home ingredients, you can also follow some of the best Ayurvedic hair care products from Akansha Herbals such as Keshkomol and Sukomol to fix the dandruff problem in your kids.