Top 5 Ayurvedic Solutions to Treat Hyperpigmentation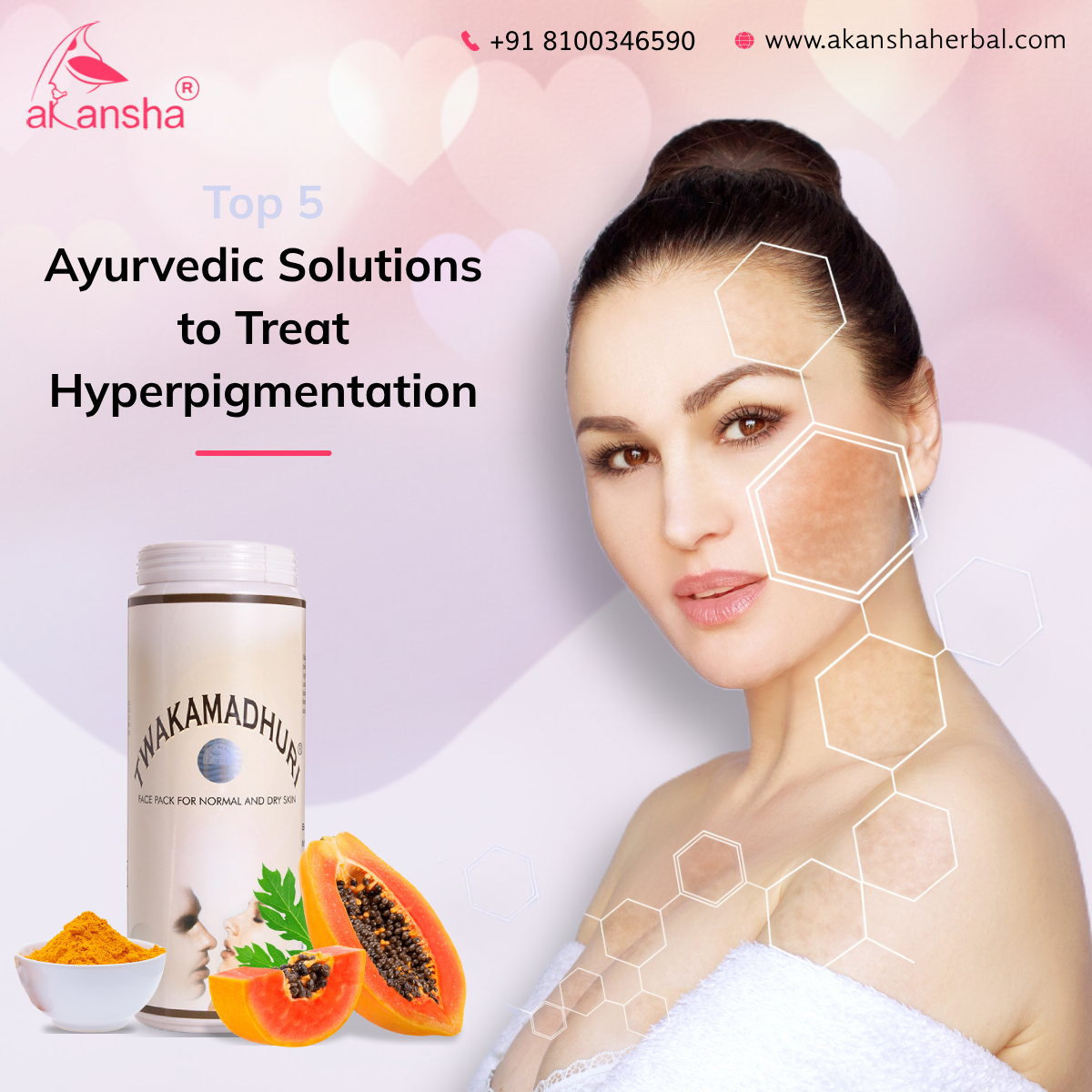 Are you emptying boxes of concealers to hide the unsightly pigmentation and spots on your face? And, at the end of the day, after removing the makeup, they are back, and your disappointment never ends! Even after using a lot of products, if you have observed no improvement, then you must be making a mistake that many make, which is using products that promise to give you fast results but are loaded with harmful chemicals. Switching to Ayurvedic skin care products can be a wise decision, as these products are not loaded with chemicals and will offer you effective results. In this blog, we have mentioned some of the top Ayurvedic tips and products suggested by Akansha Herbals. Take a look to find out what these solutions are.
Top 5 Ayurvedic Remedies to Fix Hyperpigmentation
Hyperpigmentation, or pigmentation, is a stubborn dark patch on the skin. These marks generally occur when the melanin, which extends the color to the skin, is sometimes produced more in certain parts of the body. And this condition happens when your skin is exposed to UV rays, pollution, skin injuries, hormonal imbalance, aging, genetics, skin disorders, pregnancy hormones, and hypothyroidism.
1. Sandalwood
There is no doubt that you have heard about the various benefits of sandalwood for the skin. The abundance of alpha-santalol present in the sandalwood inhibits the production of tyrosinase, which is an enzyme among many that help to make the skin even, and also eliminates discolouration of the skin.
You can also get similar results by using Akansha Herbal's products. To choose suitable products, visit their herbal shop online.
2. Lemon juice
This is another ingredient that we can all find in our kitchen. One of the best sources of vitamin C, this component greatly aids in the fight against hyperpigmentation on the skin by preventing the development of melanin. Hence, just use this ingredient and say goodbye to pigmentation. Just apply lemon juice and honey, let the paste dry on your face for twenty to thirty minutes, and then wash it off.
3. Turmeric
In India, the use of turmeric has been found over and over again in ancient texts. Hence, there is not a single doubt that it has always been a go-to remedy for humans. For pigmentation removal, it is an ideal remedy that you can depend on. It has properties that can inhibit the melanin product and eliminate the dark patches from the skin. You can try top Ayurvedic skin care products from Akansha Herbals for the same result.
4. Manjistha
Using manjhistha can provide you with a fast result in getting pigment-free skin. However, you need to use it regularly. What you can do is add honey and oats to manjhistha and get rid of the hyperpigmentation by applying it to the treatment areas.
You can also use Twakamadhuri from Akansha Herbal, packed with Manjhistha, Lodha, Daruharidra, Gopichandran, and Arjuna. And can help to eliminate spots, freckles, and other types of pigmentation from the skin.
5. Curd, saffron, and turmeric
Saffron is a remarkable ingredient, as it is a source of vitamin C and packed with anti-inflammatory properties. And, once again, we have already mentioned that vitamin C helps to inhibit the production of melanin, and the pigmentation fades away with time.
Conclusion
We understand your problem, and these are some of the solutions that we suggest you use. One thing you need to acknowledge is that you can't get rid of the pigmentation very fast, and only with time will you be able to, and these solutions can give you the cure that you need. Plus, you can also try Akansha Herbal's Ayurvedic skin care products, such as Twakamadhuri and other suitable products, to get rid of the pigmentation.