Top 5 Ayurvedic Solutions to Unclog Open Skin Pores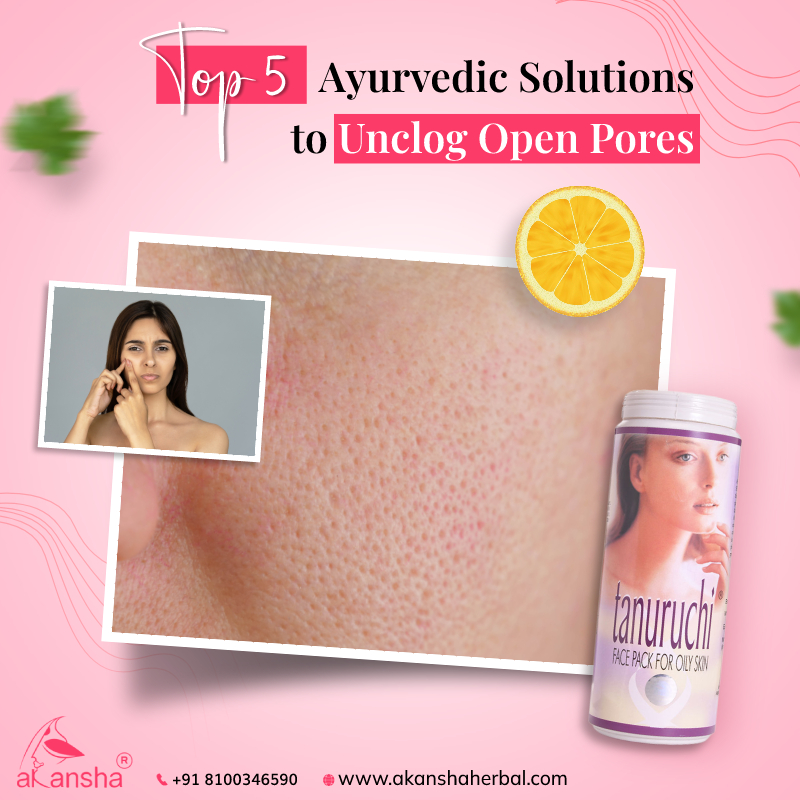 Many of us deal with problems such as open skin pores, and these are nothing but enlarged oil gland openings on your skin. Generally, you will find open pores in people who have oily skin. This problem tends to freak people out because it is hard to get rid of and there is genuinely no immediate solution for it. However, Ayurveda can give you rays of hope. And, so if you can leave behind the chemical products, which claim that they can unclog the open pores fast, and switch to Ayurveda, then you take a look at this blog to know what are some of the best Ayurvedic skincare products from Akansha Herbals and some of the top Ayurvedic tips that on regular use, can offer you brilliant results in this case.
 
Honey

When it comes to skincare, honey holds the top position. It is widely used in major skin care products for its several benefits. It acts as a deep cleanser and pulls out impurities from the depths of the skin. This way, it not only helps to save the skin from dirt and dust but also helps to reduce the size of the pores. What you should do is take two tablespoons of honey, mix it with the same amount of coconut oil, massage it on your face, and then wash it off using plain water.
 
For similar results, you can also use Ayurvedic skin care products from Akansha Herbals that are suitable for the problem.
 
Lemon

Lemon is another useful ingredient that can help you minimise your open skin pores. It contains citric acid, which helps to exfoliate the skin and squeeze out dirt and dust from the pores. What you need to do is apply lemon juice to the area and gently rub it for five minutes. Wash off the skin with lukewarm water, and after tap-drying the skin, apply a gentle and suitable skin moisturiser.

 Multani Mitti, or Fuller's Earth
 
One ingredient that works wonders on open skin pores is Multani Mitti, or Fuller's earth. This natural ingredient, when applied to the skin, functions in two ways. Firstly, it works as a dirt magnet and clears the pores of the dirt that clogs them, and it also helps by absorbing excess oil.
 
Aloe vera
 
Aloe vera is one of the most reliable ingredients that you can use to cure this problem to a great extent. Besides its gentle cleansing and anti-microbial properties, which help to treat pimples, it also contains astringent properties that help to reduce the skin pores' size and make them disappear to the naked eye.
 
Besides this, you can also use the Ayurvedic products from Akansha Herbals. If you want to buy suitable products, you can find them in the company's herbal shop online.
 
Arjuna

Arjuna, aka Terminalia Arjuna is an extremely revered ingredient in Ayurveda because of the many benefits it offers. When it comes to skin pores, it can help reduce them and make them invisible. This is because Arjuna has excellent astringent properties, and thus, when applied to the skin pores, it helps to unclog them by pulling excess oil and sebum out.
Alternatively, you can use Akansha Herbal's Tanuruchi face pack. It is made with great Ayurvedic ingredients such as Arjuna, Nimba, Daruharidra, Gopichandran, and more.
 
Conclusion

Genuinely speaking, you should know that if you have open skin pores, then you have to have patience. This skin problem may not go away completely, but you can significantly reduce its visibility, and that is also a slow process. Using the recommended Ayurvedic skincare products from Akansha Herbals and other tips shared here, you can solve the problem to a great extent. So, if you are on a quest to achieve flawless skin, then just go ahead and achieve your dream skin.