Top 5 Benefits of Brahmi for Hair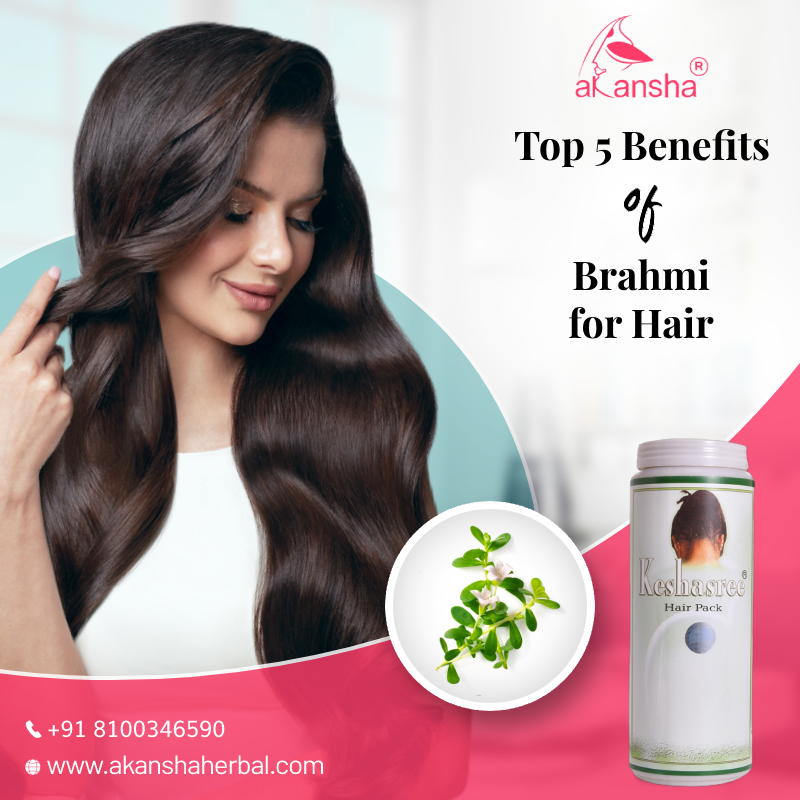 Modern discoveries in science have not replaced ancient Ayurvedic knowledge when it comes to caring for our hair. Brahmi, also known as Bacopa monnieri in science, is one of the ingredients, which has become renowned as the necessary herb for maintaining strong, lustrous hair. Brahmi, which originates from the Indian subcontinent, provides a wide range of advantages that modern hair care products frequently fall short of. Here are the top five benefits of including Brahmi in your hair care routine. Also, in this blog, we have included some of the top Ayurvedic hair care products by Akansha Herbals.
Promotes hair growth
The power of Brahmi to activate hair follicles and encourage hair growth is well known. With time, the natural components in it strengthen the hair roots and nourish the scalp, promoting denser and healthier hair growth. Utilising Brahmi-based products on a regular basis helps revive dormant follicles, ensuring a consistent and robust cycle of hair development.
You can also use Akansha Herbal's Ayurvedic hair care products, Keshashree hair pack for similar benefits such as hair growth, preventing split ends and others.
Prevents split ends
With Brahmi's reparative abilities, you can say goodbye to those annoying split ends. Brahmi, which is abundant in antioxidants and other nutrients, does wonders for strengthening the hair shaft and preventing split ends. It enhances overall hair health by fortifying the hair from the inside, reducing the need for regular trims, and improving the appearance of your locks.
Acts as a natural conditioner
The inherent conditioning abilities of brahmi make it a popular ingredient in the world of hair care. Its nourishing elements give the hair a natural shine and smoothness in addition to nourishing the scalp. Without the negative effects of synthetic chemicals, regular usage of Brahmi-infused products can make your hair feel silky, manageable, and delightfully soft.
Alternatively, you can use Akansha Herbal's hair care products for the same set of benefits. So, if you are running out of time to make Brahmi paste every other day, you can buy herbal beauty products.
Prevents dandruff
With Brahmi's antimicrobial and anti-inflammatory properties, bid dandruff discomfort goodnight. Brahmi successfully combats the underlying cause of dandruff by calming the scalp and balancing its natural oils, resulting in a flake-free and healthier scalp environment. Including Brahmi in your hair care routine can make it simple for you to keep your scalp clean and dandruff-free.
Helps with hair fall

Many people worry about their hair falling out, but Brahmi provides a natural remedy. In addition to nourishing the hair, its strengthening qualities also lessen hair loss and breakage. Brahmi acts to lessen hair loss and encourage the growth of thicker, stronger, and more robust hair by supplying vital nutrients and strengthening the hair follicles.
Take away
Including Brahmi in your routine can be a game-changer in your pursuit of the ideal hair care regimen. Whether you're dealing with hair loss, or dandruff, or simply looking for a natural way to improve the appearance of your hair, Brahmi represents a comprehensive and efficient answer. Experience the transformational impact of Brahmi for yourself by exploring the world of Ayurvedic hair care products.

Visit Akansha Herbal's online store right away to purchase herbal beauty products infused with the benefits of Brahmi and start your path to healthy, well-nourished hair.