Top 5 Benefits of Including Neem in Your Skincare Routine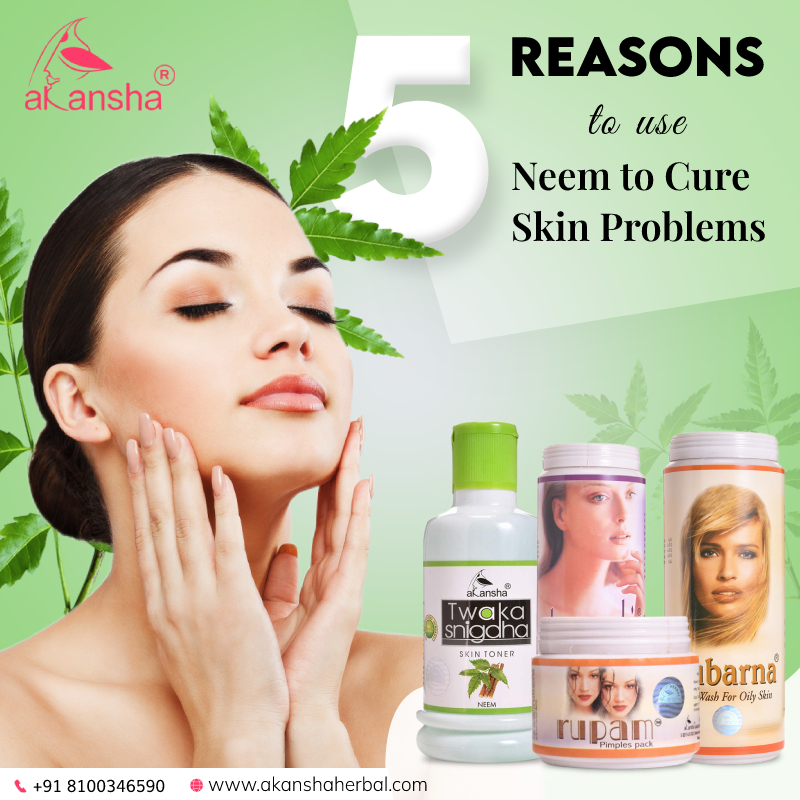 The neem plant is widely known for its multiple benefits and the power to heal not just infections but also skin ailments like blemishes, acne, blackheads, whiteheads and premature skin ageing. Neem is an age-old Ayurvedic remedy that is not only applied to the skin but also consumed to cure many diseases. If you are on a journey to cure your skin and make it healthy, then including neem in your daily skincare routine can do you a world of good. For the same benefits and effective results, you can also include Akansha Herbal's Ayurvedic skincare products and see the results yourself. If you are interested to know how neem can heal your skin, then read this blog.
Cleans skin deeply

When neem is applied to the skin, it penetrates deep inside the skin pores and flushes out the toxins that are harmful to the skin. If you have problems like skin sensitivity and have irritated skin then applying neem paste on your skin can do wonders. For the same effective results, you can consider using Akansha Herbal's skin toner Twakasnigdha neem. This skin toner helps to clean the skin and tighten the pores and also, restores skin elasticity and makes skin soft.

Cures acne

Curing acne is not the work of chemical-laden products that are available in the market. In fact, instead of doing good, these products can harm your skin in the long run. If you really want to cure stubborn acne, then include neem in your skincare routine. Its antibacterial properties help to fight the bacteria causing acne and gradually heal the acne-prone skin. It also controls oil production and does not let your skin become dry or too oily. For similar benefits, you can also try Akansha Herbal's Ayurvedic skincare products like Rupam pimples pack. On daily application, Rupam pimple pack can give you pimple-free glossy skin.

Controls excess oil secretion

Neem is a great Ayurvedic solution that helps to control excess oil secretions. This is because neem works as an astringent and can aid in removing the excess oil from the skin and helps to tighten the pores. This is why if you have oily skin and your skin is prone to breakouts, then you can consider applying neem on your skin. Also, using Akansha Herbal's Tanuruchi face pack daily can help you to control oil production and get scar-free clear skin.

Lightens skin tone

Another set of skin problems, for which you might have grown tired using several products without any positive result are skin blemishes, scars and dark patches. The application of neem on your skin can effectively reduce these spots and restore your natural skin tone. You can try Akansha Herbals skincare products and buy herbal products online like Tanuruchi face pack for bright, clear skin with no blemishes, dark patches and scars.

Prevents blackheads and whiteheads

The problems of blackheads and whiteheads have become very common these days and not many products can effectively cure these. However, boiling neem leaves and inhaling the steam can help you clear your skin reeling under blackheads and whiteheads. Also, the application of neem paste can help to cure whiteheads and blackheads as it works as an exfoliating agent and pull out all the impurities. Alternatively, you can use Akansha Herbal's Subarna face wash. This product is packed with the goodness of Ayurveda and helps to remove blackheads and dead skin cells.

Conclusion

So if you want deep skin cleaner, cure acne, whiteheads and blackheads, seek a great remedy for skin ageing and lighten the skin blemishes, then consider the use of neem. So, not just the above-mentioned problems, neem provides multiple benefits and can cure most skin ailments. For similar results and effective solutions, you can also, buy herbal products online. Akansha Herbal's skincare products are packed with the goodness of neem and can do wonders for your skin upon daily application.