Top 5 Herbs to Boost Your Hair Growth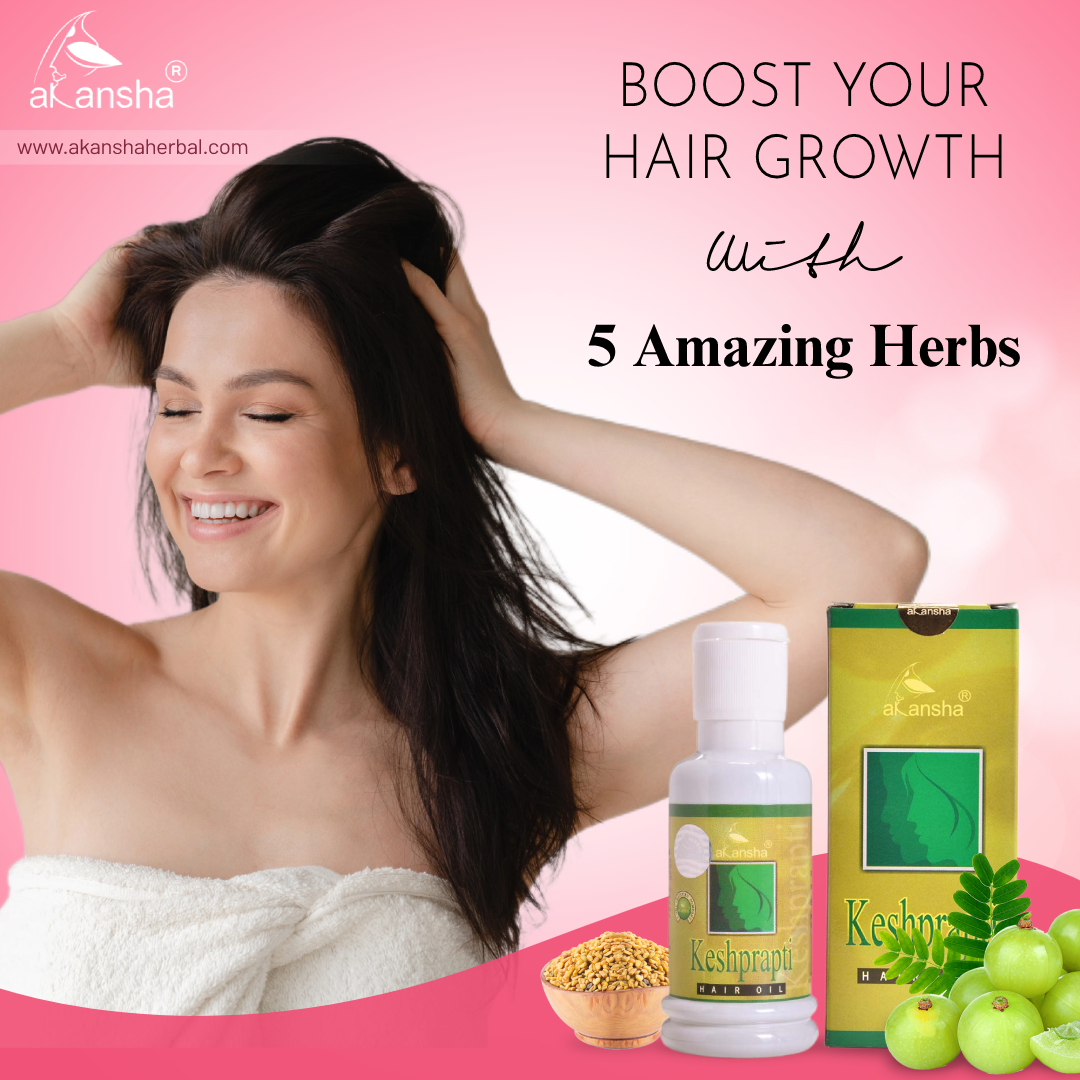 Stunted hair growth, thinning of hair and baldness are some of the most common hair problems that many of you struggle with. Stress, pollution, and hair styling are some of the reasons behind the receding hairline on your head. Solutions are easily available in today's world, however, the question is- are they effective at all? Unfortunately, the answer most of the time you may end up discovering is No. Yet, many of us run behind quick results, and, end up using products that are loaded with harsh chemicals. Such products aggravate the problem and offer temporary chemical-induced results. So, it is wise to understand what has the potential to heal your problem from the root. Ayurvedic natural ingredients have many benefits when it comes to skin and hair. To help you boost your hair steadily and permanently, here we have mentioned some of the best Ayurvedic ingredients and Akansha Herbal's Ayurvedic hair care products. Check them out.
Brahmi
Brahmi is loaded with nutrients, however, its two most active components are triterpenoids and alkaloids. Asiatic acid is one of the vital triterpenes that promotes collagen synthesis. Further, these triterpene saponins also help to heal wounds. They help to make the weak veins strong, and thus, an adequate amount of blood is allowed to flow to the hair follicle. Other than this the alkaloids in Brahmi bind with the proteins present in the hair shaft, thus hair grows stronger and thicker. Apply Brahmi oil to your hair regularly to see the result.

Bhringaraj

Applying bhringaraj oil helps to boost blood circulation, and as a result, more blood is supplied to the hair roots and scalp. As a result, hair growth is triggered. Further, the oil helps to reactivate the hair follicles, which triggers hair growth. So, what you need to do is simply massage this oil for 10 minutes. Do not fail to include this in your hair routine if you want to see visible results.

If you want to get similar results, then you can also alternatively use Akansha Herbal's Keshprapti hair oil. On regular application, not only does this oil boost hair growth but also, prevents hair fall, baldness, and other problems.

Sesame oil

When you apply sesame oil to your scalp and massage, it supplies important nutrients to the scalp, shafts, follicles and hair, and helps to nourish the scalp boosting hair growth. Further, you can reverse the damage caused by chemical products using sesame oil.
You can also, try Akansha Herbal's Ayurvedic hair care products for similar results. Their hair care products are great when it comes to quality, and not only hair growth, using them will help to strengthen hair roots and make your hair voluminous etc.
Amla
Amla contains loads of minerals and vitamins besides phytonutrients that help to boost blood circulation in the scalp. Effective blood circulation helps in promoting good hair growth and makes the hair roots healthy and strong. This is because good circulation helps to supply all the nutrients and oxygen to the hair roots.
Fenugreek Seeds
Fenugreek seeds are best when it comes to hair health. They are packed with several nutrients that are good for hair such as protein and iron, thus using them in the right way will help you to boost hair growth.
Alternatively, you can rely on Akansha Herbal's wide range of hair products which you can buy from their herbal shop online. Their products are made from the choicest Ayurvedic ingredients to deliver visible results.
Conclusion
Only with the help of the right nutrients, you can boost your hair growth. Using products just because they are available over-the-counter does not mean that they are good for your hair health. So, the next time you are attracted to pick a product understand whether it can actually help you. Wise people choose products that can actually cure their problems and have no harmful effects. The above-mentioned ingredients can boost your hair growth and have no side effects, however for the visible result one must include them in the hair care routine (whichever you choose). Further, if you are running out of time, and finding it difficult to follow the instructions, then you can use Akansha Herbal's Ayurvedic hair care products such as Keshprapti hair oil and other suitable products.