Top Ayurvedic Remedies to Repair Damaged Skin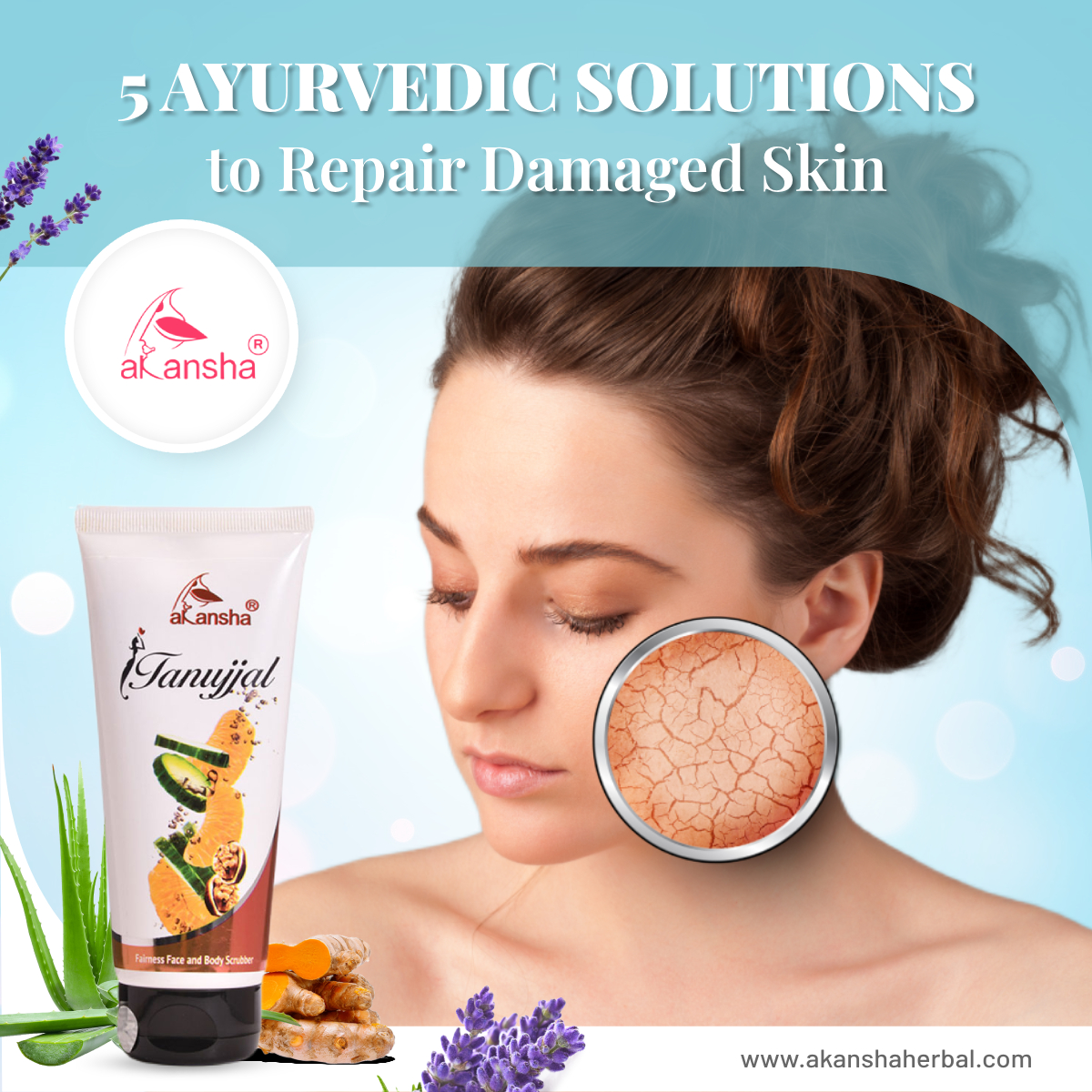 Signs such as skin redness, acne, spots, and hyperpigmentation indicate that your skin is getting damaged. There can be multiple reasons behind this, for instance, exposure to pollution, stress, makeup products, UV rays, and different other harmful things. To cure the damage, people unknowingly reach out for more harmful products that are loaded with harsh chemicals and promise to restore the skin in a few days. Don't believe in such 'too good to be true stories; they are only meant to sell the products. Instead, if you want to cure the damage, then use Ayurvedic solutions. In this article, we have discussed some of the top Ayurvedic skin care products and tips recommended by Akansha Herbal.
Let's take a look without further ado!
5 Excellent Ayurvedic Solutions to Fix Damaged Skin
Damaged skin requires time to heal. Hence, changing from one product to another frequently just to get the result faster is not the ideal approach. You need patience, and if you really care for your skin, here are some top Ayurvedic products that you can go ahead and try!
Aloe Vera
It goes without saying that aloe vera is extremely beneficial for your skin. There are numerous ways in which this 'miracle herb' can help. Being rich in nutrients, cooling, and anti-inflammatory properties, it helps to cure sunburn, lock moisture in the skin, and soften the skin. Also, it helps to speed up the process of cell reproduction, which helps to accelerate the healing process of the skin. Just scoop up some aloe vera gel from the leaves and apply it to your skin daily.
For the same result, you can use Akansha Herbal's Ayurvedic skin care products. To choose suitable products, you can visit their online store.
Sandalwood
One of the age-old Ayurvedic solutions for skin has been sandalwood. It is a revered Ayurvedic ingredient for its various uses. If your skin has become utterly dull and is lacking the glow that was earlier there, then applying sandalwood paste would be of great help. Plus, it can also treat acne, improve skin tone, eliminate blemishes, and pacify itchiness.
Turmeric
Your kitchen can be a treasure-trove of great skincare ingredients. And, one of them is turmeric which comes with properties that are great healers. For instance, anti-bacterial, and anti-ageing properties are known to not only remove tan, but any wounds, and rashes can also be prevented using turmeric.
If you are running out of time, and want an easier and more effective product, you can use Tanujjal fairness face and body scrubber from Akansha Herbals to get restore the skin suffering from damage.
Saffron
Saffron is an expensive Ayurvedic ingredient that is used for its great benefits. In fact, like sandalwood, it is also an age-old remedy for many skin problems. It helps to whiten the skin, fix hyperpigmentation, and also improve the skin's texture as the skin regains elasticity. To use this product as a skincare, you can mix some saffron with olive oil, and milk, and apply the concoction to your face. Just see how magically the skin improves.
If you want to get the same results, then don't worry we have your back! You can visit Akansha Herbal's herbal shop online, and choose suitable products from an amazing skincare product range!
Lavender
Lavender or specifically the oil of the plant that is extracted from it is known to be beneficial because it has antifungal, and antibacterial properties. Hence, you can use it to cure all kinds of skin irritation, and redness, which causes psoriasis, and eczema. The oil also works as a wound healer, which is why today, many skin care products that you will find in the market have lavender in them.
Take away

By now it should be simple for you to understand that damaged skin cannot be chased away faster than you would like to. You need to give it time, and for the side-effect treatment, you can switch to the Ayurvedic skincare products from Akansha Herbals, or use the ingredients that have been mentioned above. Besides, you also need to follow a good lifestyle and protect your skin following the basic skincare routine that is cleansing, toning, and moisturizing for the best result.