Top Benefits of Neem for Skin Care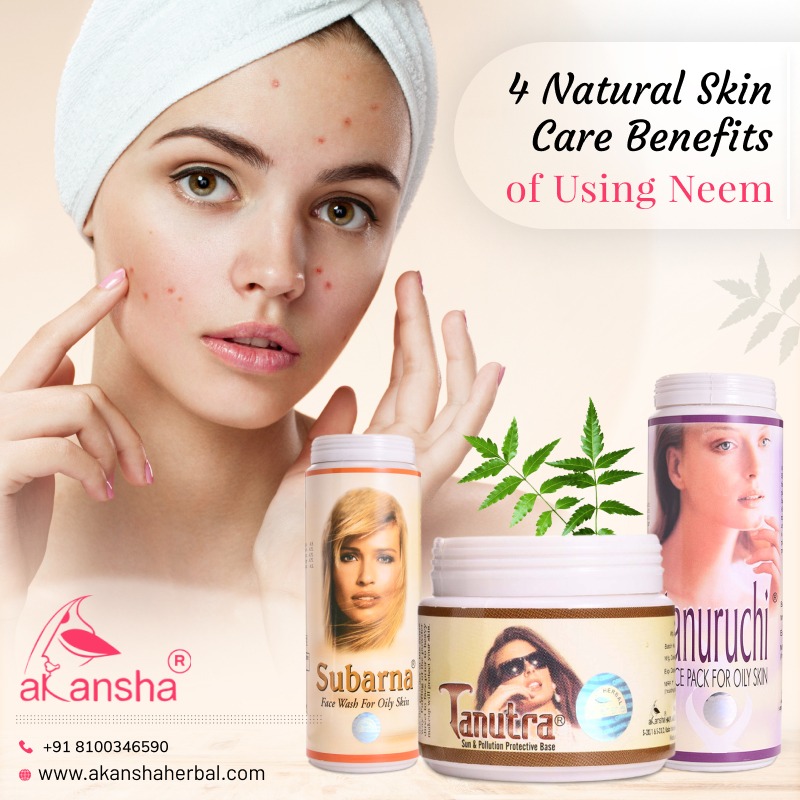 Neem is one of the miracle plants in Ayurveda. It is a powerful herb that has amazing benefits for natural skin and hair care. Rich in vitamins, minerals, and fatty acids, neem helps purify blood circulation and removes toxins from your body. Buy Ayurvedic products infused with beneficial properties of neem and get clear and blemish-free skin. Neem leaves and neem oil have long been used in beauty regimes since the ancient times in India. Akansha Herbal beauty products are made with all natural ingredients and neem is a vital ingredient in some of our skin care range.Below, we take a look at the primary benefits of neem for skin care.
Treats Acne
Neem has powerful antibacterial properties, which makes it the number one home remedy for treating acne. It prevents any skin breakouts, removes pimple causing bacteria, and soothes itchy and irritated skin. All this helps in reducing acne. Neem also helps absorb the excess oil from your face and keeps it clean and oil-free, which further prevents any breakouts. Applying neem oil every night before going to bed will give you clear and smooth skin. For those who have acne-prone skin, use the Akansha Herbal Subarna Face Wash for Oily Skin. Made with the goodness of neem, orange peel extracts, and Ashwagandha, this Ayurvedic face wash removes dead skin and clears your pores of excessive oil. It gives an instant glow to your face.
Lightens Scars
Neem has healing properties that can repair the skin tissue from within. It helps treat scar marks caused by burns, wounds, zits, or pimples. It removes stubborn acne marks and dark spots. The fatty acids and Vitamin E present in neem help to prevent and lighten scar marks. Just apply neem paste on your acne marks and see them fade away gradually after repeated use. Look forneem-based products from any herbal shop online to get clear, spotless skin. You can try out the Akansha Herbal Tanuruchi Face Pack for Oily Skin to see best results. Apply the face pack on full face avoiding the eye area and wait till it dries up before washing away with plain water. This helps control excessive oil secretion and gives you a scar-free face with repeated use.
Prevents Skin Infection
Neem has antibacterial, antifungal and antiviral properties.It contains Nimbidin, an anti-inflammatory substance, which helps in treating skin infections. Neem is also rich in fatty acids and has a high content of glycerides, whichcan soothe irritated skin and reduce the redness of inflamed skin without causing dryness. Its pain relieving properties also help manage the discomfort caused by skin inflammation. The magical herb is commonly used to treat serious skin infections such as eczema, dermatitis, burns, or rashes. You can use Akansha Herbal's Tanutra Sun & Pollution Protective Base to protect your skin from the sun's harmful UV rays and environmental pollution.
Purifies the Blood
Neem also has blood purifying properties. It is good for body health and helps increase your blood circulation. Neem is rich in antioxidants, which flush out all toxins from the body. It cleanses your blood, which results in fewer pimples and acne. Consume two neem leaves daily on empty stomach or drink neem juice for perfect health.
Conclusion
Neem is a powerhouse of miraculous benefits for skincare. Visit Akansha Herbal Shop online and get your hands on the best Ayurvedic products for skin care.