Why You Should Include Aloe Vera in Your Skincare Routine?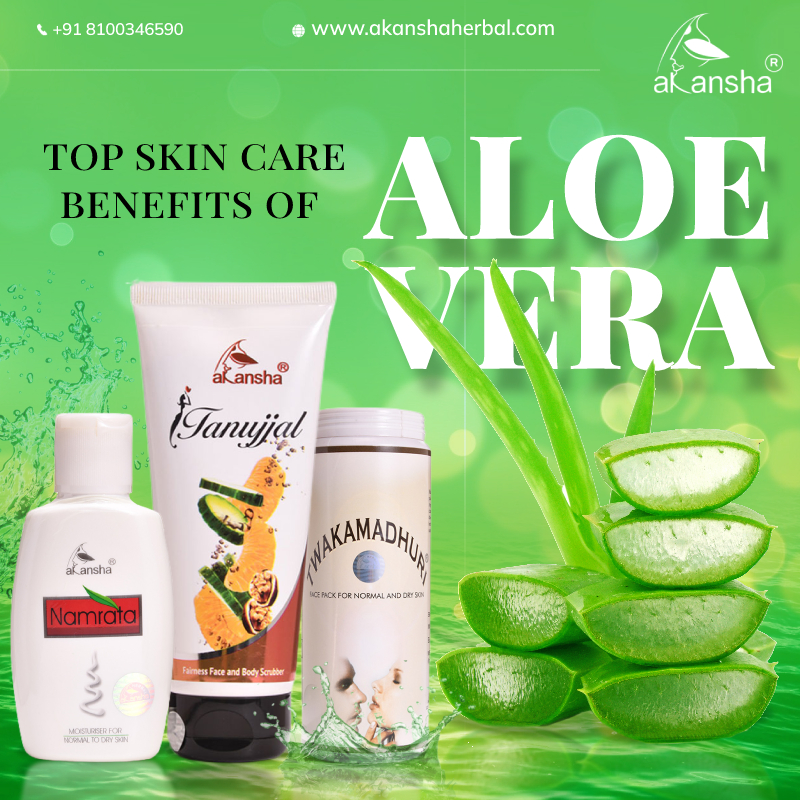 Aloe Vera is one wonder plant when it comes to healing your skin from several ailments. You may want to cure your dry skin, remove acne or reverse skin ageing; for all these problems and more you can always turn to Aloe Vera for its reliable healing power. Thus, if you are tired of using skin products, you can try Aloe Vera for a quality solution. You can also buy herbal beauty online from Akansha Herbal and get the best cure you were looking for all this while.
Moisturises skin
If you have dry skin, then it is easy for your skin to lose elasticity and natural glow gradually. If you want to get rid of the problems of dry skin then your skin requires deep healing. Aloe Vera is a non-greasy, nutrient-rich natural gel that you can apply to your skin regularly and get rid of dry skin problems. Alternatively, you can also cure your dry skin with the help of Akansha Herbal's Namrata moisturiser and get the same benefits.

Remove acne and rashes
If you are suffering from acne and rashes, you can find respite in the goodness of Aloe Vera. It has anti-microbial properties, which can cure acne and cooling properties that can cure rashes. Besides, Aloe Vera is also an antiseptic and prohibits the growth of bacteria on the skin. It also works as an astringent that helps to reduce pore sizes by controlling the sebum production and removing the microbes and dirt from the skin pores. For similar results, you can also buy Akansha Herbal's Ayurvedic skincare products.

Fights pigmentation

Pigmentations are stubborn skin problems and require a strong remedy for healing. Aloe Vera has polysaccharides and gibberellins, which boost the growth of new cells and also, relieves the skin from redness, spots and pigmentations. You can also use Akansha Herbal's Twakamadhuri face pack, to treat your pigmentations and other skin related problems effectively.

Soothes sunburn
You can use Aloe Vera to heal your sunburnt skin. Aloe Vera is extremely popular for its cooling properties and thus on the application of a thick layer of Aloe Vera can effectively cure your sunburnt skin. Being a good moisturizer it retains the moisture of the skin and the antioxidants and minerals help to restore the skin. If your skin is reeling under sunburn, you can also include Akansha Herbal's Tanumitra SPF40 sunscreen cream in your daily skincare routine and protect your skin from sun damage.

Lightens scars and blemishes

Aloe Vera is a well-known cure for scars and blemishes. As we know that Aloe Vera has the power to boost the growth of new skin cells, it can effectively work on your stubborn scars and the blemishes, which you are constantly worried about. Besides, we can also suggest you use Akansha Herbal's Tanujjal fairness face and body scrubber, which can cure your skin scars and blemishes effectively.

Fights signs of ageing
Due to the presence of beta-carotene, Vitamin C and Vitamin E in Aloe Vera, it can diminish wrinkles and tighten the skin on regular application. It can also boost collagen production, which helps to increase skin elasticity and restores youthful skin. For effective solutions, you can also use Akansha Herbal's Sukhparash face and body cream and reverse the sign of ageing.

Conclusion
Skin requires adequate nourishment to remain healthy and requires consistent attention and action. Now that you know that Aloe Vera can cure more than one skin ailments, make sure that you include it in your routine and apply it daily on your skin. For the same benefits, you can also check out Akansha Herbal's Ayurvedic skincare products and get a permanent solution for many skin problems that have been discussed above.