5 Ayurvedic Winter Skin Care Tips for You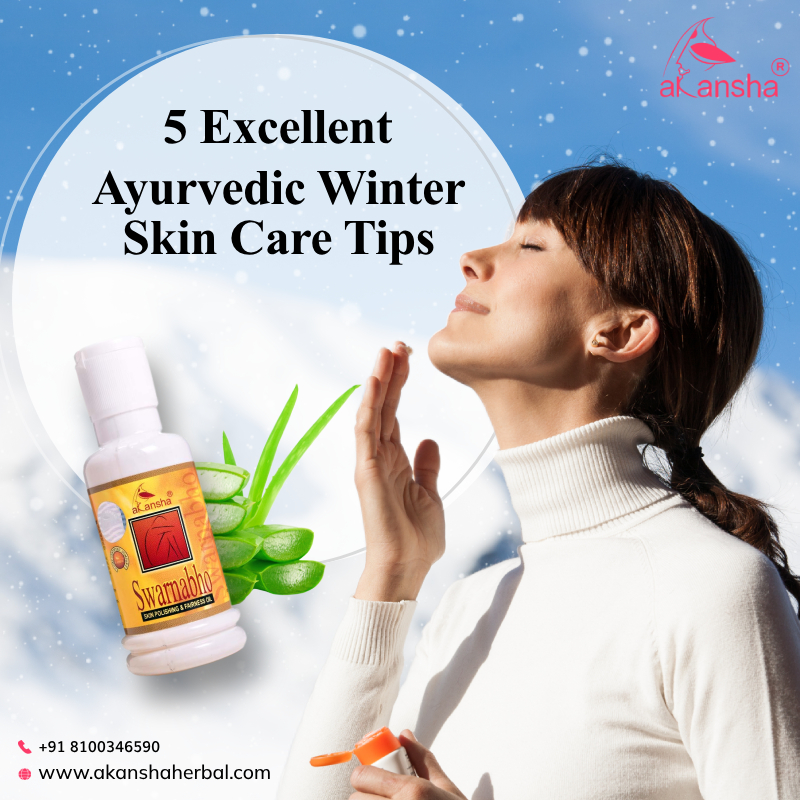 Winter is a lovely season that brings with it chilly winds, cosy sweaters, and the joy of the festive season. But it also presents us with the challenge of keeping our skin healthy and glowing amid harsh weather conditions. Despite the abundance of Ayurvedic skincare products available on the market, there are some circumstances in which sticking with more traditional therapies could be quite advantageous. Ayurveda is an age-old Indian natural healing system that provides a range of treatments that can help us maintain healthy and radiant skin all winter long. These five Ayurvedic winter skincare suggestions are simple to implement into your everyday regimen.
Top 5 Winter Skin Care Tips for You
During the winter it is tough to keep the skin well-nourished and moisturised. There are several skin-related issues that are commonly faced by people during the winter season. Here are some of the top tips that you can follow for protecting the skin.
Coconut oil
Coconut oil is a nutritional powerhouse and is referred to as the- Elixir of Life in Ayurveda. When the skin tends to become less moisturised in the winter then it is coconut oil that can be particularly beneficial. Its plentiful fatty acids leave the skin feeling silky and supple while also deeply moisturising the skin. In addition, the anti-inflammatory properties of coconut oil alleviate discomfort caused by dryness rendering it an ideal natural emollient for the winter season.Before taking a warm bath, gently massage some warm coconut oil over your skin for optimal benefits.
You can use Akansha Herbals products for the same results. To experience the benefits, visit their herbal shop online, and choose the products according to your requirements.
Turmeric for Radiant Glow
Indian homes are familiar with turmeric because of its potent anti-inflammatory and antioxidant qualities. It is regarded as a necessary component in Ayurveda for attaining a glowing complexion. A face mask made of turmeric can do wonders for dull, lifeless skin throughout the winter months. Turmeric can be used with yoghurt or honey to make a natural face mask. Its antimicrobial qualities might also aid in avoiding any skin problems brought on by the winter.
Aloe vera for Soothing Moisture
Another gift from nature that does wonders for the skin is aloe vera. Its mineral- and vitamin-rich gel-like composition makes it the ideal all-natural moisturiser for the winter. Aloe vera has a cooling effect that can help relieve dry, irritated skin when applied regularly. Its restorative qualities might also aid in lessening any redness or inflammation brought on by the chilly climate. To keep your skin nourished and hydrated, look for organic aloe vera gel at an online herbal shop and apply it liberally to your face and body.
Soyabean oil
Soybean oil is a great wintertime component for skincare products because it is high in essential fatty acids and vitamin E. By feeding and moisturising the skin, these substances help prevent flaky, dry skin throughout the winter. The skin is protected from the environment by the oil's emollient properties, which helps the skin stay hydrated and prevent water loss. Furthermore, the presence of antioxidants in soybean oil can aid in preventing oxidative stress brought on by adverse weather, helping to preserve a glowing, healthy complexion all winter long.
Alternatively, you can use Akansha Herbal's Ayurvedic skin care product- Swarnabho, skin polishing and fairness oil made from the same ingredient, and other ingredients to get the same results.
Rosewater
For millennia, Ayurvedic healthcare has relied on rosewater, a byproduct obtained via the distillation of rose petals. Its organic astringent qualities aid in pore tightening and preserving the pH equilibrium of the skin. During the winter when skin tends to feel dry and lifeless, using rosewater as a toner can assist to revive and revitalise the skin. It can also be combined with glycerin to create a natural moisturising blend that will keep your skin feeling smooth and supple all day.
Conclusion
By including these Ayurvedic skincare ingredients in your daily routine, you can keep your complexion glowing and fight off the harsh effects of winter. Always use the best Ayurvedic skin care products such as the Akansha Herbal products for the best outcome. This winter, keep gorgeous and natural!