5 Excellent Ayurvedic Hacks to Treat Cracked Heels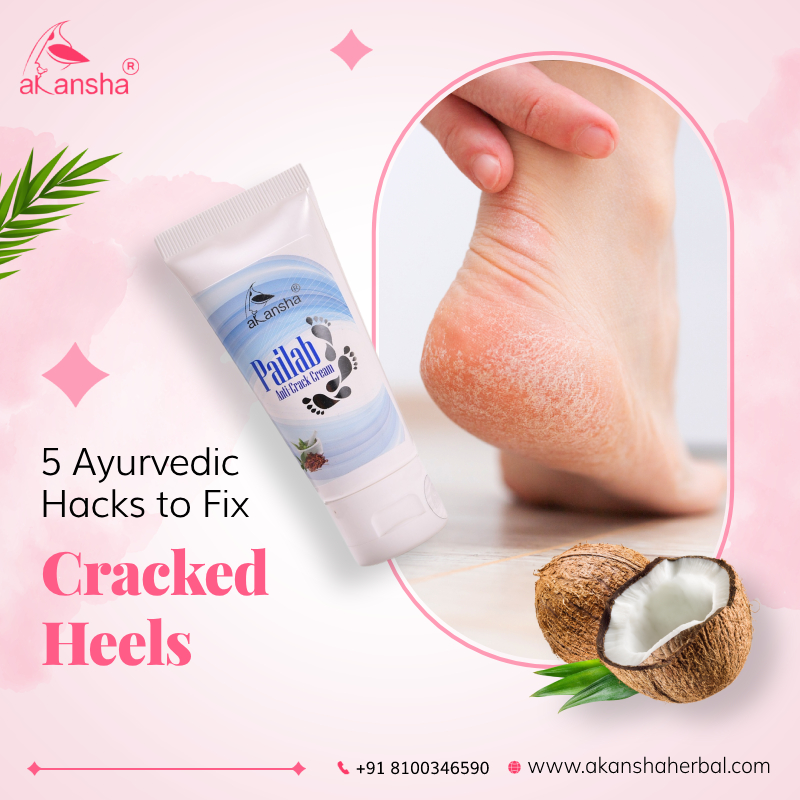 An uncomfortable and embarrassing condition, cracked heels can be treated with Ayurveda, the traditional Indian medical system, which provides safe, effective, and natural ways to cure and nourish your skin. These five Ayurvedic ingredients and Akansha Herbal's Ayurvedic skin care products will help you say goodbye to dry, cracked heels and hello to silky, gorgeous feet.
Sandalwood
Sandalwood is a treasure in Ayurvedic cosmetics because of its calming qualities. Its organic oils aid in moisturising and softening cracked heels, encouraging recovery and preventing further dryness.
How to apply:
Combine powdered sandalwood and rosewater to form a paste.
After applying the paste, let it sit on your cracked heels for 20 to 30 minutes.
Use some lukewarm water to rinse it off.
For everyday foot care, look for Ayurvedic skin care products that contain sandalwood for an added boost. These preparations frequently include other conventional herbs to offer holistic therapy.
Alternatively, you can use Ayurvedic skin care products from Akansha Herbals such as Pailab to treat your cracked heels and get the best result.
Coconut Oil
Ayurvedic practitioners swear by coconut oil for its nourishing and moisturising qualities. It hydrates and repairs cracked heels by penetrating deeply into the skin.
How to apply:
Apply some warm coconut oil to your feet before going to bed.
Socks should be worn overnight to let the oil do its magic.
Awaken to heels that are smoother and gentler.
Accompany your Ayurvedic foot care regimen with the purchase of herbal beauty items infused with coconut oil. For all-encompassing foot treatment, look for formulations that combine this potent component with other Ayurvedic herbs.
Aloe Vera
In Ayurveda, aloe vera is revered as the "plant of immortality" and is known for its extraordinary healing abilities. It reduces inflammation, hydrates, and hastens the healing process for cracked heels.
How to apply:
Take the fresh gel of aloe vera out of the plant.
Put a lot of the gel on your cracked heels.
Before washing it off, let it sit for ten to fifteen minutes.
Use aloe vera-based Ayurvedic skin care products on a daily basis. These goods might be an easy way to keep yourself hydrated and protected throughout your regimen.
For the same results, you can use suitable skin products from the house of Akansha Herbals. Want to buy herbal beauty products? Then, visit their online store, and buy the most suitable products.
Turmeric
Turmeric is a staple in Ayurvedic skincare because of its antibacterial and anti-inflammatory properties. It leaves your heels feeling smooth and revitalised while also aiding in the reduction of inflammation and the healing process.
How to apply:
Combine the honey and turmeric powder to form a paste.
After applying the paste, let it sit on your cracked heels for 20 minutes.
Use warm water to rinse it off.
Take into consideration purchasing herbal beauty products that contain turmeric. These mixtures have the ability to use turmeric's properties to speed up recovery and offer continuous care.
Glycerin
A great moisturising substance that helps seal in moisture to stop further drying out and cracking is glycerin. It is frequently used in Ayurveda to keep skin hydrated.
How to apply:
Combine glycerin, lemon juice, and rosewater.
After applying the mixture to your cracked heels, wait 20 minutes before removing it.
Use some lukewarm water to rinse it off.
Investigate Ayurvedic skin care products that contain this moisturising component to incorporate glycerin into your regular foot care regimen. These products can keep your feet supple and soft by providing long-lasting moisture.
Conclusion
In conclusion, these Ayurvedic tips provide safe, all-natural ways to treat cracked heels. Accept the knowledge of Ayurveda and include these treatments in your daily regimen for gorgeous, silky feet. In addition, think about researching and purchasing Ayurvedic skin care products as well as herbal beauty products that complement these age-old methods and provide a comprehensive approach to foot care. Say goodbye to cracked heels and hello to the joy of happy, healthy feet. If you want to buy products from Akansha Herbals, then visit their website, and browse to buy what you need.