5 Excellent Ayurvedic Hair Care Tips for Monsoon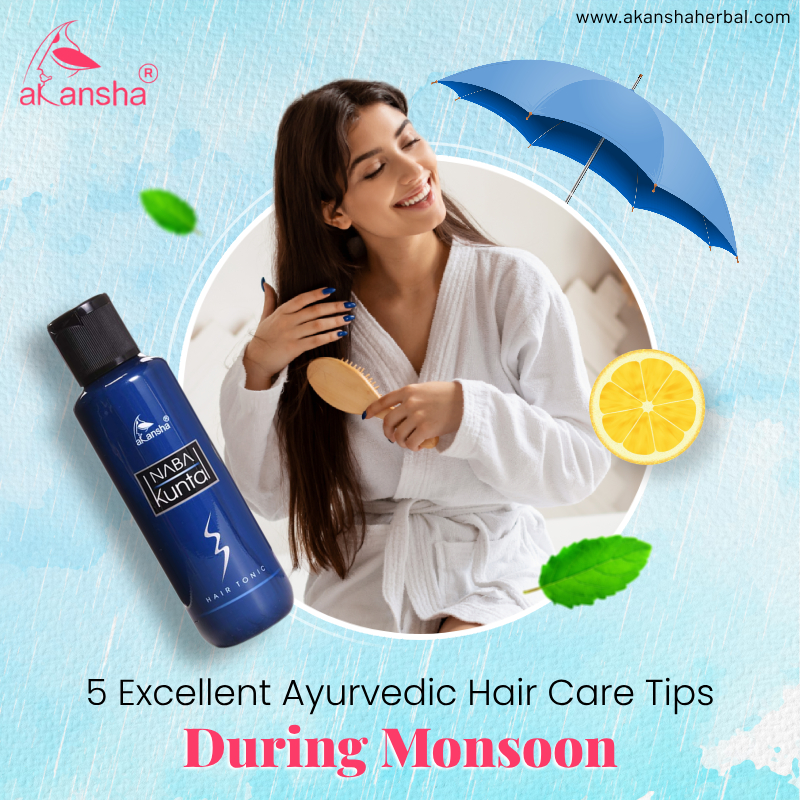 The arrival of the monsoon brings a lot of joy to our hearts. It makes the surroundings beautiful as the roads get washed and greenery thrives around us. However, not everything about the monsoon is great; the hair and skin woes it brings with itself are hard to deal with. You may find you are losing more hair, dealing with dandruff, the scalp is sticky and dirty, and more such annoying issues crop up. Dealing with these problems by using easily available commercial products can make the problems worse. Hence, it is best to switch to Ayurvedic products. In this blog, we have discussed some of the top Ayurvedic hair care products. Take a look at the solutions below.
Top Ayurvedic Hair Care Tips for Monsoon
Frizzy hair, dandruff, greasy hair, and other problems are frequently faced by people. To help them get rid of the problems here are some of the top solutions that you can take a look at.
1. Honey and lemon
Both honey and lemon are extremely beneficial ingredients. If you are someone who is looking for a hair pack that can deep cleanse your hair and keep your scalp free of excess oil, then mix honey, lemon juice, two egg yolks, and an egg white. You will be surprised to see the end result. You will need to apply this pack to your hair, wait for it to dry, and wash it with a mild shampoo. You are done!
2. Fenugreek
Fenugreek, or methi, is a God-gifted ingredient. It strengthens the hair as it contains protein and iron. In addition, it is a very good source of protein, calcium, iron, folic acid, and vitamins A, C, and K. For use in hair care, soak the seeds overnight, grind them the next morning, and apply them to the hair and scalp. Leave it to dry for twenty minutes. With a gentle shampoo, wash it off.
Alternatively, you can use Ayurvedic products from Akansha Herbals. If you are interested in using their products, then visit their online site to buy herbal products online.
3. Methi and Tulsi
Another beneficial pack you can use not only in the monsoon but throughout the year is that of methi and tulsi. The combination promotes the growth of hair, works as an antiseptic, and also soothes the scalp, and keeps it clean. Add methi and tulsi powder, make a paste with water, and apply. Once dried, wash it off.
4. Onion juice
Onion juice adds health to the hair. So, if you are suffering from damaged hair, just use onion juice and see the difference. The sulfur content in it strengthens the hair, prevents hair loss, promotes hair growth, and also triggers collagen production, which is an important component of healthy hair.
5. Hibiscus, mint leaves, and lemon
If you want to restore the shine to your hair and make it smooth, then it would be best if you started using the paste of hibiscus, mint, and lemon juice. This pack should be applied to the root of the hair to the tip of it and kept for around thirty minutes. Thereafter, using a gentle shampoo wash-off.
For the same results, you can also use Akansha Herbal's top Ayurvedic hair care product, Nabakuntal hair tonic, which is packed with goodness of hibiscus and other ingredients like methi, etc.
Conclusion
A host of problems arise with the onset of the monsoon. If you are reeling from various types of hair problems, the solutions provided in this blog can help you fix the problem. Also,
Akansha Herbal's Ayurvedic hair care products, such as Nabakuntal hair tonic, and other suitable products would be of great help. So, if you are interested, then you can visit their online store and place an order for the suitable product.