Top 5 Ways Amla Is Beneficial for Your Hair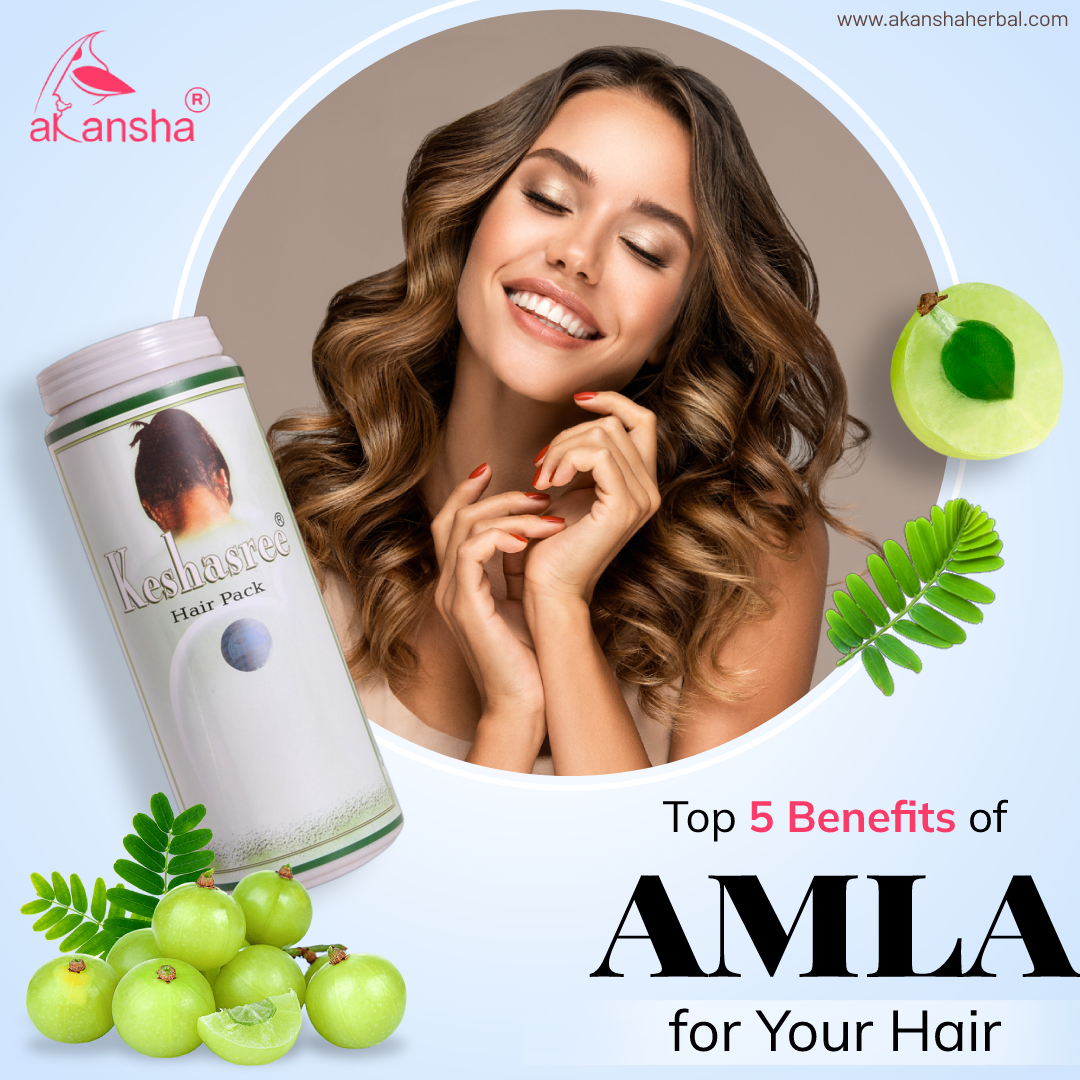 Maintaining hair requires proper care and knowledge to identify problems and use the right products. Most of us are in a hurry to get beautiful hair and often end up with damaged, dull and rough hair. This happens because we tend to believe in every other product that hits the market and claims to give quick and prompt results. Know that when it comes to hair and skin, a fast result means a temporary result and the products can harm the hair or skin in the long term. If you want long-lasting results with no side affects you can rely on Ayurvedic ingredients such as amla and genuine Ayurvedic products such as Akansha Herbal' Ayurvedic haircare products.
Now, let's see how Amla can benefit your hair.
Promotes Hair Growth
Amla is rich in vitamin E, and phytonutrients which are known to support healthy circulation. Applying amla juice or amla in paste form can promote healing and trigger the cell regeneration process. Further, the vitamin C present in amla produce collagen protein. Hence, new hair growth is triggered. The collagen replaces the dead cells of hair follicles with new hair cells and thus, the application of amla can actually produce the results that you want.
Alternatively, you can try Akansha Herbal's Keshasree hair pack for the same results. Remember only with regular application you will get the best result.
Conditions Scalp
From one amla you can get 81.2 per cent of moisture. Thus, if you have dry scalp and hair and want to deeply nourish them, you can use amla. Also, people with oily hair can use amla powder as it will help to absorb the excess oil from your scalp along with conditioning the hair. You can mix the amla powder with some water and apply it directly to your hair strands and scalp. Leave it there for some time and wash it off with a gentle shampoo.
For the same results, you can also use Akansha Herbal's Ayurvedic hair care products that are packed with the goodness of Ayurveda.
Boost Hair Volume
Amla has antioxidants in it and this wonder fruit works as a blood purifier, this way it not only helps to increase hair growth but also, strengthens the hair. It helps to control hair fall and hair thinning problems and adds volume to hair. It is not only because of the antioxidant properties that help in stimulating hair growth but also, because of other vitamins and minerals that help in triggering blood circulation and also, replace the dead cells with new cells.
Reduce Dandruff
Dandruff is a great hair problem that most of us struggle with. If you are struggling with an excessive dandruff problem, amla can help you to get rid of the problem. Owing to a large amount of vitamin C and anti-bacterial properties that are present in Amla, you can prevent itchy and dry scalp problems. Dandruff is mainly caused by a dry scalp. Amla prevents this issue by nourishing and conditioning the scalp and hair. However, as we have already said before, it is with regular use you can gradually get visible results.
Now, if you want to try Ayurvedic products for the same problem, then you can try Akansha Herbal's products. You can buy herbal beauty products from Akansha Herbals by visiting their website.
Prevents Premature Greying
Although greying is a natural process however that occurs after a certain age. If grey hair shows up before reaching the right age for instance in your teenage years, then it is called premature ageing. This issue occurs because of several reasons such as stress, lack of nutrients and other reasons. Amla helps to provide the essential nutrients to the hair that helps to fight premature greying. Also, it helps to restore the original hair colour and retains the natural shine and colour.
Conclusion
There are several benefits of amla for hair. In this blog, we have mentioned some of the excellent benefits of Amla. So, whether you are having the problem of stunted hair growth, dry hair, hair thinning, dandruff or premature greying, your go-to product can be amla. However, it is important to use amla regularly and keep patience as only with continuous use you can see the difference. Alternatively, to get the same results you can also use Akansha Herbal's Ayurvedic haircare products like the Keshasree hair pack. Therefore, if you want the best results you can depend on these products without the concern that whether your hair will get damaged in the process. For purchasing the products, you can visit Akansha Herbal's online store.